10 Best At-Home Hair Removal Products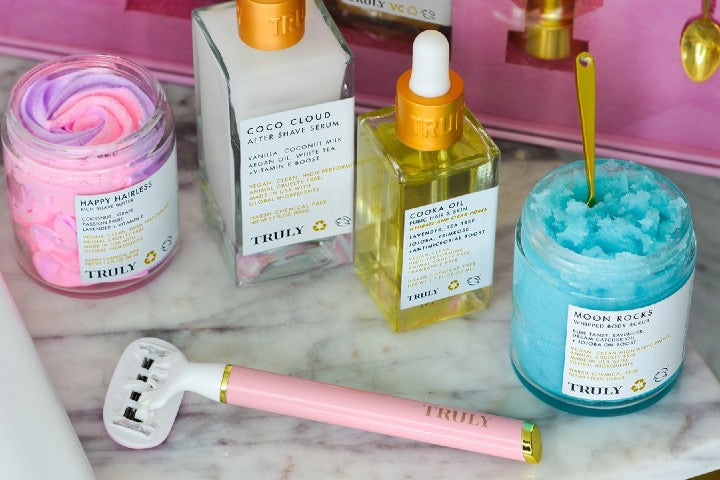 Are you looking for the best at home hair removal products to leave you silky smooth all over? There are lots of hair removal methods out there, from waxing to hair removal creams to IPL hair removal. Personally, we love shaving. Not only is it easy, affordable, and painless, provided that you use the right products, shaving can also be an extremely luxurious experience.
Whether you want to remove hair on your bikini line, underarms, or legs, shaving can help get the job done without leaving you red, sore, and irritated. Still, you do need a few good shaving products and a routine to guarantee a smooth, effortless shave every time.
Here are the best hair removal products that are sure to leave skin buttery soft and ingrown-free.
SHAVING SCRUBS
#1: Smooth Legend Pre-Shave Scrub
Prep skin for an easy razor glide by buffing away razor-clogging dead skin cells and oil with this grape-scented exfoliator.
Smooth Legend Pre-Shave Scrub is a fluffy, sugar-based scrub to lift dead skin cells, loosen hair follicles and lather away daily grime to reveal bright, glowing skin. You can use it on your armpits, legs, or bikini area to prep for a perfect shave — and deliciously smooth skin.
#2: Moon Rocks Whipped Body Scrub
A whipped, blue-tinted scrub of hydrating jojoba oil and cooling lavender and aloe to prep skin for shaving and prevent nicks, burns, and ingrown hairs. It's also perfect for all skin types, even sensitive skin! In addition to soothing and hydrating skin, it also brightens skin tone and improves skin texture for the softest skin of your life.
SHAVING BUTTERS
#3: Coco Cloud Luxury Shave Butter
Shave like your chilling on cloud 9 with this whipped coconut milk-infused shave butter. It works to soften skin and hair follicles, allowing your razor to glide over without the occurrence of razor bumps and skin irritation. If you're looking for an ultra-close shave that leaves you smelling like tropical paradise (think sweet coconut + vanilla), Coco Cloud Shave Butter is your best choice.
#4: Happy Hairless Shave Butter
Hair growth will no longer be a frustration with this fruity shave butter. You'll actually look forward to shave days when you have this fluffy pink formula on your shelf. And it's guaranteed to boost your energy levels for the day!
A member of our bestselling shave set, Happy Hairless Shave Butter is a hydrating, smoothing, and soothing formula of coconut, grape, and lavender for an easy razor glide and long-lasting smoothness.
#5: No Troubles Bubbles Shave Cream
Soft, sweet, and a pro at fending off skincare code reds: No Troubles Bubbles Shaving Cream is an hydrating, soothing, and antioxidant-rich formula of blueberry, hyaluronic acid, and blue tansy to drench skin in moisture while warding off razor bumps, redness, and dryness. She tackles even the most coarse body hair for a seamless razor glide. Removing unwanted hair has never been so much fun!
RAZORS
#6: Truly Blue Razor
Whether you're tackling small areas like your upper lip or bikini line or large areas like your legs, Truly Blue Razor secures a smooth, close, and long-lasting shave every time. It features cushy gel bars infused with aloe and shea butter for extra hydration and cooling effects — plus a 360 degree comfort system for easy gliding — and none of the irritation.
SHAVING SERUMS
#7: Coco Cloud After Shave Serum
Coco Cloud After Shave Serum is a cooling treatment formulated with hydrating coconut, bacteria-fighting vanilla, and soothing vitamin E to treat and prevent post-shave irritation and ingrowns. It also treats hyperpigmentation. Apply it after shaving for instant cooling effects.
#8: Glazed Donut After Shave Oil
After shave isn't just for guys, you know! Get your post-shave glow on with our Glazed Donut After Shave Oil. It smells like summer, feels deliciously light on your skin, and doesn't feel greasy like lotions and creams. This daily shave serum can be used to treat sensitive areas of the skin and zap away ingrowns and nicks. You can even use it after shaving your facial hair or using wax strips for skin calming effects. Plus, it'll leave your skin looking radiant! No wonder it's been trending on TikTok for months!
#9: Cooka Oil
Treat active ingrowns and inflammation with this antimicrobial oil featuring lavender, tea tree, and jojoba oil. You can use it after shaving, waxing, or using a trimmer. You can even use it when regrowth appears to nourish hairs. It's best for smaller areas like your bikini line and underarms. However, you can also use it on your legs if you experience inflammation there.
SHAVING MOISTURIZERS
#10: Coco Cloud After Shave Moisturizer
Moisturizing after shaving is an important step to keep skin hydrated after the drying processes of exfoliation and shaving. Quench thirsty skin with this coconut-y moisturizer made with deeply conditioning ingredients like shea butter, coconut milk, argan oil, and vitamin E. This fluffy whipped moisturizer can quickly diminish dryness, rough patches, and body irritation, leaving you irresistibly smooth all over.
There are so many options when it comes to at home hair removal. If you're looking for a more permanent solution, try investing in an FDA approved home laser hair removal device. This hair removal system works best on dark hair and light skin rather than light hair with dark skin. With a deeper contrast of pigments, IPL technology works best. It does not work effectively on peach fuzz.
If you're looking for an alternative to waxing kits and shaving sets, speak to your dermatologist about IPL hair removal devices. These home hair removal devices treat hard to reach areas and offer permanent hair reduction. They don't provide permanent hair removal, but hair will definitely growth back sparser.
If you don't fancy using a home laser device, book intense pulsed light therapy with your dermatologist. Office treatments are a good option for those with darker hair color and lighter skin. Plus, they use the best laser hair removal devices to perform the treatment.
Shop Truly at Amazon, Ulta, Walmart, Target, Sephora EU and trulybeauty.com
Share
---