All the Deets on Truly's Hot Swirl Summer Kit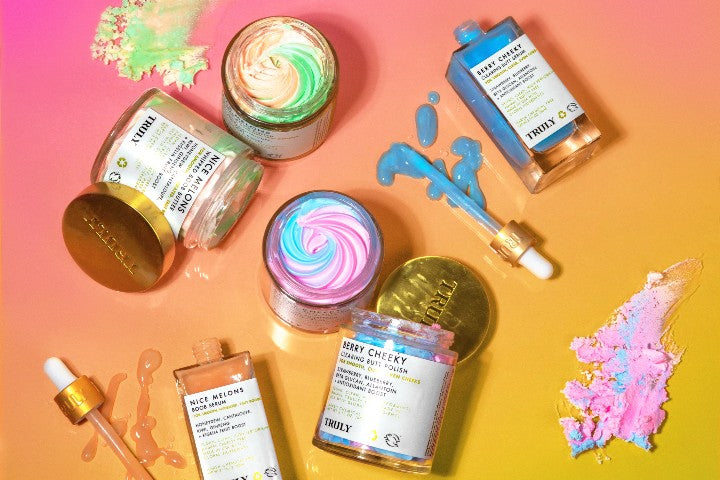 It's the summery skin tightening kit you've been waiting for!
This summer, snag our Hot Swirl Summer Edit bundle to put conditioned, tightened, and brightened curves in your (very near!) future. Fruity, fluffy, and uplifting, this skincare routine takes body care to the next level.
Scroll down to hear all the juicy deets about this sizzling hot skincare bundle.
WHAT IS THE HOT SWIRL SUMMER EDIT SET?
Truly's Hot Swirl Summer Edit is a 6-piece boob and butt care routine made with clean, high-quality, and cruelty-free skincare ingredients to firm, smooth, and clear away breakouts.
Our bestselling Berry Cheeky and Nice Melons Butt and Boob lines come together to secure summertime silkiness and springiness.
Powered by antioxidant-rich aloe vera, breast firming kigelia, and naturally exfoliating strawberries to resurface, clarify blemishes, fade discoloration, and restore skin's bounce. This powerful combo of ingredients makes summer day skin issues like body acne and sagging — no problem at all!
And while it's technically a summertime kit, you can use this every day, all year round for continuous summer freshness and glow!
WHAT'S INSIDE?
Berry Cheeky Clearing Butt Polish
A whipped cleansing exfoliator sprinkled with eco-friendly, biodegradable jojoba beads for a planet-friendly scrub. A blend of brightening berries, nourishing botanicals, and acne-clearing allantoin join forces to illuminate, hydrate, and combat boob and butt pimples for your smoothest summer skin.
Berry Cheeky Clearing Butt Serum
A fast absorbing butt clearing serum formulated with berries, beta glucan, and allantoin to deliver a blemish-free booty.
Aloe vera is loaded with natural vitamins and folic acid to successfully combat breakouts, reduce scars, hydrate, and soothe irritation. It's also amazing for soothing sunburned skin after hot day sunbathing sessions.
Berry Cheeky Clearing Butt Butter
A buttery whipped lotion of allantoin and beta glucan to neutralize free radicals, prevent breakouts, and eliminate dryness. Heading outside? Remember to finish with a generous layer of sunscreen with SPF 30 or higher to keep your booty young and protected!
Nice Melons Boob Polish
A fluffy whipped scrub enriched with melon, kiwi, ginseng, and kigelia to lightly exfoliate, moisturize, and tighten neck skin and boob skin. Kigelia plays a key role in this skin tightening treatment due to its breast firming and elasticity-restoring capabilities. Did we mention it also smells like heaven?
Nice Melons Boob Serum
A fruity, melon-scented body serum designed to tighten, condition, and prevent fine line formation on the neck and chest. Its make-up of high-performing fruits and botanicals make it a highly effective formula for keeping boobs smooth and perky.
Nice Melons Boob Butter
A buttery blend of melon, ginseng, kiwi, and kigelia to deeply hydrate, even out hyperpigmentation, and visibly tighten the complexion of your neck and chest. Remember to finish your skincare routine with a generous layer of sun protection so you can enjoy your ice-cream and sunbathing sessions — without damaging your skin!
THE BENEFITS
Here's what Hot Swirl Summer Edit can help with...
Butt Acne
Got pimples on your booty? So do LOTS of other people out there. Luckily, there's a butt breakout removal treatment to clear up your backside: Hot Swirl Summer Kit.
All three Berry Cheeky products work together to slough away dead skin cells, balance oil production, and ultimately zap away zits. Stock up this holiday season so you can enjoy a blemish-free butt! Be sure to pair this with a clarifying cleanser and face mask if you're experiencing severe acne.
Sagging Skin
Perky plums are in your future when you make Nice Melons part of your daily body care routine. Powered by boob-firming kigelia, Nice Melons is the recipe for lifted boobs. All three products work together to spur collagen production and restore elasticity to give boobs back their bounce. It's not an award-winning formula yet — but it should be!
You can also apply these products to your butt if you're looking to enjoy tightening benefits in that region of your body.
Hyperpigmentation
Both lines contain antioxidant-rich actives that can help improve skin tone, texture, and reduce the appearance of hyperpigmentation. You can also prevent it altogether by wearing sunscreen every day. Make sure you re-apply every two hours for maximum protection!
Dryness
Dealing with dry skin? Hot Swirl's got you! Shea butter, coconut oil, and jojoba oil are all highly nourishing ingredients that help replenish lost moisture for day-long dewiness. Your skin will feel instantly smoother from day one!
IS IT SUITABLE FOR ALL SKIN TYPES?
Hot Swirl Summer Edit products all contain natural, nourishing ingredients that hydrate, soothe, and repair. For that reason, this bundle is safe for all skin types. Even if you've got severely sensitive skin, you can reap the benefits of this bundle. It doesn't contain any potentially irritating ingredients like retinol or AHAs. Instead, it relies on the powers of fruit and botanicals to buff, treat, and moisturize your bod!
Of course, if you have any concerns, you can always speak to your dermatologist before trying new products.
HOW LONG WILL IT TAKE TO SEE RESULTS?
When it comes to starting a new skincare regimen, you need to be consistent and patient. To get the best results from this routine, aim to use them daily or at least 3-4 times a week in order to see a visible improvement.
While we can't give you an exact timeframe as to when you'll see results, we recommend using these products in your daily routine for around 4-6 weeks. By the six weeks mark, you should definitely see an improvement in body acne, skin sagging, dryness, and discoloration.
For some people, it's possible to see results in as little as two weeks. Stay patient and persistent, and by the time summer arrives, you'll be positively glowing!
We love fruity formulas! You'll find everything from watermelon to pineapple, blackberry and apricot in our skincare products. Whether you'll be spending this summer in New York, L.A, or holidaying in the Caribbean, be sure to stock up on this summer bundle for beach-ready skin.
You'll find all Truly products available on Amazon, Ulta, Sephora EU and our official store: trulybeauty.com.
Share
---