Best Perfume Gift Sets for Women Who Love to Smell Scrumptious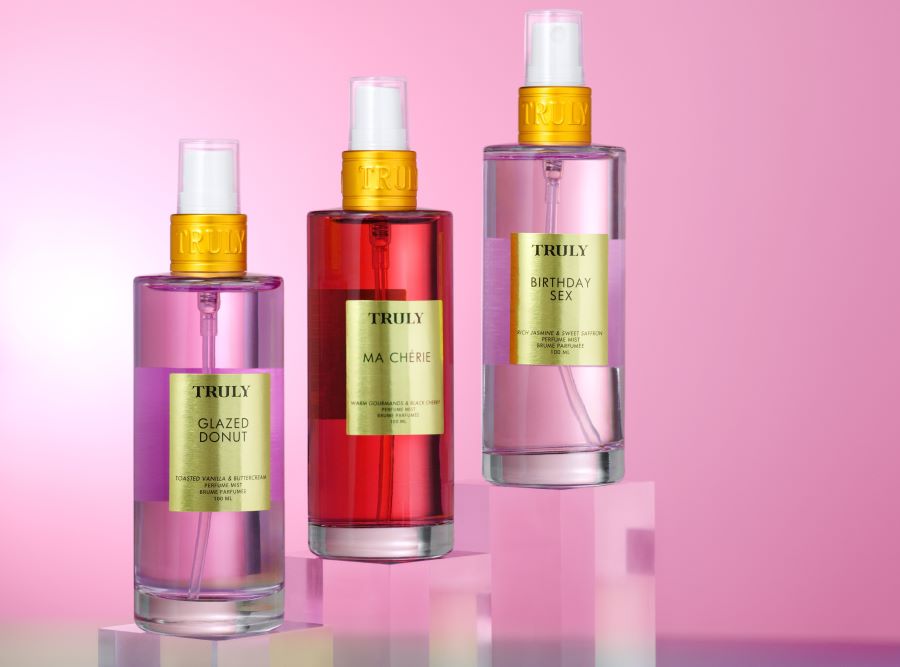 Looking for the best perfume gift sets for women? Whether for birthdays or Christmas, perfume gifts are a great choice for women who like to smell good. Whereas gifting just one perfume comes with the risk that the recipient might not love the scent, perfume gift sets for her ensure she gets a nice selection of fragrances to enjoy. 
Ahead, the best perfume gift sets 2023 we've handpicked especially for her to ensure she feels truly special this year. 
Best Perfume Gift Sets for Women
We've rounded up a range of women's perfume gift sets for every mood and occasion. With Christmas coming up, there's no better time to stock up on scrumptious fragrances than right now. While you're in the mood for treating, why not treat yourself to something special too? Below, the best perfume gift sets for women 2023. 
Truly's Signature Perfume Mist Trio
Body mists are making a big comeback. Get in on the trend by scooping up the brand new Signature Perfume Mist Trio, a luxury perfume gift set that satisfies all your senses. It's full of sophisticated blends that will charm every taste. Think: floral, gourmand, warm, spicy, and sweet. 
What you get: Glazed Donut Perfume Mist–a warm, gourmand fragrance of whipped buttercream and toasted vanilla met with nuances of white chocolate and warm sugar. Ma Chérie Perfume Mist–a romantic fragrance filled with the deliciousness of rich dark chocolate and lustrous black cherry intertwined with salted caramel and almond. Birthday Sex Perfume Mist–a floral spicy fragrance with notes of rich jasmine and sweet saffron, creating a bold and flirty scent that's full of confidence. 
Truly's Positano Summer Set
Let yourself be whisked away to the sunny Amalfi coast with this Italian-inspired bundle. It's another of the best perfume gift sets for women as it includes not just a perfume but a selection of shaving products and accessories we know she'll love.
What you get: Coco Cloud Eau De Parfum–a tropical fragrance with notes of creamy coconut and warm vanilla for a feeling of beachside bliss. Luxe shaving essentials–including a whipped shave butter, razor, aftershave oil, and ingrown concentrate–for silky smooth skin minus irritation. Plush beach accessories–like a super soft towel and bag–to sunbathe in style. Plus, extras: a whipped body polish + butt firming serum to whip you and your booty into shape!
Which Perfume is Best to Gift a Woman?
Now you've seen the best perfume gift sets for women, here are some of our top picks for the best perfume gifts of the year. Whether you're buying for your bestie, girlfriend, or yourself, there's something for everyone here. 
Truly's Glazed Donut Perfume Mist
Perfect for women who like their scents sweet. With notes of whipped buttercream and toasted vanilla, this warm gourmand scent is the epitome of indulgence. Cozy and comforting, it conjures up memories of baking cupcakes with grandma and licking the spoon dry. In spite of its sweetness, it also has a sensual side–with nuances of musk and white chocolate. 
Truly's Birthday Sex Perfume Mist
Bold, bright, and sparkling….Birthday Sex Perfume Mist offers a spritz of confidence and empowerment. With notes of rich jasmine and sweet saffron, this spicy floral fragrance inspires, empowers, and frees your inhibitions for unforgettable moments of passion. You'll love the way it feels on your skin–irresistibly light and silky. 
Truly's Ma Chérie Perfume Mist
The kind of fragrance you fall hard for. Ma Chérie is a romantic accord of lustrous black cherry, rich dark chocolate, and salted caramel creating a fruity gourmand scent full of love and passion. Intimate and irresistible, Ma Chérie reminds you of your most cherished moments. At the same time, it's incredibly alluring and seductive. 
Truly's Coco Cloud Eau De Parfum 
A heavenly lush, lightweight fragrance that smells just like summer. Notes of fresh coconut and rich warm vanilla coalesce into a creamy, tropical scent that evokes memories of warm sands, swaying palms, and gentle ocean breezes. Think of it as your warm island embrace–and the secret to smelling and feeling your very best. The perfect gift for beach babes!
Is Gifting Perfume a Good Idea?
So you've been searching for the best perfume gift sets for women in 2023, but is perfume a good gift? Gifting perfume can be a thoughtful and luxurious idea. After all, most women appreciate a good perfume. 
That being said, its suitability depends on several factors. The key to finding the best perfume gifts lies in knowing the recipient's taste. Perfume is a highly personal choice, and what smells good to one person might not appeal to another. If you're aware of that special someone's favorite fragrance or their preferred scent profile (e.g., floral, citrus, woody), it significantly increases the chance that they'll love your gift.
Perfume gift sets can be an ideal choice for special occasions like birthdays, anniversaries, and holidays, or even for celebrating milestones such as graduations and promotions. Since perfume is an intimate gift, it's best reserved for close family members and significant others. 
Why Perfume is the Perfect Gift
Whether you're looking for the perfect gift for Christmas, birthdays, or other special occasions, perfume is always a good choice.
For starters, it's a personal gift. One person might enjoy the invigorating aroma of citrus while another might love sweet, gourmand scents. Before you buy perfume for women, make sure you have a general idea of that special someone's favorite scents. But don't worry if you don't. That's what perfume gift sets are for.
Perfume is also a luxury for everyone. Not everyone buys themselves perfume, which is why recipients perceive it as a thoughtful, luxurious gift. What's more, it lasts a lot longer than the likes of flowers and chocolate. Perfume is a gift that can be enjoyed for months, if not years.
What Does Perfume Symbolize as a Gift?
When gifting the best women's perfume sets 2023, you might be curious as to how your gift will be received. Perfumes as gifts are a clear sign that you value your friendship or relationship. 
Additionally, perfume can symbolize a desire to evoke memories or emotions. Scents have a unique ability to transport you to specific moments in your life, making them powerful tools for nostalgia. Gifting a favorite fragrance or a new scent can be a way to create lasting memories or rekindle old ones.
When searching for the best perfume gift sets for women, it's important to choose with careful thought. In order for it to be a meaningful present, choose with her tastes in mind. Or if you're not sure what fragrance notes she likes, let your gift be a symbol of what you love most about her. 
Something fresh and fruity could represent your love for the fun and playfulness you bring to the friendship. A rich, sweet perfume with notes of chocolate, on the other hand, can be gifted to remind your loved one of those precious early days in your relationship. 
Looking for the best perfume gift sets for women in 2023? Browse our full collection of fragrances and get her something she'll cherish for a long, long time.
Need some gifting inspiration? Watch our ultimate holiday gift guide:


Share
---