Does Cellulite Go Away? The TRUTH about Cellulite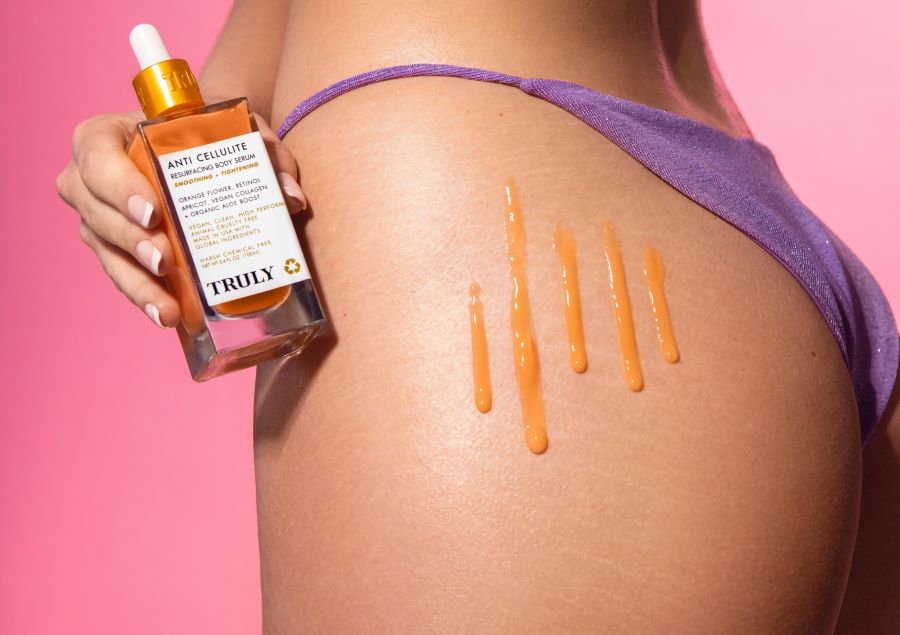 Most women deal with dimply thighs, but does cellulite go away? Cellulite occurs when fat cells beneath the skin push against the connective tissue, which gives the skin its structure. This can result in a puckering or dimpling effect on the skin's surface. Several factors contribute to the development of cellulite, including genetics, hormones, and poor diet. 
The question is, does cellulite go away or is it a permanent thing? Here's what you should know and the best products for smoothing the appearance of dimpled skin. 
Does Cellulite Go Away?
The short answer: no. You can't get rid of cellulite permanently but there are ways to minimize its appearance such as through exercise, diet changes, and smoothing skincare products. 
Cellulite is a structural issue involving the interaction of subcutaneous fat, fibrous connective tissue called septae, and the skin. Septae tissue creates compartments that trap fat, leading to the characteristic dimpling effect. This structural framework is primarily influenced by genetics and hormonal factors. 
Does cellulite go away on its own? Unfortunately, it will not go away on its own. However, with exercise, dietary changes, and certain skincare products, it is possible to make cellulite look less noticeable. 
What Makes Cellulite Go Away?
While there is no way to completely make cellulite go away, there are various treatments and lifestyle changes that can help reduce its appearance. However, you will need to be consistent if you want to see noticeable results. Here are some tips for reducing the appearance of cellulite.
1. Cellulite-Fighting Skincare
Used consistently, cellulite creams and serums can be helpful in smoothing out skin dimpling. Retinol products, in particular, have shown great effectiveness. Because retinol thickens the skin, it can make cellulite appear less visible. Just remember, it can take a few months to see the full results from these products.
Get Smooth with Truly's Anti-Cellulite Set
Everything you need to combat cellulite is right here in this set. You get: an exfoliating bath bar, whipped polish, resurfacing serum, and body mask, plus a yellow and white towel bag. Each formula is chock full of resurfacing, decongesting, and elasticity-restoring ingredients such as retinol, orange flower, and vegan collagen booster to promote a smoother butt and thighs. All in just five easy (and citrusy-scented) steps! 
2. Exercise
Regular workouts can be helpful in making cellulite less noticeable. Besides toning your muscles and helping you lose weight, exercise fires up your circulation and breaks down fat cells, promoting smoother, less dimply skin. 
Does cellulite go away? It won't go away completely, but a combination of cardio and strength training can reduce cellulite. By burning calories and promoting fat loss, these exercises can soften the appearance of orange peel.
3. Laser Treatment
Laser treatment is another effective way to alleviate cellulite. It helps to break down fat cells and boost collagen production, resulting in smoother, firmer skin. As effective as it can be, laser treatments can be expensive and you will need to commit to several sessions if you want to see the best results from it. Speak to your dermatologist before proceeding with this treatment.
Will Cellulite Go Away After Losing Weight?
If your weight is above your recommended BMI, then weight loss can be helpful in reducing cellulite. Does cellulite go away after losing weight? It can if you are overweight. However, if you are at your ideal body weight, weight loss isn't likely to improve cellulite. 
On the other hand, a good diet and plenty of exercise can all be beneficial when it comes to cellulite. They won't make any significant improvements, but you're still likely to see a noticeable difference.
Does Cellulite Go Away with Exercise?
According to the experts, exercise can have a positive effect on cellulite. Does cellulite go away if you exercise a lot? It can certainly help, especially if you're exercising on a daily basis. But again, it's not a cure-all. That being said, you should be exercising daily anyway so including it in your routine can only help, not hinder.
The exercises you should focus on include cardio and strength training. Since cellulite most commonly appears on the thighs and buttocks, women should focus on exercises such as squats and lunges as these specifically target those areas. 
How Long Does it Take for Cellulite to Go Away?
If you're exercising, eating healthy, and applying cellulite treatments on a regular basis, expect to see results within three to four months. Does cellulite go away within that timeframe? Unfortunately, cellulite won't completely disappear within three to four months. It will, however, appear less visible. 
If you're serious about seeing the back of your dimply butt and thighs, it's crucial that you stick to these lifestyle changes and use your cellulite fighting formulas on a daily basis. The more consistently you use them, the better the results will be. 
Shop Cellulite Skincare
Here are some of our top picks for treating cellulite with skincare. They all contain active ingredients proven to boost collagen, restore elasticity, thicken skin, and reduce the appearance of dimpling.
Truly's For Your Buns Routine
A 2-step routine clinically proven to improve skin tone, texture, and firmness. For Your Buns Bundle comes with a butt serum and polish to buff away dead cells, stimulate circulation, and plump out dimples. Formulated with watermelon, wheat protein, and vitamin E to smooth your booty while giving it a natural lift.
Truly's Anti-Cellulite Routine
Will cellulite go away? It won't 100% go away, but Anti-Cellulite Routine will certainly make your butt and thighs a whole lot smoother. This dreamy duo harnesses the circulation-boosting, fat-mobilizing powers of retinol and orange flower to promote a perkier, smoother peach, thighs, and belly. 
Truly's Cake Maker Recipe 
Try this tasty butt and leg tightening trio that smells just like freshly baked cake. What you get: a sprinkle-filled polish to resurface skin, a silky serum that retexturizes and refines, plus a deeply hydrating cream to plump and smooth. Each product contains a magical blend of ceramides, guarana, and vegan collagen booster to leave your lower body smooth and sculpted.
Does cellulite go away over time? As much as we'd love to say yes, there's no way to permanently get rid of cellulite. There are, however, ways to improve its appearance through exercise, diet, and topical treatments. 
Here's how to start combating cellulite today:


Share
---