Does Shaving Make Hair Thinner?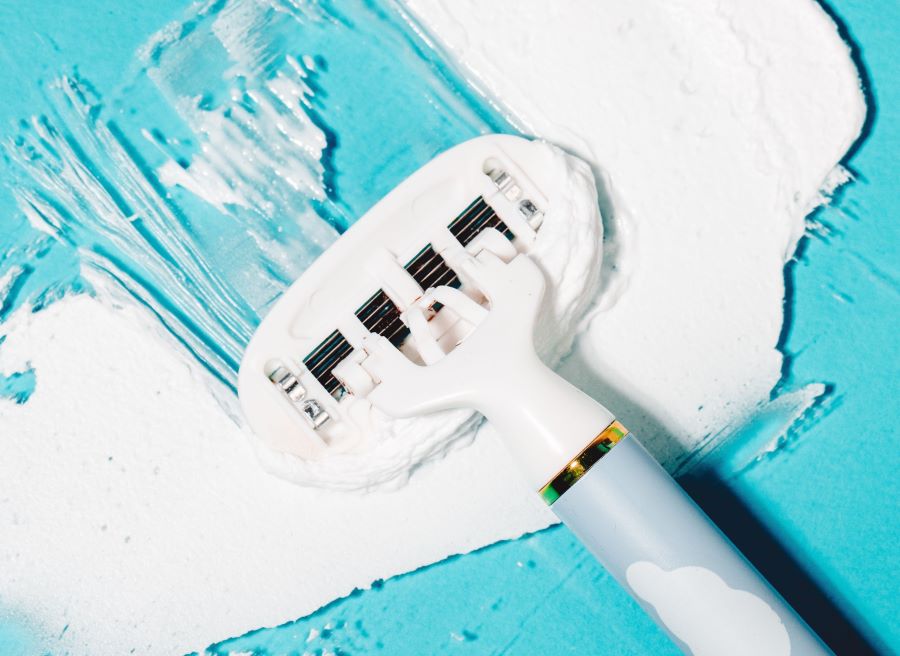 If your favorite hair removal method is shaving, you might be wondering, does shaving make hair thinner? Perhaps you have thick, coarse hair and always end up with cuts, nicks, and ingrown hairs after shaving. In that case, it would certainly be a great benefit if hair really did grow back thinner.
In this article, we answer questions like 'do hairs get thinner after shaving?' and share the best shave products to ensure a longer, closer shave. 
How Shaving Affects Hair
Before we answer does shaving make hair thinner, let's first understand how shaving affects your hair in the first place. 
Every hair on your body grows from its own hair follicle, a pore that surrounds the root and strand. When you shave, you cut hair at the shaft and not at the root of the hair, which is located beneath the surface.
While you may think your hair looks thinner after shaving, it's actually not. After shaving, your hairs will always return to their original texture. It's one of the common misconceptions about shaving.  
Does Shaving Make Hair Thinner?
No, shaving hair does not make it thinner. In fact, according to the experts, shaving does not affect hair thinness, thickness, color, or rate of growth at all.
Unlike with waxing, which can make hair grow back thinner over time, shaving has no effect on hair thickness. That's because waxing pulls hair from the roots which reduces hair growth. Different people will see different results. However, it's common with waxing for hair growth to change in texture and you'll also have less of it.
Shaving, on the other hand, only cuts hair at the surface. It doesn't affect the root whatsoever. For that reason, shaved hair will always grow back the same. It won't grow back thinner, thicker, darker, or lighter.
To answer your question, does shaving make hair thinner, no. Shaving has no effect on hair thickness. 
Does Thin Hair Grow Back After Shaving?
According to experts, shaving has no effect on new growth. It does not affect hair texture, color, or density. After shaving, the hair follicles under the skin continue to grow. They'll produce new strands of hair, whether or not you shave. 
What's the Best Way to Maintain Less Hair Between Shaves?
Does shaving make your hair thinner? As we said before, it does not. A consistent shaving schedule, combined with proper aftercare, can keep you smooth and hair-free. While shaving won't slow the regrowth of hair (or make it thinner), doing it regularly will ensure you stay stubble free. 
If you're looking for a more permanent way to make hair thinner, consider waxing, epilation, or laser treatment. Alternatively, invest in a good shaving routine and stay consistent. 
Provided that you use the right products, shaving is a great hair removal method that's easy, quick, affordable, and leaves you silky smooth. 
Make Your Shave Last Longer with These Shaving Kits
When it comes to does shaving body hair make it grow in thinner, it doesn't. If you're looking to maintain satiny-smooth skin, we recommend investing in a shave kit that comes with all the works to get you smooth – a shaving cream, razor, aftershave cream etc. Here are our faves we know you'll love.
Ultimate Coco Cloud Shave Set
Experience a luxurious, vacay-inspired shave that smells just like tropical paradise. Featuring a whipped shave butter, after shave serum, and moisturizer, Coco Cloud bathes skin in deep hydration and nourishment for your silkiest skin ever. 
It also comes with the Truly Blue Razor, a sensitive-skin friendly razor with shea and aloe-infused gel bars to make your shave extra comfy. Plus, a gorgeous Blue Cloud Bag to keep everything in one place.
Ultimate Smooth Legend Shave Set
This bestselling shave kit will add a whole lot of luxury to your shave routine. You'll actually look forward to shave days with this set. 
It features a pre-shave scrub, whipped shave butter, five-blade razor, and after shave oil, plus a vegan fur pouch, to buff, brighten, smooth, and soothe in just a few steps. With scrumptious scents and unbelievably satisfying textures, you'll love every moment of your smooth legend shave.
Glazed Donut Shave Set
Like the idea of feeling and looking as glossy as a glazed donut? Look no further. The Glazed Donut Shave Set includes an exfoliating cleanser, whipped shave butter, after shave oil and cream, plus a razor and gold scoop. 
Buff, smooth, and hydrate your way to the softest, glowiest skin ever. And have a lot of fun doing it! 
Pit Perfecting Set
An armpit shaving routine with added perks! This 5-step routine gets your underarms silky smooth without ingrowns and razor burn. But that's not all! It also combats underarm discoloration and odors thanks to its blend of pomegranate extract and papaya enzymes. 
If you constantly deal with the discomfort of red, bumpy, or smelly pits, try this ultimate underarm care routine. Your pits will smell like cotton candy by the time you're done!
Does shaving make hair thinner? From what the pros tell us, shaving doesn't have an effect on hair texture, color, or density. For that reason, it seems very unlikely that shaving your hair would make it thinner. 
The best way to stay smooth and stubble-free is to be consistent with your shave routine. Choose one of the gorgeous sets above and finally have fun with your shave!
Share
---