Does this ACTUALLY Work, Tho? Cellulite Targeting Creams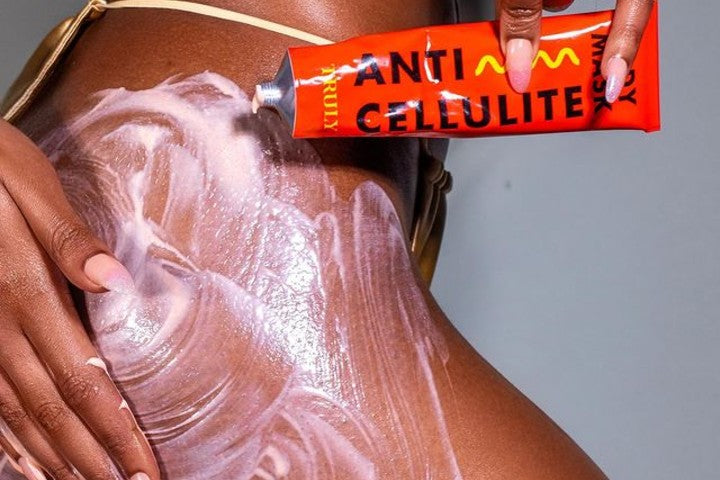 Although it might not look that way from the hundreds of photoshopped snaps you see filling your Insta feed every day, millions of us are walking around with cellulite. 
Studies show 85 percent of women experience skin dimpling. Yep, it's that common!
If you've looked to drugstore shelves in the hope of finding a cure-all cellulite cream, you might be wondering, do they actually work? Or are you just wasting your money on overhyped marketing?
The key is in the ingredients. The next time you look for a cellulite-fading lotion, check out the ingredients on the label. It'll tell you a whole lot more than marketing phrases tell you! Let us show you what to look for - and why.
A QUICK INTRO TO CELLULITE
There's nothing wrong with cellulite. But we get why you might want to see it gone!
To treat thigh and butt dimples, you first need a reasonable understanding of what cellulite is.
In a nutshell, cellulite shows up when adipose tissue (aka fat) pushes through the skin's connective tissue. Everything from genetics to ethnicity to dietary choices can contribute to cellulite appearing on the skin surface. Even hormones play a role.
"Hormones impacts the amount of fat we store, the quality of our skin and connective tissue health," says clinical nutritionist and naturopath Michaela Sparrow. "When this occurs, it's more common to start noticing cellulite."
She also adds that lifestyle choices, including poor diet, lack of exercise, and excessive alcohol can be the culprits behind cellulite.
"These all affect the body's healthy connective tissue structure, detoxification processes and circulation, which can all increase the appearance of cellulite," she explains.
CELLULITE TREATMENTS: ANY TRUTH?
Over the last few years, numerous brands have introduced anti-cellulite creams and serums into their beauty lines. But just how effective are they at skin firming? 
It all depends on the formula. 
For an anti-cellulite treatment that works, you really need to pay close attention to its ingredients. Topical body firming skincare lotions may be labeled as "anti-cellulite," but that doesn't necessarily mean they work. Instead, shop wisely as a consumer keeping your eyes peeled for proven dimple-diminishing ingredients.
Knowledge is power, remember!
INGREDIENTS TO LOOK OUT FOR IN CELLULITE CREAMS
Caffeine
Caffeine is a member of the methylxanthines family, said to increase circulation and blood flow, and promote lipolysis of fat cells for smoother skin. It's also a source of powerful antioxidant effects to stimulate collagen production and boost skin elasticity. 
But here's the funny part: drinking coffee is actually detrimental to cellulite development. So stick to applying it topically as a toning treatment if you want to reap its skin-tightening benefits.
"Caffeine can transiently make it better because it plumps the skin and masks the irregularity," explains dermatologist Mona Gohara, MD, adding that the results will be temporary. 
Retinol
A derivative of vitamin A, retinol thickens the epidermis and enhances skin texture.
As a cellulite treatment, dermatologists recommend applying a 0.3% concentration (less if you have sensitive skin) twice a day for 6 months. Studies show using a body lotion or firming cream with retinol for that duration can improve the appearance of cellulite.  
Looking for a retinol-formulated cellulite cream? Try Truly's Anti-Cellulite Bundle, which comes complete with a hydrating serum and elastin-enhancing body mask. These products use retinol, bitter orange, and 3 botanical extracts to smooth, nourish, and moisturize the skin.
Collagen
Collagen is one of those cure-all types of skincare ingredients, but just how well does it work for targeting cellulite?
From what research tells us, applying a topical collagen-formulated moisturizer to affected areas can strengthen the connective tissue of your skin. As a result, it delivers firming effects. What's more, this substance can boost your natural collagen production. 
Truly's Vegan Collagen Body Cream is the resurfacing, age-defying cellulite cream you need in your life right now. 
Shea Butter
Experts say you should absolutely be looking for shea butter in your anti cellulite cream.
Rich in vitamin a and essential fatty acids, shea butter provides potent moisturizing effects to tackle dry skin and minimize the appearance of cellulite at the same time.
Shea butter can help to rebuild the collagen fibers that have been damaged, causing dimples, stretch marks, and hollows to appear. It'll also feed your skin cells with nutrients for a smoother, brighter complexion.
Give Truly's Shea-Based Unicorn Body Lotion a try to soothe and smooth your skin.
Plant Extracts
Plant extracts work as a powerful antioxidant and anti-inflammatory. They are great for temporarily fading cellulite. So, if you're going to buy an anti-cellulite cream, make sure it's packed with plant extracts, as they are highly effective at nourishing the skin!
We recommend Trulys Blueberry Kush CBD Body Lotion. This moisturizing formula is made antioxidant-packed blueberries and aloe, basil, and witch hazel plant extract for ultimate cellulite-minimizing effects.
Vitamin C
Vitamin C helps build collagen. As a result, it's a dermatology favorite for curing cellulite. Okay, maybe not curing - but at least, making it look a lot less visible.
Pair vitamin C with peptides for an extra pumped up anti-cellulite treatment. You'll find it in serum, lotion, and gel-cream form. But don't just look on Amazon for one. Choose Truly's Vegan Collagen Serum instead - it's loaded with vitamin C!
Hyaluronic Acid 
Hyaluronic is another excellent choice for addressing cellulite. It's one of the most hydrating ingredients out there, known for its smoothing and softening abilities. Even the most prestigious New York dermatologists recommend trying it! 
Maybe you've tried weight loss programs, in-office radiofrequency treatments, or lymphatic draining procedures in a bid to get rid of cellulite? Or perhaps you're more of a cream kinda girl?
Either way, removing cellulite completely is a challenge. You might see slimming creams and serums on drugstore shelves claiming to give you the body of your dreams. Don't believe it. 
Whether you're opting for Clarins, Nivea, or Truly products, always look out for cellulite-targeting ingredients. That's the real way to tell if a product is going to work for you. 
Share
---