Dry Spell? Here's How to Groom Your Lady Parts for that Moment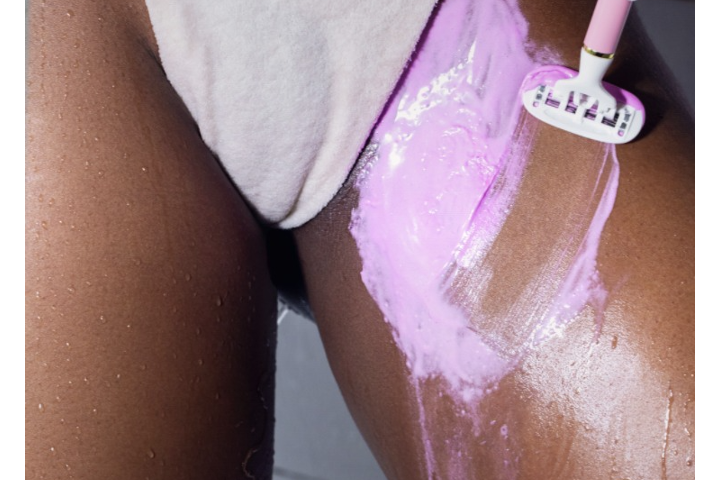 Your first date in...months?
Then you've no doubt got some grooming work to do *down there* (if that's your cup of tea, of course!). No pressure! That being said, even with a full bush, you'll still want to keep things clean, trimmed, and hydrated down there -- just for the sake of hygiene and overall comfort.
Below, we show you how to groom your pubic area ready for your date. Whether you're a shaver, waxer, or proud full bush owner, here are some tips for making her look even more fabulous.
Shaving
Shaving is the most popular hair removal method out there. Why? Probably because it's easy, convenient, and pain-free. Little preparation is involved with this body hair removal method. It's always there for a last minute clean up before a beach day or unexpected date. Oh yeah, and you also don't need to pay someone to do it for you. So, add wallet-friendly to the list too!
If shaving's your go-to strategy for bikini line smoothness, it's important to follow the right steps to achieve the best results. 
First, take a warm shower to loosen up the hair follicles. Exfoliate with Truly's Smooth Legend Pre-Shave Scrub. Then use shaving cream or butter like Truly's Happy Hairless Shaving Butter before shaving your pubes. Using Truly's Life Shaver Starter Razor, glide it across the skin in the direction of hair growth for a smooth, irritation-free shave. Rinse the blades under water between swipes to keep it performing at its best. Then finish up with a slathering of Truly's Glazed Donut After Shave Oil for post-shave hydration and ingrown hair prevention.
Always use a sharp razor when you shave your pubic hair. Dull razors can cause skin irritation, razor burn, and ingrown hairs. And always remember to use shaving gel or butter for a closer shave minus irritation. 
You can buy Truly's Full Shaving Kit Here. 
Waxing
"Waxing provides smoother and longer lasting results by removing the hair from the root, [which] also allows hair to grow back thinner and finer," explains Deidra Green, Field Training Manager at European Wax Center. 
She adds that it also "provides a physical exfoliation, removing lifeless surface cells. In other words, waxing will give you the smoothest skin–and the smoothest experience."
That might be true, but not everyone wants to endure the pain it takes to get there. If you're up for it, good on you! Just make sure you choose a professional to perform it, and prepare for it in the best way.
To prepare for a professional bikini wax, wait until your pubic hair is at least one-quarter inch long. Any shorter and the wax won't grip the hair. Next, decide which style you'd like. You can choose from a panty line wax which removes the bikini line hairs; a full bikini wax that removes everything; or the full Brazilian wax which removes the hair in the nether regions and in the butt crack. 
As for aftercare, avoid taking hot showers, using harsh cleansers and exfoliating products, and slathering on thick moisturizers in the few days after a waxing session. Opt instead for a soothing serum like Truly's Cooka Concentrate Ingrown Serum to relieve redness and prevent irritation. 
Lasering
It's pretty costly, but if you're looking for long-term results, laser hair removal is an excellent choice. It works by zapping the hair follicles with a laser light to remove them permanently. You can use this treatment to remove facial hair, armpit hair, leg hair, and your pubes. 
Just be aware that this permanent pubic hair removal technique doesn't work for natural blondes or redheads. Or gray hair!
For effective permanent results, you'll need to do around six sessions -- one each month. 
If it's your first time getting laser therapy, speak to your dermatologist, ob-gyn, or a laser hair removal provider to discuss the treatment so you can understand it better and decide from there if you wish to proceed.
Do not apply any topical treatments like lotions or oils for 24 hours. Avoid UV exposure at least two weeks after the treatment.
Maintaining 
Want to keep your fluff? While you might think embracing a full bush would be way lower maintenance than the hair removal methods above, it still requires a few steps to keep the area healthy and looking good.
You don't need any special skincare products. Just a simple regimen will do.
Start by cleaning the area using soap and warm water. If you want, you can also exfoliate the area to get rid of dead skin cells and buildup, which can help prevent ingrowns. Next, use a quality trimmer or clippers to keep the area more contained.
"Use scissors manually for more detailed work," says Lillian Tung, co-founder of Fur, a brand that makes a pubic hair oil. "Make sure you have dedicated bikini area scissors, and be sure to wipe them down after each use." And be especially careful around the labia and vulva -- you certainly don't want any accidents!
Once you've done that, it's time to moisturize the area! Moisturizing matters because the pubic hair and skin can both get dry. If you've got dry skin as it is, you'll definitely want to prioritize this step. 
According to Tung, the best ingredient to look out for is tea tree oil, "because it's antimicrobial, clears pores, and regulates your sebum production." That means "It'll give you softer skin with no redness or bumps."
We recommend pampering your pubes with Truly's Cooka Oil -- a tea tree oil-formulated treatment especially designed for the pubic hairs and skin. It's also suitable for sensitive skin. 
Ready for Your Date?
If you've not been on a date for a while (or at least one that's not over Zoom), you may have let things slide a little down there. It's time to treat your lady parts to some pampering! Choose your hair removal (or maintaining) method and show her some TLC ahead of your date. 
Share
---