How to Exfoliate Legs for UNREAL Smoothness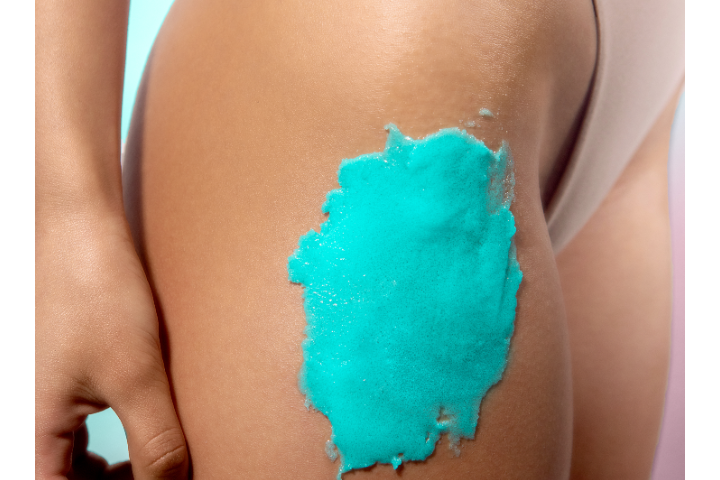 Summer is here, which means you have no excuse NOT to exfoliate your legs. While it's often neglected, exfoliating can transform your legs and make them look even more gorgeous under your skirts, dresses, and shorts.
Just like it does for the face, leg exfoliation helps to remove dead skin cells on the skin's surface while boosting circulation to minimize the appearance of cellulite. It also preps skin for a seamless shave with a reduced risk of razor burn, bumps, and ingrown hairs. And...it'll make those skincare products applied afterwards sink in deeper — and ultimately, work better.
If you want your gams to look their best this summer, here are some tips for exfoliating your legs — and the best skincare products to use.
#1: Use a Body Scrub
Scrubs can sometimes be a little too harsh for the face, especially if you have sensitive skin. For the body, however, scrubs are an excellent product for brightening, fading dark spots and discoloration, and diminishing dry, flaky skin.
Body scrubs are physical exfoliants that work by manually buffing away the buildup of dead skin, oil, and dirt on the skin. In addition to promoting smooth skin, this exfoliation method stimulates blood flow and lymphatic drainage, reducing the appearance of cellulite and stretch marks. It also preps skin for shaving, enabling you to achieve a closer shave with less irritation.
One of our favorite exfoliating scrubs is our Moon Rocks Whipped Body Scrub. This sugar scrub contains a blend of hydrating coconut oil, brightening lavender, and nourishing vitamin E to buff, smooth, and brighten skin.
How to use: Massage a handful of scrub into the skin, working in circular motions to buff. Let it sit on the skin for a minute or two for extra hydration. Rinse off, and pat dry. Finish with a lightweight lotion and sunscreen.
#2: Try a Body Polish
Body polishes are another type of physical skin exfoliation. Unlike scrubs, however, polishes primarily slough away dead skin cells, smoothing away flaky or bumpy skin. Polishes are a great treatment for all skin types, but they work especially well for people dealing with keratosis pilaris thanks to their ability to unclog pores and smooth away bumps. Besides delivering ultra-smooth legs, a polish offers brightening effects, leaving your gams glowing.
We recommend our Cake Maker Butt & Leg Polish, a smoothing, sprinkle-speckled butt and leg tightening polish formulated with sculpting ceramides, plumping plant collagen, and firming guarana to smooth, brighten, and tone up your thighs while diminishing dimply skin. Plus, it smells like yummy warm caramel!
How to use: In the shower, mix a small amount of polish with warm water to create a lather. Rub on your legs in circular motions. Rinse, and pat dry. Remember to follow up with moisturizer and sunscreen!
#3: Apply an Exfoliating Body Serum
If you've got extremely sensitive skin or dry skin, opt for chemical exfoliation instead. Chemical exfoliators, such as alpha hydroxy acids (AHAs) and beta hydroxy acids (BHAs) helps to shed dead skin cells by dissolving buildup.
AHAs like glycolic acid and lactic acid are best for dry, sensitive, and mature skin while BHAs like salicylic acid are best for oily skin and acne-prone skin. You'll find these acids in everything from body washes to body lotions and serums. You can choose which product you like best.
If you want the quickest route to smoother legs, try our Blueberry Kush CBD Body Oil. It contains a blend of AHA + BHA, hemp, vegan collagen, and 1,000 blueberries per bottle to shed dead skin, fight inflammation, boost collagen production, and illuminate the skin. It's the perfect choice for those who don't have time for an extensive exfoliation routine as you can simply rub it on and let it work its wonders.
How to use: Apply a few drops onto your legs and gently massage until fully absorbed. Don't forget to follow up with moisturizer and sunscreen!
#4: Dry Brush
Dry brushing is one of the best types of exfoliation for treating cellulite. That's because it "increases circulation, which helps with cellulite, aids in lymphatics drainage, and exfoliates the skin," — according to board-certified dermatologist Dendy Engelman, MD.
How to use: Starting with dry skin and using a soft-bristled brush or loofah, start at your feet and brush upward toward the heart. Do this for a few minutes, and rinse skin.
#5: Use a Washcloth
A washcloth is another great way to exfoliate your legs. Many people use this technique to prep skin for self-tanner, as it helps to slough away dead skin and prevent streaks and patches.
How to use: In the shower, soak and squeeze out a clean washcloth and squirt on some body cleanser. Rub it in circular motions starting at the bottom of your legs up to the top. Repeat a couple of times, then rinse.
#6: Opt for an Exfoliating Glove
Exfoliating gloves are a popular mode of exfoliation because they're gentle and a little more potent than a washcloth. Plus, they're super easy to use.
"I absolutely always recommend exfoliating gloves to all my clients and friends," says Amanda Arnold of The Shady Sun Tanning Co. "It's amazing to see your dead skin literally come off your body."
She adds that you can use it alone or with a body wash. Another plus point: it's reusable! Just make sure you keep it clean and store it in a clean, dry place to prevent it from getting mouldy.
How to use: Simply slide on the glove, and get scrubbing!
ALWAYS FINISH YOUR EXFOLIATING ROUTINE WITH MOISTURIZER
Never skip moisturizer! Applying moisturizer after exfoliating your legs reinforces the integrity of your skin's moisture barrier, keeping your legs silky smooth and soft all day long while warding off inflammation.
Our favorite? Cake Maker Butt & Leg Cream — a formula of vegan collagen, ceramides, and polyglutamic acid to smooth, tighten, and deeply hydrate skin. Dip your legs into this warm caramel-scented cream to feel and smell amazing all day long!
With so many leg exfoliation methods to choose from, there's no reason why you can't give your gams a good buffing! And just think of the end result: silky smooth, glowing gams!
Share
---