Just in Time for Summer: Truly's Anti-Cellulite Trio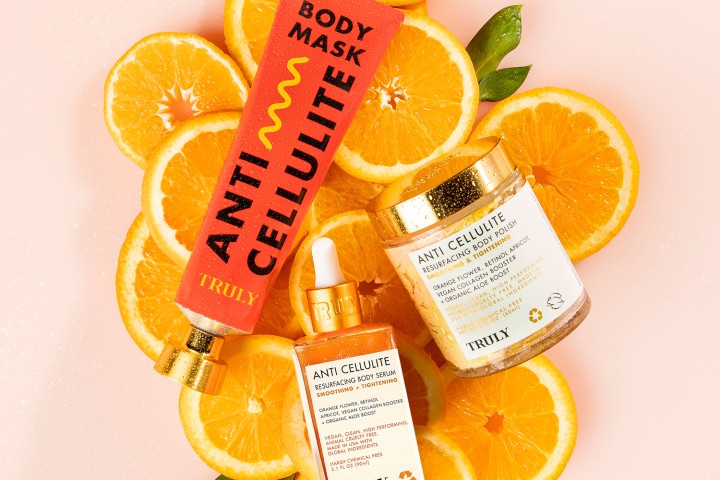 Cellulite is a cosmetic condition that affects around 90% of women. Yup, it's super common — and nothing to feel ashamed about! Embrace it, by all means. But if you're not digging those dimples on your butt and thighs, there is something you can do about it.
Cellulite occurs when fat deposits beneath the skin begin to push through layers of collagen fibers under the skin, causing a puckering effect. It most commonly affects the butt and thigh areas, but cellulite can also appear on the arms, stomach, and other areas too.
Collagen fibers, or connective tissue, can be weakened by hormones, lack of exercise, excess fat, and poor circulation, and according to dermatologists it affects women the most. That's because women carry more fat around the hips and thighs, and have less supportive connective tissue.
ENTER: Anti-Cellulite Trio — Truly Beauty's new cellulite-reducing skincare routine designed to get your body smooth and sculpted this summer! Here's everything you need to know about our new kit, and how it can reduce the appearance of cellulite in three steps.
WHAT IS THE ANTI-CELLULITE TRIO?
Our Anti-Cellulite Trio is a complete routine for getting rid of cellulite. It comes with a body scrub, body mask, and body serum, plus an ultra-cute white and yellow striped towel bag to keep everything in one place — and remind you to stay consistent! It's our bestselling O.G. Anti-Cellulite Bundle, with a couple of extras to make it a complete cellulite-reducing routine.
Included in the kit:
Anti-

Cellulite

Polish
Anti-

Cellulite

Mask
Anti-

Cellulite

Serum

Yellow Towel Bag 
Powered by collagen-boosting retinol, decongesting orange flower, and hydrating apricot, each product in the routine works together to manifest your smoothest thighs, booty, and stomach while treating blemishes, hyperpigmentation, and dry skin.
In addition to its skin refining ingredients, the 3-step beauty routine relies on the power of exfoliation and massage to get the blood flowing, kickstart circulation, and activate lymphatic drainage to minimize the visibility of dimply skin.
Plus, all skincare products in this cellulite treatment set are 100% vegan and cruelty-free.
HOW DOES IT WORK
With the freshest and finest ingredients, Truly's Anti-Cellulite Trio blurs the appearance of cellulite while treating stretch marks, discoloration, and loss of elasticity.
Unlike many cellulite creams and serums out there, these three formulas target the core culprit behind cellulite — the accumulation of fat beneath the skin — using the plumping, rejuvenating, and moisturizing effects of actives like retinol, vegan collagen, orange flower, aloe, and apricot.
Together, these ingredients join forces to exfoliate skin, deeply hydrate, boost collagen production, and mobilize stored fats, to smooth out cellulite and inspire you to pull on your shortest mini!
While it is an ingredient focused system for alleviating cellulite, it also relies on the power of massage to increase circulation, eliminate stagnant fluids, and in doing so — improve uneven skin tone, fade discoloration, and swipe out cellulite. It also relies on antioxidants like vitamin E to nourish skin and leave it feeling significantly softer.
IS IT BETTER THAN THE ORIGINAL ANTI-CELLULITE BUNDLE?
Our original Anti-Cellulite features bestsellers Anti-Cellulite Mask + Serum. It's still around and available for anyone wanting a quick and citrusy solution to cellulite. However, if you're looking for a more complete routine, our NEW Anti-Cellulite Kit adds the additional firming and skin resurfacing benefits from our newly released Anti-Cellulite Polish. With these three beauty products on hand, cellulite doesn't stand a chance!
At Truly, we have a few products that target orange peel and stretch marks. From our Acai Your Boobies line to Buns of Glowry, our boob and butt serums, polishes, and butters can refine skin texture and diminish dimples.
Anti-Cellulite Trio is especially targeted to treat cellulite, which is why we highly recommend it if your key skin concern is dimply skin.
HOW TO USE THE ANTI-CELLULITE TRIO
To get the most out of our cellulite treatments, make sure you're using them properly. Here's the right way to use our anti-cellulite skincare products.
Anti-Cellulite Polish: In the shower or bath, apply a generous amount of polish to affected areas, and massage into your skin. Spend several minutes on the massage to get your circulation flowing and stimulate lymphatic drainage. Rinse well.
Anti-Cellulite Serum: Apply several drops onto clean, dry skin and massage in well. Again, spend a few minutes massaging it in to spur the movement of stored fats beneath your skin.
Anti-Cellulite Mask: Apply a generous squeezing of the body mask onto cellulite-affected areas. Leave it on to work its magic, and do not rinse. Finish with sunscreen if you're applying in the am.
IS THE ANTI-CELLULITE TRIO SUITABLE FOR ALL SKIN TYPES?
While it does contain retinol, which can inflame sensitive skin types, all three products in the kit are gentle on the skin yet invigorating enough to get blood plumping.
Best of all, while this kit is made for treating cellulite, the polish helps to prime skin for seamless self-tanner application!
WHEN WILL YOU SEE RESULTS FROM ANTI-CELLULITE TRIO?
It's always important to remember that results take time. This Anti-Cellulite Trio won't get rid of cellulite overnight, but it will make it less visible while treating other skin concerns such as discoloration, dryness, fine lines, and sagging.
For the best results, we recommend using all products on a daily basis. If you have sensitive skin, stick to using the polish only two or three times a week to prevent irritating your skin.
With consistent daily use, you should see results from the Anti-Cellulite Kit within 3-4 weeks. Of course, the longer and more consistently you use it, the better the results will be.
When it comes to using cellulite-reducing body oils, lotions, serums, and scrubs, the secret to making them work is stay consistent. If you're looking for a way to smooth out your cellulite, we recommend trying our Anti-Cellulite Trio, and making all products in the set part of your daily routine.
You can also watch how it's used IRL by following us on TikTok, Instagram, and Facebook.
Soon to be available on Amazon, Ulta, and Sephora EU.
Share
---