Meet Our Latest Limited Edition Nice Melons Boob Skincare Bundle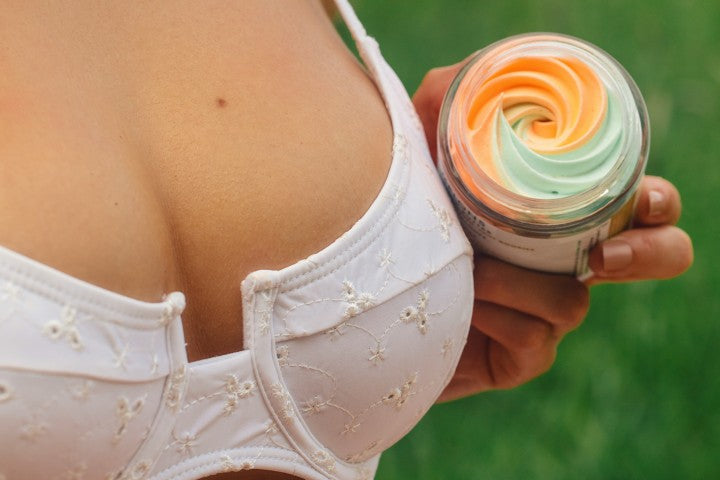 Soothing, summer-scented, and extra juicy...
Truly's Nice Melons Bundle is the skincare kit you need this summer. Because your boobs deserve more love!
Are you the type who gets out the shower, slathers body lotion all over, and heads out? Same! But seriously, if you want to keep your breasts looking their beautiful, perky selves, you're gonna need to give them their own skincare routine.
That's where our Nice Melons Bundle comes in. This kit features all the essentials for smoothing, softening, and perking up your boobs. Plus, every product in it smells amaaaazing. That person you share a bed with? They won't be able to resist!
Before we spill all the details about our brand new limited edition boob bundle, let us first let you into a little secret about breasts...
YOUR BOOBS FACE THREE MAIN CONCERNS
Dryness & Sun Damage 
Here's the thing ladies: the skin on your chest area is thin, delicate, and prone to drying out. It's also an area that sees a lot of sun, leaving it susceptible to sun damage - especially during the summer months.
"We wear plunging neck lines and open shirts, and we don't always protect this skin as well as we do facial skin," says board-certified dermatologist, Dr. Hadley King. "Ultraviolet (UV) radiation can lead to discolorations and a loss of collagen and elastin, leading to fine lines, thin skin and crepiness. Add to that the effects of gravity on the breasts themselves, as well as creasing between the breasts."
Besides the superficial effects, don't forget that sun-damaged skin is prone to cancer. So you really need to be slathering those babies in plenty of moisturizing sunscreen every two hours to shield them from UV rays.
Blemishes
Pimples, unfortunately, do crop up there. You're particularly prone to breast breakouts if you work out a lot and sit around in damp, tight-fitting clothing. Doing this causes acne, redness, and irritation. Some people also experience boob acne due to hormonal imbalances. If you think that's the case, head to your doctor for advice. 
Fine Lines 
Fine lines and wrinkles can also appear on the chest area, due to the skin being especially thin and prone to aging. 
"Volume loss and repeated folding of the skin are the two biggest causes," says board-certified dermatologist Rachel Nazarian. "Over time, collagen is degraded by sunlight and free radical damage, which causes this already thin-skinned area of the body to become even more so. Additionally, as we move, skin folds upon itself, creating creases. Those creases will grow deeper with time, much like facial expression lines on your face. And the thinner the skin is, the deeper the lines can form."
FIX AND PREVENT THESE ISSUES WITH TRULY'S NICE MELONS BOOB BUNDLE
Introducing our brand new limited edition Nice Melons kit! Inside, you'll find a boob polish, serum, and butter designed to tighten, soften, and brighten your skin. It's time to show those girls some TLC with these brilliant boob beauty tips!
Packed with plant-based ingredients, these skincare products share the same key ingredients
Kigelia fruit: bursting with vitamins and antioxidants that lessens signs of aging, shields the skin from UV rays and environmental pollutants, and visibly tightens.
Ginseng: clinically proven to boost circulation and collagen production, this ingredient enhances elasticity in the skin, slowing down the formation of fine lines, while gently exfoliating the skin.
Cantaloupe: loaded with nutrients such as vitamin A, vitamin B, and vitamin C, cantaloupe offers hydration and brightening effects on the skin. 
WHAT EACH PRODUCT PROMISES
Nice Melons Boob Polish
Think of this product as a body scrub for your boobs. Hydrating, nourishing, and rejuvenating, this product promises smooth, taut boobs. And because it's so gentle, it's perfectly suitable for sensitive skin. No worries there! 
Nice Melons Boob Serum
It's called a butt serum, but it also doubles up as a boob serum. This formula should be part of your self-care routine if you're looking to show your boobs some love. It's basically like a body oil, only without the greasy residue. It smooths, softens, and evens out skin tone. 
Nice Melons Boob Butter
Essentially, it's a body butter for your twins! Besides acting like a moisturizer, it can also reduce the appearance of cellulite, brighten the skin, and doubles up as a lip balm. It's the perfect product to complete your boob skincare routine and seal in all those hydrating ingredients from before!
HOW TO USE
Step 1: Polish: in the bath or shower, apply a small amount on wet skin. Leave it on for 3-5 minutes then rinse. You can also mix it with your body cleanser to create a nice lather. 
Step 2: Serum: after your bath or shower, apply 1-4 drops on clean, dry skin.
Step 3: Butter: apply a thin layer of butter to the targeted area.
HOW DOES IT COMPARE TO OUR OTHER BOOB PRODUCTS?
Truly's known for its iconic boob care products like Acai Your Boobies. Formulated with ingredients like retinol, acai, aloe, glycerin, jojoba oil, and shea butter, it's certainly an effective formula for beautifying your boobies. In comparison, there's not a lot of difference besides the ingredients and the natural fragrance. As far as boob care tips are concerned, we'd recommend either.
Nice Melons is the latest bundle on the block, freshly released for your self care sessions. It's a go-to pick me-up for anyone, anywhere! And because it contains no retinol, it's safe for pregnant women. 
And feel free to pair these products with other Truly staples, such as Unicorn Fruit Butter and Buns of Glowry Butt Polish. If you're dealing with boob acne, stock up on our CBD and hemp aha-formulated staples that fight acne and clarify the skin. And just to treat yourself some more, try our hyaluronic acid face creams and lip glosses for some extra self-care love!
LEVEL UP YOUR BOOB ROUTINE WITH NICE MELONS BOOB BUNDLE!
In the mood for beautiful boobs? Yours are gorgeous anyway, but how about showing them just how much you love and appreciate them? 
Truly's Nice Melons Bundle is the newest limited edition skincare bundle in the store...and she's just waiting for your call!
Share
---