Meet The New Members of The Coco Cloud Shaving Family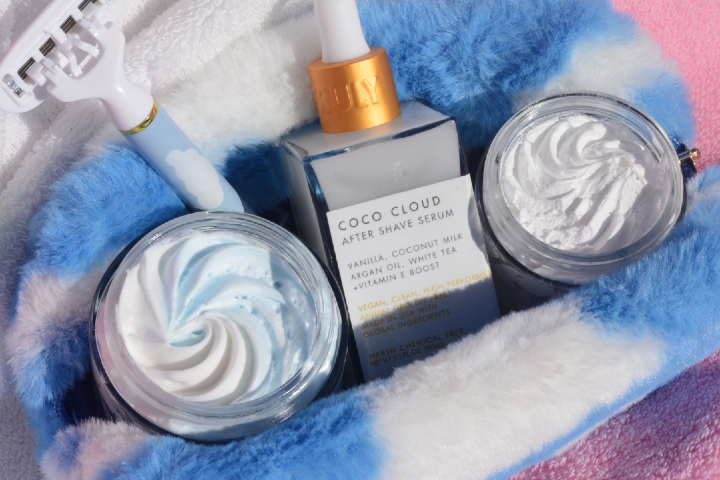 GREAT NEWS!!! Our bestselling Coco Cloud Luxury Shave Butter just got its own exclusive line featuring all the essentials you need to get that silky smooth, ultra-close shave of your dreams.
The fam might seem sweet and soft on the outside, but don't let that fool you. These shaving angels are packed with some of the most high-performing skincare ingredients out there to deal with everything from ingrown hairs to razor burn. 
Plus, they smell like heaven with their tropical infusion of coconut milk, argan oil, shea butter, mango, and vanilla. 
Ready to be introduced? Here goes...
NEW COCO CLOUD SHAVING KIT 
For the first time ever, we get to meet Coco Cloud's super sweet and sassy fam! 
WHAT'S INCLUDED:
Coco Cloud Luxury Shave Butter
What it is: A whipped coconut milk-infused shave cream to soften skin and hair while combatting ingrowns and irritation for the silkiest, ultra-close shave. It's one of our fave bestsellers for simplifying shave days! And unlike shave gels, butters are way more nourishing and hydrating. Perfect for dry and sensitive skin types!
What it does: Coconut milk plays a starring role in this smoothing shave butter. Thanks to its anti-microbial and anti-inflammatory properties, coconut milk can help prevent razor bumps, burns, ingrowns, and hyperpigmentation. The formula also has argan oil to thank for its ability to leave skin soft and hydrated all day long.
How to use it: In the shower or tub, lather up your Coco Butter and spread it over desired areas for an easy razor glide.
Coco Cloud Shave Serum
What it is: A flash-absorbing, vanilla-scented oil to soothe post-shave irritation and leave skin silky and sparkly. From your underarms to your legs, this oil works for all areas and all skin types. Plus, it won't leave you feeling greasy! Because nobody wants that!
What it does: It's formulated with moisturizing argan oil, antibacterial vanilla, and calming white tea to relieve irritated or sensitive skin. Use it after every shave to keep your skin super chill.
How to use it: Apply on clean, dry skin post-shave using a cotton pad or apply to palms and pat into skin directly.
Coco Cloud After-Shave Butter
What it is: A rich and fluffy body butter designed to hydrate, nourish, and soothe skin for a smooth and satiny finish. While lotion is typically used after shaving to seal in moisture, it doesn't leave skin as soft as butter does. That's why butters are our fave personal care products for moisturizing skin. 
What it does: Hydrating coconut milk, plumping mango seed butter, and protective vitamin E all work together to seal in lasting hydration, soothe shave-related irritation, encourage a tightened and brightened overall complexion. 
How to use it: Slather it over your entire body, paying extra attention to your knees, elbows, and ankles. Let it absorb before getting dressed.
Truly Blue Razor
What it is: Our NEWEST razor + the first on our shelves to feature extra cushy gel bars infused with aloe & shea butter for added hydration and soothing effects. Truly Blue Razor also boasts a 360 degree comfort system for an effortless glide every time. 
What it does: This shaver is easy to use, gentle on the skin, and infused with anti-inflammatory aloe and super hydrating shea butter (butyrospermum parkii) to prevent unwanted shave-related side effects like nicks, burns, bumps, and ingrowns. You can rely on this razor for an easy glide and super smooth results. 
How to use it: In the shower or tub, apply a generous layer of shaving butter, and glide the razor across the skin in the direction of hair. Rinse the blades after each swipe, continue until you're as smooth as desired. Store in a clean, dry place.
Truly Blue Cloud Bag
Do you constantly find yourself misplacing your shaving creams, razors, or oils? No worries! Stash your shaving supplies in this adorable fluffy blue bag, and never lose your tools again!
Bonus: you can also use it for work trips or overnight stays at baes. It's spacious, ultra-cute, and perfect for transporting your beauty goodies everywhere you go. 
Of course, it's not only reserved for your shaving essentials. Feel free to fill it with other Truly beauty baddies like your serums, hair masks, and polishes. 
WHAT ELSE YOU SHOULD KNOW ABOUT THE ULTIMATE COCO SHAVE KIT
Besides its key ingredients, you should know that the Coco Cloud products contain many more hydrating and skin-repairing ingredients such as glycerin, rose (rosa damascena), mango seed butter (mangifera indica), arrowroot, and radish root (leuconostoc). 
Additionally, all these products are vegan, cruelty-free, and CLEAN. At Truly, we don't believe shoppers have to sacrifice their values to enjoy high-quality skincare products. That's why we provide our sweet peeps with plant-based, sustainable products for extremely affordable prices that meet most budgets.
Finally, if you weren't already aware, we offer VIP subscriptions for beauty babes wanting to stay ahead of their beauty routines. Since you probably shave at least once a week, it doesn't take long for products to run out. By subscribing, we'll ship out your Coco Cloud Kit every 30 days, so that you're never left without your shaving essentials. It doesn't get easier than that!
You can purchase the NEW Ultimate Coco Cloud Shaving Kit on our official website, Ulta, Amazon, and Sephora. Once you've gave it a try, head over to our social media + leave us your feedback on there! We can't wait to hear what you think!
Share
---