People Say Their Butt "Looks Airbrushed" After Using this $28 Booty Serum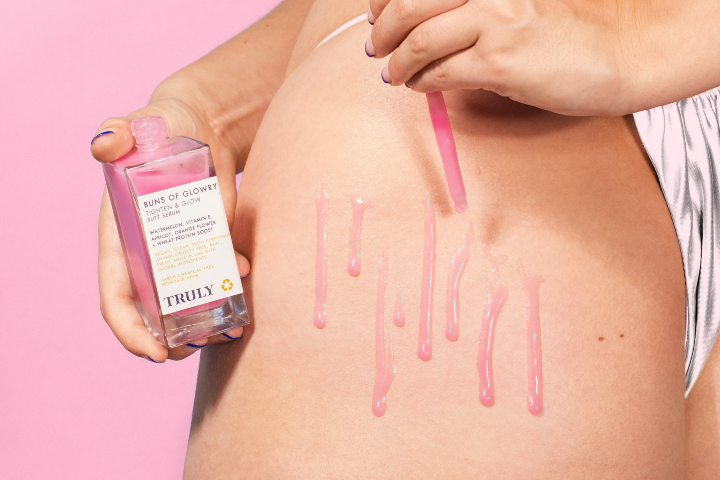 Buns of Glowry Tighten and Glow Butt Serum has gained A LOT of attention since it first arrived on the scene.
As a matter of fact, customers are raving about how effective it is, with one claiming her butt "looks airbrushed" after using and others saying it left their butt "firm and tight."
Interested in giving this booty serum a try for yourself?
It may not be a skincare essential like cleanser, lotion, or sunscreen, but it can definitely do wonderful things for your behind. 
Scroll down to hear more about our fave post-shower booty serum, and why you need it in your beauty routine. Like your favorite face wash, bronzer, lip gloss, or shimmer, this'll soon find a place in your daily routine. Trust us. 
A Line Up of Powerful Actives
Buns of Glowry Serum works for a reason. It's powered by a slew of skin firming, plumping, and hydrating ingredients such as watermelon, vitamin E, wheat protein, apricot and bitter orange. These ingredients work together to promote a smoother, tighter-looking peach.
Watermelon
High in vitamin C, amino acids and lycopene, watermelon is a powerful antioxidant that promotes cell regeneration, hydration, and gentle exfoliation. It can also plump out fine lines, wrinkles, and dimples on the skin for a smooth and youthful finish. Watermelon is an excellent ingredient for addressing dry skin while improving skin tone, decreasing unwanted pigment, and tackling creases. It's a big glass of aqua for your skin!
Vitamin E
Vitamin E is hydrating, protective, and nourishing. It fights of free radicals on the skin, helping to protect the skin from damage while keeping it looking young and healthy. Additionally, it's highly moisturizing and healing, and it can help strengthen skin barrier function. Plus, vitamin E is a natural anti-inflammatory, so it can be soothing and help calm the skin.
Wheat Protein
Wheat protein contains ceramides, skin-plumping lipids that increase firmness of the skin, while minimizing the appearance of fine lines and cellulite. When wheat protein enters the skin, it fills it with these lipids that plump up as they attract moisture. Besides smoothing out hollowness and fine lines, it also provides the skin with a healthy source of moisture.
Bitter Orange
Bitter orange is packed with methoxylated flavones and flavanones that can help reduce the appearance of dimply skin by stimulating microcirculation and facilitating the draining of tissues. This decongesting active ingredient is shown to smooth, tone, and leave skin extra glowy.
Apricot
Rich in minerals, acids, and phenolic compounds, Apricot offers tightening, nourishing and moisturization benefits to skin. It also boasts antioxidant properties, meaning it can help fight free radical damage while protecting the skin from cell deterioration.
Clinically Proven to Work in Four Weeks
In May, last year, we completed a 4-week clinical study to evaluate the efficiency of our Buns of Glowry product line, and the results were better than we ever could have imagined!
In just four weeks, participants of the study noted visible improvements in their skin tone, texture, and smoothness. Most subjects also agreed that their butt felt firmer, tighter, and more toned after four weeks of daily use.
What Customers are Saying
A lot of people have a lot of good stuff to say about this butt firming serum. Yep, real life people LOVE this formula for smoothing, firming, and tightening their tush. It's a super original beauty product that works for all skin types, and offers REAL, VISIBLE results. The hype is still going strong, guys. 
"Noticed a difference within 3 days!" says Kadence, while Truly shopper Sarah writes: "This product is definitely a must have! I put it on right after I get out of the bath or shower and it makes me feel so smooth! All day I notice a huge difference in how firm and tight my bum feels! This product is not oily and melts into your skin! It's the best feeling and I definitely recommend!"
According to customer Mariah B, Buns Serum is effective for fading stretch marks, too.
"Love this serum!" she gushes. "I can honestly say I've been seeing a different on my bum. My stretch marks are fading and my bum feels a lot tighter!"
Another Truly shopper claims this skincare product helped clear her butt breakouts, while another insists her butt "looks airbrushed" after applying this booty serum every day.
A Skincare Routine For Your Butt 
With a million plus likes on Instagram and TikTok, this product truly is something else. With so few booty-focused products around, Buns of Glowry is unique in that it offers skincare especially for your backside. Best of all, it works for all skin types -- from oily skin to sensitive skin and dry skin. Plus, it comes with no unpleasant side effects. Only good ones! Here's a Buns of Glowry-inspired routine to give your booty a boost.
Step #1: Exfoliate with Buns of Glowry Polish 
Buff away blemishes, dark spots, and discoloration with this retexturizing butt scrub. It's a shortcut to a smooth and blemish-free booty. 
Step #2: Treat with Buns of Glowry Serum 
Next, apply a thin layer of Buns of Glowry Serum to target skin concerns such as sagging, cellulite, stretch marks, and acne. Like a good mascara, concealer, or matte foundation, this serum is a keeper and one you'll be using for the next years to come. 
Step #3: Moisturize with Buns of Glowry Butter
Pair the combo with deep hydration, which you can get from this ultra nourishing butt butter. Alongside the main ingredients, it also contains shea butter, coconut oil, and jojoba oil -- all super hydrating ingredients for ultimate booty smoothing.
The last thing anyone wants is to deal with a dull and depleted booty. Wake up your tush and touch up those imperfections by adopting this one of a kind butt routine. No lols here. We've never been more serious!
If it's your first time using, no worries! Simply use the products like your daily cleanser, toner, dark circle eye cream, and broad spectrum SPF 15. 
Truth is, you need a backup plan for your booty. All those hours of sitting and connecting with your coworkers is doing your peach zero favors. Restore the plumpest, juiciest version of your butt by giving this butt serum + the rest of the bundle a try. You don't need to wait a couple years to see results. Only four weeks!
You can also purchase our products from retailers such as Amazon, Ulta, and Sephora. 
P.S. Remember to send us your before + after pics! 
Share
---