Stay Fresh ALL DAY w/ our NEW Aluminum-Free Deodorant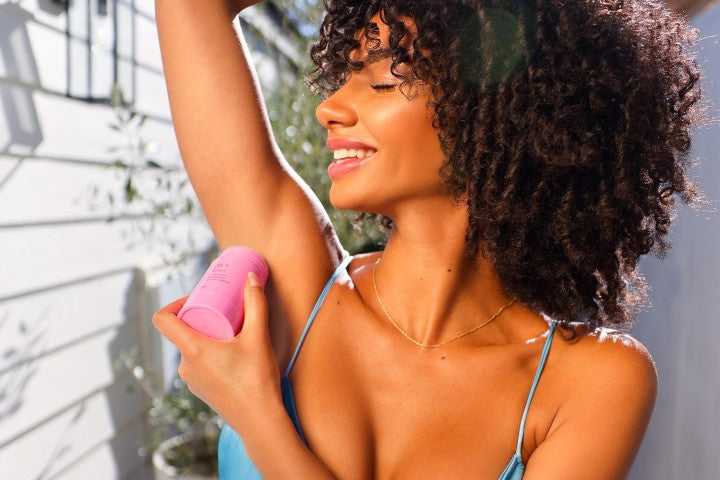 Meet the newest member of our bestselling Unicorn Fruit Line: Unicorn Fruit Skin Brightening and Smoothing Deodorant!
Our first ever deodorant inspired by the cult-favorite Unicorn Fruit skincare products, Unicorn Fruit Skin Brightening and Soothing Deodorant is an aluminum-free deodorant designed to make your pits smell, look, and feel their best.
Underarm care doesn't get the attention it deserves. With our new natural deodorant, we're changing the way people perceive the pits and giving you means to show them some much-deserved TLC.
Here's everything you need to know about Truly's Unicorn Fruit Skin Brightening and Smoothing Deodorant — and why you need it on your vanity RN.
FIRST OFF, WHAT IS ALUMINUM-FREE DEODORANT?
Aluminum-free deodorants are a healthy and natural way to neutralize body odor without blocking your sweat glands. Unlike most antiperspirants which contain aluminum salts to stop sweat from reaching the skin's surface, aluminum-free formulas keep you odor-free by zapping away odor-causing bacteria that contributes to unpleasant smells. In other words, it's a natural deo that keeps you smelling fresh for hours without compromising your health.
In recent years, research has found a link between aluminum-based antiperspirants and breast cancer, which is one of the reasons why people are desperate to find a healthier way of keeping their armpits fresh.
Aluminum-free deodorants are gentle on the skin, provide long-lasting odor protection, and prevent those stubborn yellow pit stains from ruining your clothes.
Suitable for all skin types, there are plenty of reasons why you should make the switch to a natural aluminum-free deodorant. And not just a natural one, but one that offers a side serving of skincare benefits, too, like our new Unicorn Fruit Deodorant.
WHY YOU NEED TO TRY TRULY'S NEW NATURAL DEODORANT
We just launched our new, pink sugar-scented deodorant. Here's why you should keep a bottle in your beauty cabinet.
It's a Do-it-All Deodorant
Truly's Unicorn Fruit Deodorant is quite simply the queen of all deodorants. Besides busting bacteria-causing odors and keeping your underarms smelling sugary sweet, this daily deodorant offers a slew of skincare benefits.
Thanks to nourishing natural ingredients like bacuri butter, mango, papaya, and symwhite 377, this formula smooths, brightens, hydrates, soothes, and diminishes discoloration on your underarms. It's basically a glow up for your pits!
While mango and bacuri hydrate and soothe, papaya boasts exfoliating properties to buff away dead skin cells — brightening your underarm area and reducing the appearance of discoloration. Symwhite 377 also treats dark spots and discoloration, as well as lightening armpit hair.
In one single glide, you can enjoy several skincare benefits — and a fresh scent that lasts all day!
It Won't Leave Behind Yellow Stains
Pit stains are super annoying. Luckily, you won't have to worry about those anymore once you add our UF deodorant stick to your daily beauty routine. Aluminum-free deodorants don't leave behind yellow stains, and our formula is no different — it's clear, glides on easily, and leaves no residue behind. Woo-hoo!
Since it's talc and baking soda-free too, you won't have to worry about any stickiness or unpleasant textures left behind after using this roll-on.
It's Gentle Enough for Sensitive Skin
Regular deodorants and antiperspirants are typically chock full of parabens, phthalates, and artificial fragrances that can leave skin sore and irritated. Our paraben-free formula means you can enjoy all the benefits of a regular deo without ending up with red, inflamed skin. While it's not an unscented deodorant, it takes its fragrance from the natural fruity ingredients within.
Without a doubt, Unicorn Fruit is the best deodorant for especially delicate skin types prone to dryness and irritation. You can even use it straight after shaving to soothe active inflammation such as razor burns, bumps, and ingrowns.
It Soothes + Hydrates
Not many deodorants out there hydrate your skin. Most of the time, they dry out the skin. Not with our new formula! Thanks to moisturizing mango and bacuri butter, this deodorant keeps your pits feeling smooth and soft while warding off dryness. Your pitties will feel incredible once it's absorbed!
It'll Keep You Smelling Fresh for Hours
Our aluminum-free deodorant work by alleviating odors-causing bacteria to fight unpleasant smells rather than blocking pores and sweat glands. This makes it significantly more effective than your regular deo or antiperspirant for keeping odors at bay. It cleanses, detoxes, and injects skin with a boost of pink sugar fragrance to leave your pits smelling sweet as candy — all day long!
It's Vegan + Cruelty-Free
Like all our beauty products, Unicorn Fruit Skin Brightening and Soothing Deodorant is 100% vegan, cruelty-free, and clean. And despite having "Unicorn" in its name, we can assure you that no unicorns were harmed during the making of this whimsical personal care product.
You Can Use it Anytime of Day
While you typically glide on your deodorant in the morning before heading off to work, you can use our deodorant both morning and night to reap all the benefits this formula offers. Besides smelling pink sugar fresh all day long, you can let this smoothing deodorant work its skincare magic on your pits by including it in your pm routine, too.
In fact, we recommend applying it straight before going to bed. At night, all this deodorant's active ingredients have chance to penetrate the skin and work their smoothing, brightening, and soothing wonders on your pitties!
While you can pick up deodorant from any drugstore, there are many formulas out there brimming with skin-unfriendly additives and dyes. Sure, they might contain natural ingredients like coconut oil, eucalyptus, shea butter, aloe, vitamin E, arrowroot, and tea tree, but they can still contain harmful ingredients that negatively impact your skin. Remember to avoid essential oils, which can also be irritating to the skin.
For a complete routine, pair our Unicorn Fruit Skin Brightening and Smoothing Deodorant with other products in our Unicorn Fruit Line, like our signature perfume. Think: a freshly fruity and feminine base with hints of candy floss, vanilla, sandalwood, and citrus. It's truly yummy!
Truly's Unicorn Fruit Skin Brightening and Soothing Deodorant: Soon to be available on Amazon, Ulta, and Sephora EU.
Share
---