The Best Butt + Boob Serums for Every Concern in 2022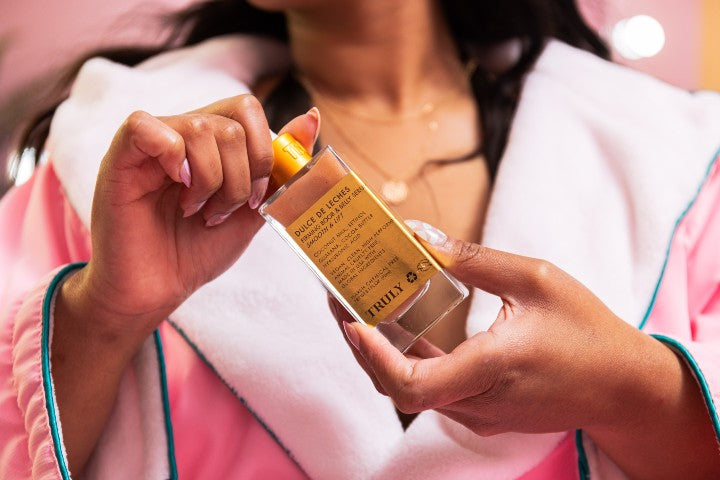 Your boobs and butt bear almost all the same skin concerns as your face — acne, dryness, hyperpigmentation, fine lines and wrinkles, and loss of elasticity. In other words, they deserve their own customized skincare routines to keep them looking their best.
Here are Truly Beauty, we've developed three separate lines all devoted to butt and boob care. And each offers its own set of benefits!
Whether you're looking to address acne, stretch marks, cellulite, or simply firm up, we've got a formula for every concern.
Below, our best butt and boob serums for every skin concern in 2022.
Acai Your Boobies Serum
To Alleviate Fine Lines, Breakouts + Sagging
Our OG boob-tightening serum, Acai Your Boobies is a Truly bestseller with a cult-following over on Instagram and TikTok. Clinically proven to show results in four weeks of daily use, this powerhouse formula delivers on its promise to lift, firm, and perk up your boobs while fading out fine lines.
Retinol (or vitamin A), acai, and dragon fruit join forces to boost collagen production, restore elasticity, speed cell turnover, and replenish lost moisture for extra smooth and perky boobs. Thanks to retinol's cell-shedding abilities, AYB serum also decongests the pores for a clear and blemish-free chest. Acai and passion fruit have the added benefit of fending off free radicals, in turn slowing down the aging process and preventing dark spots and creases from forming on the skin.
It's the ultimate anti-aging formula — made especially for your tatas.
Pair it with: Acai Your Boobies Polish + Acai Your Boobies Butter
Buns Of Glowry Butt Serum
To Beat Dryness, Discoloration + Cellulite
A butt-targeted bestseller, our Buns of Glowry Serum is an ultra-hydrating formula powered by stimulating citrus-based methoxylated flavones and rejuvenative Vitamin E to plump out dimples, diminish dryness, and reduce the appearance of hyperpigmentation. Easy on all skin types, this booty serum is clinically proven to enhance your bum in just four weeks of daily use.
It contains a lineup of star ingredients, such as bitter orange to stimulate circulation and facilitate drainage and wheat protein to fill in dimples. Watermelon, vitamin E, and aloe lend their hydrating and soothing properties.
Whether you're dealing with dry skin, dark spots, or dimples, this daily butt serum can definitely help!
Pair it with: Buns of Glowry Butt Polish + Buns of Glowry Butt Butter
Nice Melons Boob Serum
To Minimize Dullness, Creases + Uneven Skin Texture
Brighten up your boobs with this glow-enhancing brightening and tightening treatment. Deliciously fruity and melon-scented, this body serum is designed to condition, firm, and prevent fine lines on the neck and cleavage.
Its superstar ingredient, kigelia, is a tropical fruit native to Africa, which has been scientifically proven to restore elasticity in the breasts and increase firmness. Honeydew melon also plays a key role thanks to its high vitamin C content — supporting collagen production while sealing in moisture for long-lasting hydration. Meanwhile ginseng functions as an exfoliant, buffing away dull, dead skin and aloe lends its anti-inflammatory, antimicrobial, and antioxidant properties for youthful, gleaming skin.
Pair it with: Nice Melons Boob Polish + Nice Melons Boob Butter
Berry Cheeky Butt Serum
To Clear Butt Acne
Got butne? We've got you! Instead of relying on harsh cleansers and toners, reach for our Booty Clearing + Brightening Potion to banish those butt blemishes once and for all.
A flash absorbing everyday booty serum formulated with acne-clearing ingredients like antioxidant-rich berries, allantoin and beta glucan to put your best butt forward. Besides combatting active breakouts, Berry Cheeky Serum helps hydrate skin, protect it from free radicals, and tighten pores for your clearest booty ever.
If you're dealing with acne on your butt, steer clear of heavy lotions and body butters which may clog your pores and lead to further breakouts.
Pair it with: Berry Cheeky Butt Polish + Berry Cheeky Butt Clearing Butter
Dulce de Leches Boob Serum
To Diminish Drooping + Dryness
A sweet treat for your tatas! Dulce de Leches Boob Serum contains a host of high-performance ingredients like retinol, coconut milk, guarana, cocoa butter, and hyaluronic acid. These actives work together to spur collagen production, speed cell turnover, constrict loose skin, and lock in moisture for super smooth and tightened tatas.
It's one of Truly's NEWEST body care products! Hydrating, nourishing, and lifting, this boob-targeted beauty product is all you need to perk up your pair and drive out dryness while smelling like a snack!
Make it part of your daily self-care routine to enjoy the long-term benefits of this tightening and toning boob and belly potion.
Pair it with: Dulce de Leches Polish + Dulce de Leches Cream
Cake Maker Butt Serum
To Fight Stretch Marks, Cellulite + Sagging
These days, there are so many skincare products promising to wipe out stretch marks and cellulite. We wanted to create a product that actually does what it says on the tin. And this freshly-baked formula ticks all the boxes for a smooth, dimple-free booty.
Formulated with antioxidant-rich vanilla, skin-tightening guarana, plumping plant collagen, and uber-smoothing ceramides, Cake Maker Butt Serum serves up dessert for your derriere. Guarana is the key player here. Naturally high in caffeine, this south American fruit constricts skin while stimulating blood flow, thereby making stretch marks, cellulite, and sagging appear less visible.
Pair it with: Cake Maker Polish + Cake Maker Cream
All our products are 100% vegan, cruelty-free, and made with high-performing ingredients to properly address your skin concerns.
To get the most out of our butt and boob formulas, incorporate them into your daily body care routine. You should see results within 3-4 weeks of daily use. As effective as our serums are on their own, they work best when paired with the corresponding products in their line.
You can see how these formulas work in real life by scrolling through our TikTok and Instagram page! The Truly babes will show you how it's done!
Share
---