The Myth About Bacne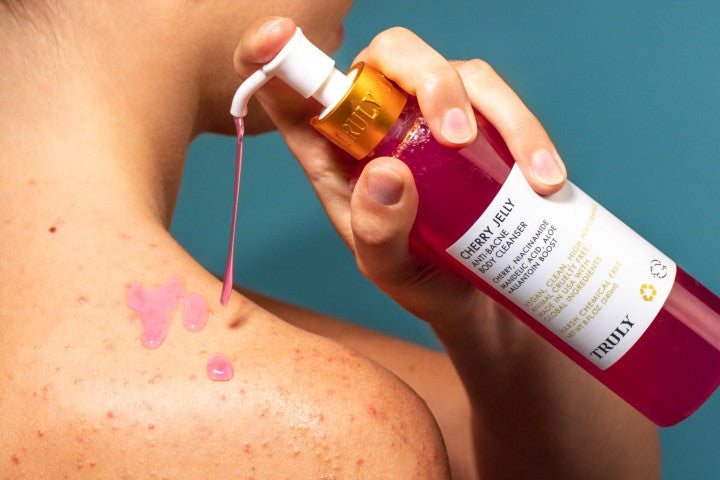 Rumor has it that facial acne and body acne are the same...
They're not.
At least not entirely anyway. 
There are many myths surrounding acne - especially bacne (the form of acne that appears on the back).
We're here to get to the bottom of back acne by addressing the most common acne myths so you can effectively treat and prevent bacne once and for all.
Myth: Bacne is Caused by the Same Things as Regular Acne
While the pimples on your face and those on your back are generally caused by the same factors - clogged pores, excess dead skin cells, overactive oil glands - back acne can be caused by several other factors.
For starters, breakouts on the back are extremely common because the area has many sebaceous glands. In other words, the follicles in those areas can easily become clogged with dead skin cells, sebum, and bacteria which can all cause inflammation and lead to blemishes.
Besides the obvious, another back acne trigger is friction between your clothes and your skin, as this can irritate the pores and ultimately cause breakouts.
Even your laundry detergent could be responsible for your sudden back acne breakouts. 
Don't forget sweat, either. If you regularly workout or live in a hot climate, you're more prone to sweating which creates the perfect environment for acne-causing bacteria to thrive. Thus, it's important to hop in the shower immediately after a sweaty workout sesh to help prevent back acne.
Myth: Bacne Can Be Treated By the Same Products
Acne is acne, right? So shouldn't any acne treatment do - either for the face or back?
If only it were that simple.
In reality, how you treat acne on the face and body differs quite a lot. That's because the skin on the face is a lot thinner and more delicate than that on your body. You'll need to use gentler skincare products on your face and more aggressive formulas on the body. That's why it's always best to look for products that specifically target the affected area - whether that's the face or body, in your case.
Luckily, both acne types can be treated with the same ingredients.
For starters, salicylic acid and benzoyl peroxide both attack acne, regardless of its location. However, salicylic acid is the better choice for sensitive skin types.
If you have severe acne on your back or another part of your body, a topical spot treatment may help or you may require acne medication to fully clear your skin condition.
Myth: Bacne Shouldn't Be Moisturized 
According to Renee Rouleau, AKA Demi Lovato's dermatologist, "Even oily skin needs sufficient hydration to keep it balanced." So don't skip the lotion! 
Just make sure you choose a lightweight, non-comedogenic, oil-free moisturizer that won't clog your pores and worsen your zit situation. 
Surprisingly, body oils work really well in targeting adult acne and warding off dryness. 
Of course, certain formulas should be avoided - like those too dense to penetrate the surface of skin, leaving you with a greasy, oily complexion. 
Others, like lavender, tea tree oil, jojoba oil, and coconut oil are highly effective for acne-prone skin. That's because they're packed with powerful antibacterial properties that help treat pimples while simultaneously calming irritated skin.
Give one a try by adding a few drops to your moisturizer before applying to your skin.
Myth: Sunscreen Makes Bacne Worse
In some cases, it might. But that's only if you're choosing a pore-clogging formula - don't!
Everyone, regardless of their skin type, needs to wear sun protection every day. Wearing SPF 30 every day before leaving the house can prevent premature aging and even skin cancer.
Opt for a zinc-formulated, oil-free formula that provides the protection you need without bringing you out in whiteheads and blackheads.
HOW TO GET RID OF BACNE
Sick of seeing and feeling those bumps on your back? If you've tried everything and they still won't go away, relax. We get what you're going through. In fact, we've been through it ourselves. We understand that sudden painful allure towards strappy and backless dresses.
Why do you think we created a formula designed to break the cycle of back acne? It's cos' we're sick and tired of it being an issue.
Drum roll for our brand-new bacne-banishing skincare products: Cherry Jelly Body Cleanser and Dragon Milk Body Lotion.
Wash Away Your Bacne with Truly's Cherry Jelly Body Cleanser
This anti-bacne body cleanser blends bacteria-zapping benzoyl peroxide with skin-calming cherry niacinamide and an ultra-hydrating allantoin + mandelic acid boost. Together, these high-performing ingredients target blemishes while preventing dryness and irritation. 
"Benzoyl peroxide is a chemical ingredient that has oxidizing and antiseptic properties," says Dr. Joshua Zeichner, Associate Professor of Dermatology at NYC's Mount Sinai Hospital. "It helps lower levels of acne-causing bacteria in the skin and reduces inflammation. It also helps open up blocked pores."
Cherry is one of its other primary ingredients. Thanks to its antibacterial properties, cherry can fight against acne-causing bacteria for a clear, clarified complexion.
Refine and Resurface Skin with Truly's Dragon Milk Body Lotion
Made with resurfacing glycolic acid, brightening blackberry, soothing dragon fruit and lactic acid, and acne-clearing salicylic acid, this anti-blemish body lotion is designed to target body acne, refine skin texture, and seal in long-lasting moisture.
Glycolic acid is an effective exfoliator which is known to dissolve dead skin cells, clear pores, and treat and prevent future breakouts. As for blackberry, this antioxidant-loaded fruit heals breakouts and lifts acne scars.
You'll love slathering your skin in this full-bodied, berry-scented body lotion. 
If you've tried all the bacne home remedies under the sun, from dabbing toothpaste on your pimples to applying self-tanning products and still nothing works, try Truly's latest body acne goodies. 
We know how frustrating back acne is and we want to make things easier for you. That's why the team has created two bacne-targeted skincare products, specifically designed to clear away bacne for good and prevent future breakouts from popping up. 
Trust us, you'll be blown away. 
Share
---