The Tanning Product That's The Blur Tool IRL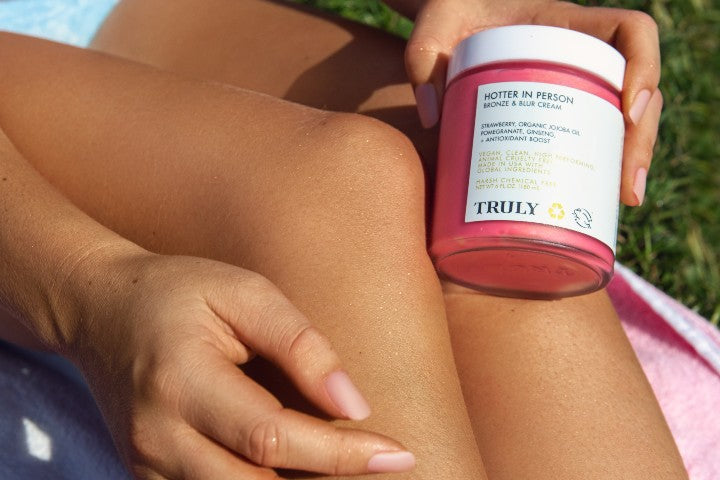 Wish those bumps and lines would go away? Forever hiding those acne scars on your back? Wish that forehead redness would just leave you be and never return?
Meet Truly's real life top to bottom blurring tool...
It's a self-tanning lotion formulated with all kinds of hot skincare ingredients to give you the best natural glow of your life.
With the rising popularity of sunless tanning, it's no wonder babes like yourself are looking for streak-free self-tanners to achieve that red-carpet golden glow.
Look no further 'cos Truly's got one of the best sunless tanners in store for you!
Hotter In Person Bronze & Blur Cream
This silky body cream blends hydrating argan oil with brightening strawberry, soothing green tea, and flecks of gold shimmer to enhance radiance, smooth out line and hollows, and deliver a gradual tan on all skin types -- minus sun exposure.
Whether you're embracing the last of summer walks on the beach or want to maintain a glowy, bronzed complexion all year round, our self-tan body lotion will give you the sunless tan you've been lusting over -- for as little or long as you like.
What's Inside?
All natural ingredients of course!
This moisturizing blur tool is formulated with argan oil, strawberry, green tea, aloe vera, and antioxidants. Together, these ingredients help to smooth the skin, provide hydration, and deliver an all-over even tan. 
Argan Oil
Loaded with omega fatty acids, vitamin E, and linoleic acids, argan oil is a protective, nourishing skincare superfood that provides healing and sealing to the skin's outer layer.
In addition to improving the appearance of your skin, this oil also prevents further drying of the skin. 
"It does this by putting a stop to the transepidermal water loss (literally moisture leaking from the skin and evaporating into the air) which is caused by disruptions to the skin's outermost barrier," says New York-based board-certified dermatologist Kenneth Howe, MD. 
According to dermatologist Marisa Garshick, MD, argan oil can be used by all skin types. 
"Those with dry skin will benefit from its moisturizing properties, while those with oily skin may also find it tolerable as it is lightweight and won't leave the skin feeling greasy," she explains.
Strawberry
Strawberry's main talent is its brightening abilities. Due to its high content of vitamin C, applying strawberry-formulated beauty products to the skin can lighten skin tone and boost your glow. It can also help minimize the appearance of dark spots for a clear and dewy skin finish.
Green Tea (Matcha)
Matcha might make for a great cup of tea, but did you know it's something of a skin superfood? That's correct! This gorgeous green compound is packed with powerful antioxidants like catechin polyphenols, which are extremely effective in bringing down inflammation in the skin (and body!).
"They're like fire extinguishers, putting out inflammation caused by environmental free-radical damage," says New York City-based dermatologist Joshua Zeichner.
In other words, it's the kind of ingredient you want in your tanning products.
Aloe Vera
While you'll usually find this skincare ingredient in post-sun exposure skincare products, we decided to include it in our self-tanning product.
So what is it about aloe that's so special? 
"It has polysaccharides that give hydrating, anti-inflammatory benefits and allow for aloe to give a protective barrier on the skin," explains celebrity esthetician Renée Rouleau. "Aloe also has phytosterols which help to soothe itchiness and irritation while also giving protection to prevent TEWL (trans-epidermal water loss.)"
Added to that...it's also a pretty decent moisturizer.
HOW TO USE HOTTER IN PERSON BRONZE & BLUR CREAM
You can have the best self-tanner out there, but without a good applicator or application abilities, you've got nothing. Let us show you how to apply it for a gorgeous gradual self tan.
Start By Exfoliating
For flawless fake tan application, always begin the process by thoroughly exfoliating your skin using a gentle face and body scrub like Truly's Moon Rocks Whipped Body Scrub. 
Exfoliation dissolves dead skin cells from the top layer of your skin, providing a smooth and even base for tan application.
It doesn't matter whether you're applying tanning drops, bronzing mousse, or cream. You've still gotta buff!
Apply With a Mittor Your Hands
Using your mitt or hands, apply Hotter in Person cream to clean, dry skin. It's always best to apply a thin layer for even, streak-free results. Overapplying may make your tan look patchy. If you need any help applying the lotion on your back or butt, ask a friend for help.
Later, Butter Up Your Bod
Before applying any more products, be sure to leave the tan to absorb for at least an hour. To seal in moisture and certify a flawless, airbrushed tan, hydrate with a generous layer of Truly's Coco Rose Fudge Body Butter.
It's made with a base of shea butter blended with coconut and sweet almond oil for head to toe hydration and firming. 
Still Apply SPF
Before heading out your house, always coat your exposed skin in a generous helping of water-resistant, broad-spectrum sunscreen for maximum UV protection. Re-apply several times throughout the day.
HOTTER IN PERSON BRONZE & BLUR CREAM VS OTHER BRANDS
Sure, you've got plenty of options. 
Isle of Paradise, Tan-Luxe, St. Tropez, Jergens, Vita Liberata Body Blur, and all those ones in your local Sephora .... so why should you choose Truly's Bronze and Blur?
First, the product works. Like, really well! So if you're aiming for an IRL blur tool, this is your baby. Next, it's made with a blend of high-profile ingredients that deliver hydration, smoothness, protection, and relief. Most importantly, we are committed to creating beauty products that are clean, cruelty-free, and completely plant-based. 
Wanna be hotter in person? Heat things up with our brand-new Hotter in Person Bronze & Blur Cream.
Share
---