TikTok is Obsessed with this Moon Lit Shimmer Oil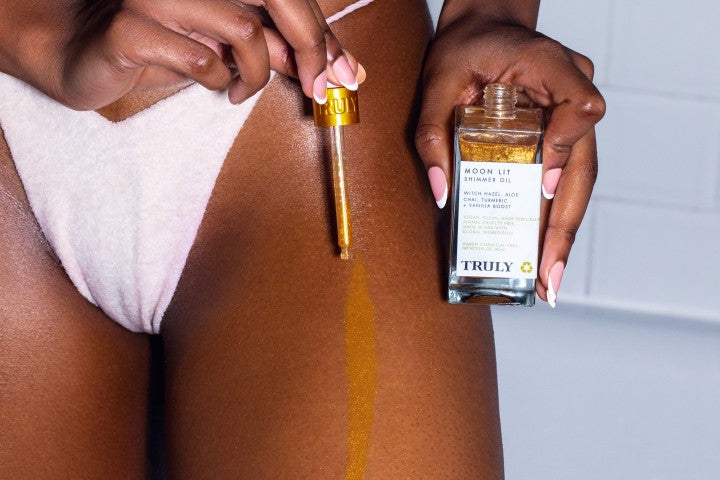 You know how there always seems to be something new trending on TikTok? Truly products tend to have a pretty solid place on the trending train. 
TikTok's latest skincare obsession? Our NEW Moon Lit Shimmer Oil.
This sparkling body oil promises head-to-toe glow with flash-absorbing superpowers and a serving of hydrating and anti-aging skincare benefits for mega shine!  
Here's everything you need to know about Moon Lit Shimmer Oil, from what it does to how to use it and why you need it in your beauty fridge. Like, asap.
WHAT IS MOON LIT SHIMMER OIL?
A nourishing, hydrating, and instantly absorbing dry oil infused with champagne gold shimmer for a radiant glow on the go. Moon Lit Shimmer features a lineup of impressive ingredients such as brightening chai, redness-reducing witch hazel, and antioxidant-rich vanilla. These ingredients work together to reduce inflammation, shrink pores, neutralize free radicals, and illuminate the complexion. 
Regardless of the setting, Moon Lit Shimmer Oil is buildable on all skin tones for a customizable glow ranging from sun-kissed to dramatic dazzle. Plus, it melts into the skin for a silky smooth finish sans stickiness! 
Apply it to your cupid's bow, cheekbones, collar bone, thighs -- or wherever you want more glow. 
The main function of this body oil is to get you extra glowy and radiant, ready for whatever event you have in store. 
HOW TO USE MOON LIT SHIMMER OIL
Want to get the most out of this illuminating body oil? Here's a step-by-step guide for using Moonlit Shimmer Oil. 
Cleanse +

Exfoliate
Exfoliating your skin before using Moonlit will enable the product to penetrate the skin more effectively and ultimately last longer. Plus, you'll get extra glowiness when your skin's freshly buffed.
In the shower, use a gentle cleanser to wash away oil, grime, and product buildup. Then buff away dead skin cells and dirt with our Moon Rocks Scrub. 
This lightly whipped sugar scrub is made with a nourishing base of coconut oil, brightening lavender, and protective vitamin E to illuminate lackluster skin. It also contains jojoba oil to keep skin dewy and hydrated without clogging up your pores. And it all comes in a beautifully blue tint, à la ultra moisturizing blue tansy, to make things all the more vibrant!
Moisturize
Next, slather your skin in a moisturizing body lotion like our Vegan Collagen Body Cream. This formula contains powerhouse ingredients like retinol, vegan collagen, glycerin, and vitamin C to tighten, plump, brighten, and resurface skin. Besides prepping your skin for body oil application and locking in that shimmer, this beauty product also has the ability to smooth out fine lines and wrinkles on the skin. It's an anti-aging superstar!
Massage in Moon Lit 
Moon Lit Shimmer Oil is almost like a highlighter -- with extras. You can use it on your cheekbones for added definition, above your lip to make your pout appear plumper, on your cleavage for extra glowy boobs, or across your thighs for extra shimmer.
Apply the oil directly to desired area, massaging it in until completely dry. For more shimmer, reapply until you reach your desired effect. Gently shake to incorporate shimmer well if product has separated before application.
Do Your Makeup
Going for a night out with your best babes? Finish the routine with a few dabs of concealer, several lashings of mascara, and a swipe of your favorite lip gloss or matte lipstick. You can also keep things simple by rocking a bare face and simply swiping over a little lip balm for a clean, modern finish. The shimmer does most of the work for you anyway! 
SKINCARE BENEFITS OF MOON LIT SHIMMER OIL
It Adds Glow
Want your body to glow in that little red dress? Or maybe you're just looking for a little added shimmer to make your cheekbones pop? Whatever your intentions, Moon Lit Shimmer Oil is here to give you the glow of your dreams. Whether that's soft and subtle or disco ball-level sparkle, this formula is buildable for a customized glow. So, if you're feeling or looking a little dull, oil up with this glow-enhancer and watch yourself....transform.
It Defines
...your cheekbones, cupid's bow, shoulders, collarbone, cleavage, and front of thighs and calves. 
You can apply this formula wherever you want a little extra definition. TikTokers especially love to douse their cheekbones in it for that sculpted, model-esque look you see in magazines. But you really can use it wherever. 
All the makeup artists swear by this trick!
It Irons Out Creases
The thing we love most about this product is that it serves many purposes. Besides adding glow and definition to your face and body, Moon Lit Shimmer contains some pretty powerful ingredients that treat skincare issues such as aging and uneven skin texture.
Antioxidant-rich vanilla, for instance, neutralizes free radicals to reverse skin damage and slow fine line formation. While chai is chock full of tannins to help improve the skin's tone and texture.
It Hydrates
Got dry skin? Try massaging our Moon Lit Shimmer Oil into your dry spots for a burst of dewy hydration. It also contains aloe and witch hazel to soothe and irritation and bring down redness for a flawless complexion. 
It's Cruelty-Free + Vegan 
That's right! Like every Truly product out there, Moon Lit Shimmer Body Oil is clean, cruelty-free, and 100% vegan.
The ingredients and pigments used have been carefully sourced for the sake of your health and our planet. And we are committed to providing you with more clean beauty products that stay in alignment with your values. 
So, now it's pretty easy to tell why TikTokers LOVE our Moon Lit Shimmer Oil. Besides promoting crazy levels of glow, this shimmery formula hydrates, protects, and prevents fine line formation. This is the kind of product that deserves a lasting place in your beauty cabinet. Whether you're going out, staying in, or having a romantic dinner with bae, rely on this body shimmer oil to get you looking and feeling even more sparkly than usual.
Share
---