Unicorn Body Butter Hacks Revealed Here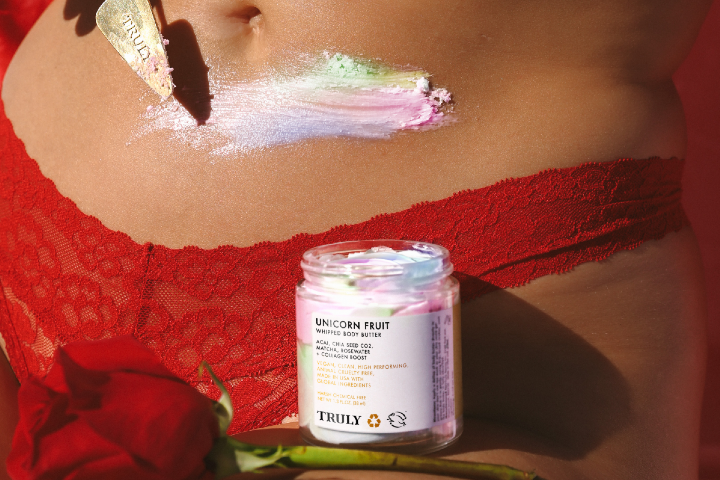 Want to hear something magical about our tub of Unicorn Body Butter? 
It's a multitasking miracle worker!
Unicorn Fruit Body Butter went viral on TikTok for being a multicolored swirl of hydrating, candy-scented goodness. But beyond its body moisturizing abilities, this rainbow colored whipped body butter offers split end sealing superpowers, cuticle softening capabilities, and so much more.
Here are all of the ways you can use Unicorn Body Butter in your beauty routine.
As a Shaving Cream
Ran out of shaving cream or gel? Chill. As long as you've got a tub of Unicorn Fruit Whipped Body Butter lying around, you can still proceed with the shaving process.
Simply apply the lotion to your legs, and shave as normal. Even with the rinsing, this shea butter infused moisturizer has enough hydrating power to leave your skin soft and smooth post-shave.
If you're seeking intense hydration, apply a small amount after shaving, too. With its blend of soothing aloe and matcha, this butter will help reduce any shave-related redness and inflammation while leaving your skin feeling baby soft.
As a Hair Mask
Another fabulous Unicorn Fruit hack: turning it into a hair mask. 
If you're dealing with dryness, split ends, or dullness, this moisturizer will revive your strands and get them back to their shiniest version. Its hydrating and healing abilities can be owed to its nourishing blend of coconut oil, sweet almond oil, jojoba oil, and mango butter. These powerhouse plant-based fats boast emollient properties that work to create a protective, hydrating barrier on the hair, keeping it shiny, smooth, and split end free. 
Simply massage it into damp hair, leave it on for 5-10 minutes, then rinse. Easy! Plus, your hair will smell like a candy store once you're done!
As a Body Scrub 
Make your own DIY sugar scrub by mixing together a small amount of our UFB with one teaspoon of organic cane sugar and a few droplets of water. Gently rub the mixture into your skin, and rinse.
The sugar acts as an exfoliant, buffing away dead skin cells and revealing fresh skin underneath. While the butter helps hydrate and soothe skin.
It's an excellent skincare hack if you're out of your regular scrub. Plus, this formula contains so many nourishing ingredients ranging from soothing rose to hydrating cocoa butter to plumping vegan collagen, and exfoliating arrowroot powder!
Avoid using this if you have a skin condition like eczema as it may irritate the skin. 
As a Lip Balm
Keep those kissers crazy soft by smothering them in Unicorn Body Butter. Since this beauty product is known for its powerful hydrating effects, it's the perfect formula for keeping your pout smooth, soft, and kissable.
Free of preservatives and essential oil blends, this butter can be tolerated by all skin types. If it's your first time using, you'll be pleasantly surprised by just how luscious your lips will feel after using this formula.
As a Hand Lotion
Keep those paws of yours super soft and silky by slathering them with our UFB.
A base of shea butter, high in concentrations of fatty acids and vitamin E, this formula will intensely hydrate and heal the skin on your hands for a pair of velvety soft paws. It also utilizes the power of elasticity-restoring vegetable collagen, hydrating jojoba seed oil, and antioxidant-packed acai berry, which work synergistically to firm, smooth, and plump out the top layer of skin.
Simply massage it into your hands 1-2 times a day to keep your paws looking and feeling buttery soft.
As a Cuticle Softener
Keep a bottle of tub of Truly's Unicorn Body Butter on your nightstand and apply it to your cuticles before bed. The butter's aloe, shea butter, and Vitamin E will moisturize your hands, nails, and cuticles while you sleep.
If you're planning at DIY project like an at-home manicure, feel free to use this butter to hydrate your cuticles and make it easier to push them back. You can use also natural liquid oils like olive oil, sunflower oil, and rosehip oil to nourish your cuticles and nails. 
However, UFB feels far less greasy and leaves your nails smelling fresh as a fruit bowl.
As a Natural Deodorant
Since Unicorn Fruit has an incredible fragrance, it works well as a natural deodorant to get your pits smelling perky again. In addition to lending scents of fruity sweetness, this body butter moisturizes your underarms for a smooth, soft finish. 



As a Fragrance Lengthener 
According to experts, the best way to make your perfume last longer is to moisturize before and after spritzing on the fragrance. Lucky for you, we've got a perfume from the same Unicorn Fruit collection that offers the same juicy fragrance: Unicorn Fruit Eau de Parfum.
Apply a thin layer of body butter, spritz on UF Eau de Parfum, and then seal in the scent with a second layer of body butter. 
What Unicorn Body Butter Shouldn't Be Used for?
As effective as this moisturizer is for your body, we do not advise applying it directly to your face. Unfortunately, this product does not work well as a cleanser or face mask. Reserve it for the rest of your body, only.
How to Keep Your Unicorn Fruit Body Butter Fresh
UFB has a relatively long shelf life. However, you can increase it by storing it at room temperature and away from direct sunlight. 
While there are many homemade body butter recipes, which contain nourishing ingredients like shea butter, beeswax, coconut oil, and whole foods, we recommend using a proven formula like Unicorn Fruit to avoid irritation. 



Truly Unicorn Body Butter went viral last year and the year before that. The obvious reasons being: its multicolored aesthetic and buttery, hand-whipped texture. UFB is eye candy alright! 
But behind the fun and girly exterior, we've got an ultra-hydrating and soothing multitasking beauty product that can address all kinds of skin concerns, from dryness to split ends and dullness.
Whether you got it as a Christmas gift, birthday present, or simply ordered it for yourself, you get 8 products for the price of one with our Unicorn Body Butter!!!
Share
---