Best Vegan CBD Skincare Products 2021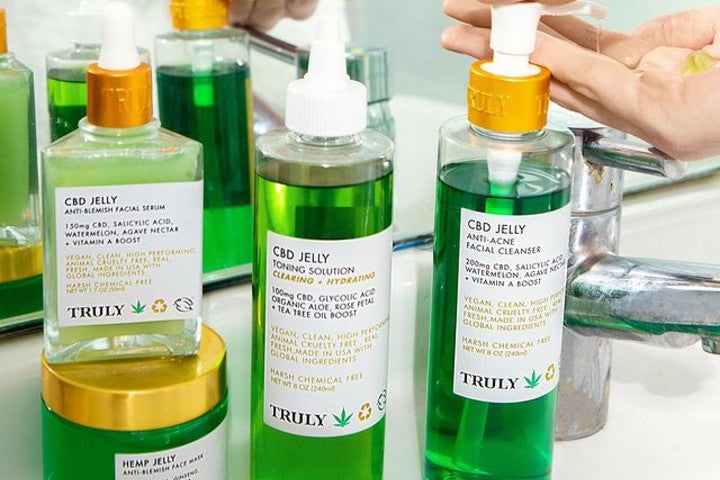 CBD – short for cannabidiol – is currently one of the most buzzed-about skincare ingredients in the industry. Chances are, you already know someone who spritzes on CBD oil every night to ease anxiety or applies CBD-formulated serum to eliminate (and prevent!) pimples.
While CBD is a natural ingredient, not all skincare products that contain it are vegan or cruelty-free. It's easy to get confused. You see green, you think green. Unfortunately, that's not always the case.
Many CBD skincare products out there are harboring animal-based ingredients and not ticking the cruelty-free box. We're not talking about 100% natural CBD oil in which there are no other ingredients. We're referring to the beauty products that contain other chemicals and oils that may not make it on the "animal-friendly" list.
Truly is a brand built on cruelty-free ethics. None of our products are tested on animals or contain animal-derived ingredients. We pride ourselves on offering the most natural, most ethical cosmetics on the market.
Here, we've rounded up Truly's best vegan CBD skincare products that are also cruelty-free.
WHAT CBD RESEARCH SHOWS
CBD is a component found in cannabis – without the psychoactive effects. Besides alleviating chronic pain, anxiety, and insomnia, CBD oil can be highly beneficial for treating skin conditions, too.
Studies on mice show that CBD can slow down the visible signs of aging. Other research suggests CBD possesses powerful anti-inflammatory effects which can ease conditions such as acne, eczema, and psoriasis.
The research on CBD oil may be limited, but what we know so far is that this stuff yields results.
Take a scroll through our recommended CBD oil skincare products.
BEST VEGAN CBD FACE CLEANSER
Hemp Jelly Anti-Blemish Facial Cleanser
Formulated with CBD and salicylic acid, Truly's Vegan Anti-Blemish Cleanser is designed to clear acne-causing bacteria and congested pores for clear, blemish-free skin.
While salicylic acid helps exfoliate and remove dirt from the skin, CBD oil helps balance the elevated levels of pro-acne agents in skin cells. Simultaneously, they deliver a freshly cleansed face and prevent future breakouts from occurring. Get it here.
BEST VEGAN CBD FACE SERUMS
Mary Jane Glow Serum
For a daily glow and large dose of antioxidants, try this serum. It blends CBD with retinol and glycolic acid to boost cell turnover, reduce inflammation and replenish hydration, revealing dewy, glowing skin. Get it here.
Hemp Jelly Facial Serum
If breakouts are getting you down, slather your skin in Truly's Vegan Facial Serum. It's made with CBD and salicylic acid to treat existing breakouts and watermelon to prevent your skin from overdrying. There's also vitamin A in there to help unclog pores and promote a matte complexion. Get it here.
Hemp Oil Facial Serum
This blend of CBD oil, ginseng, and amino acids tackles redness, inflammation, and dry skin. In fact, it's suitable for all skin types from oily to dry, young to old. Plus, it's non-comedogenic, so you don't need to worry about it clogging your pores. Get it here.
BEST VEGAN CBD FACE CREAM
Flower Child Face Cream
A powerful anti-aging face cream designed to restore skin's elasticity by tightening and revitalizing sagging skin. It uses CBD to deliver antioxidants to skin cells and hyaluronic acid to support natural collagen and add volume to affected areas. This beautiful blend of high-performing ingredients nourishes and hydrates, leaving you with springy, baby-soft skin all day long. Get it here.
BEST VEGAN CBD FACE MASKS
Golden Leaf Resurface & Brighten Face Mask
An antioxidant packed formula which firms and clarifies the skin. Using a mix of CBD oil, glycolic acid, and AHA/BHAs, this mask diminishes zits and discoloration, while bringing moisture to the skin. It also resurfaces your skin and adds a nice glow to a dull complexion for all-day radiance. Get it here.
Hemp Jelly Anti-Blemish Face Mask
Another excellent CBD face mask. This formula combines hemp with vitamin A and aloe vera to tackle zits without drying out your whole face. It helps clean pores, diminish zits, and smooth skin texture for a flawless, blemish-free complexion. As effective as it is at targeting acne, it's gentle enough for regular use. Get it here.
OTHER GREAT CBD VEGAN SKINCARE PRODUCTS
Hemp Jelly Toning Solution
Truly's Hemp Jelly Toner gently exfoliates the skin to enhance clarity and smooth out texture while preventing future blemishes. CBD oil and glycolic acid work harmoniously to remove dirt, oil, and dead skin cells for an overall clear, smooth, and glowing complexion. There's also rose petal in there to calm inflamed skin and reduce any irritation or redness. Get it here.
Super Hemp Patches
The next time you get a blemish, don't pick it, squeeze it, or even leave it. Instead, pop a Super Hemp Patch over it. Formulated with hemp, glycolic acid, and hydrocolloid, these ingredients work together to eliminate breakouts, balance oil, and reduce redness. Best of all, it'll speed up the recovery time and blast away that zit in no more than a couple of days. No wonder it's called a super patch. Get it here.
TIPS FOR CHOOSING VEGAN CBD SKINCARE PRODUCTS
Just because a product looks all green and natural doesn't mean it is. Here are some tips for ensuring you find vegan and cruelty-free CBD skincare products.
If you see the distinctive "Certified Vegan" logo, that's always a good sign as it indicates this product is legit. This certification, which comes from the Vegan Awareness Foundation, is the gold standard for all vegan products. Always look out for it!
There are three different types of CBD oil: isolate, full-spectrum, and broad-spectrum. The one to go for is CBD isolate. This variety contains only CBD and nothing else. In other words, you can be sure that what you're getting is the real thing without any additives that could end up being animal-derived. On the other hand, full-spectrum CBD may contain compounds like fatty acids, proteins, and more.
Luckily for you, all of Truly's CBD products contain CBD isolate.
Share
---