Here's What CBD Lip Balm Can Do for Your Chapped Lips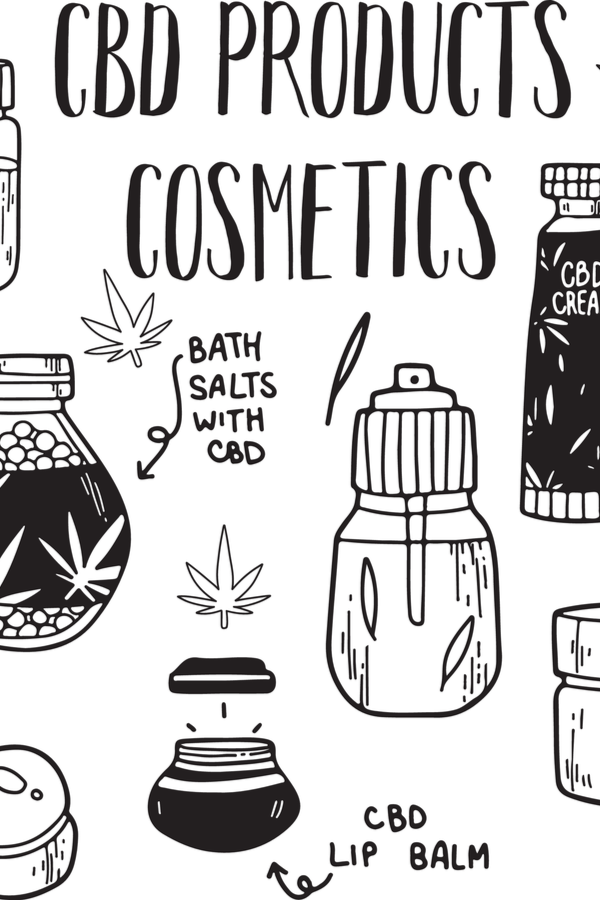 With winter comes cold, dry air and chapped, cracked, and flaky lips. Sadly, this is just a fact of life. Luckily, we can nip our chapped lips in the bud by using a high-quality lip balm on a regular basis. But is your run-of-the-mill lip balm or chapstick really doing all that it can to ensure your lips stay moist and supple? Perhaps not. If you've been burned by lip balm in the past, you may want to try something new to aid your dry lips. Here's where CBD lip balm comes into play.
You may have noticed the influx of CBD skincare and beauty products on the market lately. Science has shown that CBD oil contains anti-inflammatory properties and can be used to moisturize and calm irritated skin. But how does it work and is a CBD lip balm really going to make or break how you tackle your dry, chapped lips this winter season?
CBD has officially staked its claim in the health food industry.
Cannabidiol (CBD) is the second most-present active ingredient, or cannabinoid, in the cannabis plant (Cannabis sativa). Tetrahydrocannabinol (THC) is the first most-present cannabinoid, and is the one that makes a person feel "high" and alters one's mental state. CBD, however, does not cause a high, and when ingested, it works with the body's endocannabinoid system (ECS) to deliver pain relief to sore muscles, and reduce stress and anxiety, among other beneficial reactions.
When applied topically to the skin, CBD oil could potentially deliver local pain relief caused by arthritis or other pain-causing afflictions. And some experts believe that its anti-inflammatory properties can aid skin conditions like acne, eczema, psoriasis, itchy skin, and rosacea. 
When paired with hemp oil (also called hemp seed oil, because it's extracted from the seeds of the hemp plant, unlike CBD, which is extracted from the leaves and stalks of the plant), CBD's anti-inflammatory properties are amplified. Hemp oil contains omega-3 and omega-6 fatty acids, vitamin E, B-complex vitamins, and antioxidants, which can all exponentially enhance skin texture. 
A 2014 study showed that when applied to the skin, hemp oil without any CBD added, strengthened skin cells and helped to ward off infection.
"Cannabis's strong anti-aging and protective capabilities make this herb the next big thing in skin care, providing more than just moisturizing and nutritive properties of hemp oil with only minuscule amounts of CBD," Dr. Jeanette Jacknin, MD, FAAD, a board-certified dermatologist with the American Academy of Dermatology said, per Practice Update.
When CBD is added to hemp oil, it's often referred to as full-spectrum hemp oil. Full-spectrum oils contain more plant matter from the cannabis plant other than just hemp, and some experts believe that full-spectrum oils deliver amplified benefits in comparison to regular hemp oil.
Although it's understood by experts and researchers that more studies must be done in order to fully understand the benefits of CBD, so far, the results are promising, especially when it comes to pain and stress relief, and minor skin conditions.
So, what does this mean for our lips?
According to HealthLine.com, our lips do not contain sweat or oil glands, unlike the skin elsewhere on our bodies. Because they cannot produce their own moisture, they are prone to more severe dryness than the rest of our skin. Paired with habitual licking, harsh weather, and some medications and supplements like vitamin A, retinoids, lithium, and/or chemotherapy drugs, our lips can really suffer.
Knowing that CBD oil, and CBD in other carrier oils like hemp or coconut oil, or even shea butter, has shown to soothe the skin and strengthen skin cells elsewhere on the body, then it must offer some relief to chapped lips, as well.
Furthermore, your damaged lips will heal faster when they're moisturized — no matter what the form of moisture is (CBD or not). A 2013 study found that "Wet or moist treatment of wounds has been shown to promote re-epithelialization [tissue formed while healing a wound] and result in reduced scar formation, as compared to treatment in a dry environment." Therefore, keeping lips moist with various oils and butters — potentially mixed with healing properties of CBD — will only enhance the overall healing process.
How is CBD worked into lip balm
Like other CBD products on the market, delivering the benefits of CBD to the skin is all about the carrier oils and ingredients. Most CBD lip balms are completely THC-free, and made with organic ingredients, starting with a base of beeswax. Depending on the brand and proposed benefits of a specific lip balm, it may contain other natural ingredients like small amounts of essential oils such as rosemary, peppermint, or lavender for scent and flavoring, and other beneficial oils like jojoba oil, rosehip oil, or neem oil.
Of course, depending on your skin type or preexisting medical conditions, you may have to double check your usage of CBD lip balms and beauty products with your doctor or dermatologist. If you know you're allergic to any specific carrier oils (including hemp), you may have to forgo certain CBD lip balms. Always read the ingredients listed to ensure you're avoiding triggering ingredients.
Where can I purchase CBD lip balms?
Some big-name beauty retailers offer CBD lip balms, and some only carry hemp seed oil lip balms. So, again, it's important to understand the differences and the health benefits of both. A host of independent natural beauty companies also offer CBD lip balms that usually range between $6-$10.
Again, if the use of certified organic ingredients and cruelty-free practices is important to you, do you research before you choose a CBD beauty or skincare product. Also, read reviews before you buy to ensure you're purchasing a quality product.
Though most natural lip balms are beneficial for dry, cracked lips, the added ingredient of CBD can do wonders for skin-cell health and keeping lips moisturized and healthy. Try it out and watch CBD lip balm save your chapped lips this winter.
Share
---