Should You Try CBD Cream For Pain?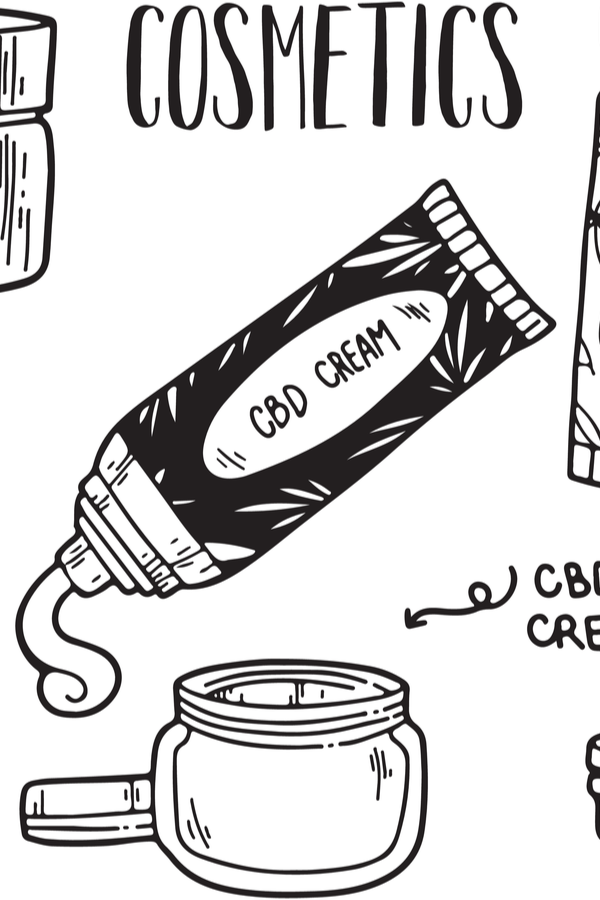 For those of us who are interested in exploring the world of all-natural pain relief, CBD products are most likely already on your radar. Be it ingestible oil or gummies, or topical salves and tinctures, CBD comes in many forms. But which CBD product is best for soothing your sore muscle and/or joint pain? We've done the research for you and can confidently recommend several of the best CBD creams on the market today.
What Can CBD Do To Relieve Pain — Both Chronic and Temporary?
Cannabidiol (CBD) is a non-psychoactive ingredient, or cannabinoid, found in the cannabis plant (Cannabis sativa). Both marijuana and hemp plants belong to the Cannabis sativa family, however their identification varies depending on the amount of tetrahydrocannabinol (THC) each plant contains. Hemp plants are classified as having less than 0.3% THC, whereas marijuana plants contain significantly more THC, and thus cause users to feel "high." 
CBD can be extracted from both marijuana and hemp plants, and when isolated or paired with other non-psychoactive cannabinoids, will not cause the high that THC does. But, like THC, CBD interacts with the body's endocannabinoid system (ECS) to deliver pain- and stress-relieving messages to specific cannabinoid receptors — either CB1 receptors, or CB2 receptors. THC, for example, is more likely to bind to the body's CB1 receptors in the brain, thus causing the high. But CBD binds more often with CB2 receptors, which regulate pain and inflammation, located elsewhere in the body.
Because CBD can block pain by interacting with our body's cannabinoid receptors, some experts and medical professionals prescribe it an anti-inflammatory treatment for medical conditions like chronic pain, depression, anxiety, epilepsy, and stomach ailments, as Healthline reports.
When CBD oil is combined with other ingredients to make a topical cream, some experts believe that when applied onto the skin, the CBD can penetrate through the pores and provide local pain relief. However, it's currently unclear how penetrative CBD actually is when applied topically. More research is needed to know exactly how far CBD travels through the skin and if it can enter the bloodstream via pores to reduce muscle or joint pain.
Though there's still much to discover about CBD and its use for pain relief, researchers have noticed positive outcomes for those using cannabinoids in general for chronic pain management. The National Academies of Sciences, Medicine, and Engineering concluded in 2017, "in adults with chronic pain, patients who were treated with cannabis or cannabinoids are more likely to experience a clinically significant reduction in pain symptoms." 
Although the effects of isolated CBD are still a mystery in regards to pain relief in humans (recent CBD pain relief studies in rats show that it may be useful for reducing inflammation in joints when injected), at least we know that patients treated will a full-spectrum cannabis product — that being a product with several cannabinoids included in it, including CBD and perhaps THC — experienced pain relief in one way or another.
Is CBD Cream a Good Buy for Pain Management?
There's certainly no harm in trying it out. Whether topical CBD actually works for pain, or if users simply experience a placebo effect, it's definitely worth a shot if you are currently struggling with chronic pain. 
If you're going to try a CBD cream, your best bet is to look for one with other pain relieving ingredients like arnica, menthol, or camphor. Each of those ingredients provide a cooling sensation that may also help reduce soreness and aching sensations. Jordan Tishler, M.D., medical cannabis expert at InhaleMD in Boston suggested to Self.com that these ingredients may actually be doing the work in relieving pain, but it's still too soon in the CBD discovery process to know for sure if CBD is simply taking a backseat.
With all this being said, here are a few CBD creams you may want to try out.
Truly Beauty's CBD cream has a five-star rating and has a plethora of positive reviews from users who suffer from arthritis pain including carpal tunnel. Each 6-ounce jar contains a low dose of 300 mg of CBD, which ensures that you're not introducing a large amount of CBD to an area all at once. This product intensely hydrates, calms inflammation, reduces redness, and promotes glowing healthy skin
Soothing CBD Topical Cream — $29.99
For those of you who may want to start out with an even lesser dosage of CBD per application, check out Green Roads' Sooth CBD Topical Cream. It's pharmacist formulated, paraben free, and not tested on animals. It contains menthol, chamomile extract, and lavender oil, giving the product a therapeutic scent, as well as vitamin E and other natural ingredients, which improve skin texture. It currently has a 4.5-star rating and Green Roads products complies with The Agricultural Act of 2014, The Controlled Substances Act of 1970, and Section 763 of The Omnibus Appropriations Act of 2016.
CBD Daily CBD Intensive Cream — $9.99-$97.99
CBD Daily's CBD Intensive Cream comes in various sizes and contains hemp seed oil, essential oils like peppermint, lavender, pine, and cedarwood, shea butter, aloe vera, jojoba oil, and is 100% vegan. It's the perfect pain cream for post-workout recovery, as the website states, and contains 288 mg CBD in its largest 8-ounce pot. 
How should you apply your chosen CBD cream?
According to FamilyCBDOrganics, apply your CBD cream to the area of inflammation and massage it into the skin. This will warm up the skin, open the pores, and ensure the CBD and other active cream ingredients are penetrating the top layer of skin. You should massage the affected area anywhere from five to 15 minutes.
Before you decide to try CBD pain cream or lotion, always make sure you've consulted your doctor first. Depending on prior medical and/or skin conditions, CBD cream and/or other CBD products may not be the best fit for you. Read through all the ingredients listed on specific CBD skincare and pain products to make sure you will not have an allergic reaction if you suffer from sensitive skin.
Furthermore CBD (more specifically, CBD that is ingested) is sometimes linked to side effects like diarrhea, reduced appetite, fatigue, and could interfere with other drugs you might be taking, specifically blood thinners, as  Ziva Cooper, Ph.D., research director of the UCLA Cannabis Research Initiative in the Jane and Terry Semel Institute for Neuroscience and Human Behavior and the department of psychiatry and biobehavioral sciences told Self.com.
The benefits of CBD are still under investigation, but so far, scientific evidence points to it being a reliable source for minor pain, anxiety, and stress relief. And if chronic pain has plagued you, you may want to give CBD pain relief creams a try.
Share
---