5 Truly Beauty Hacks You NEED to Know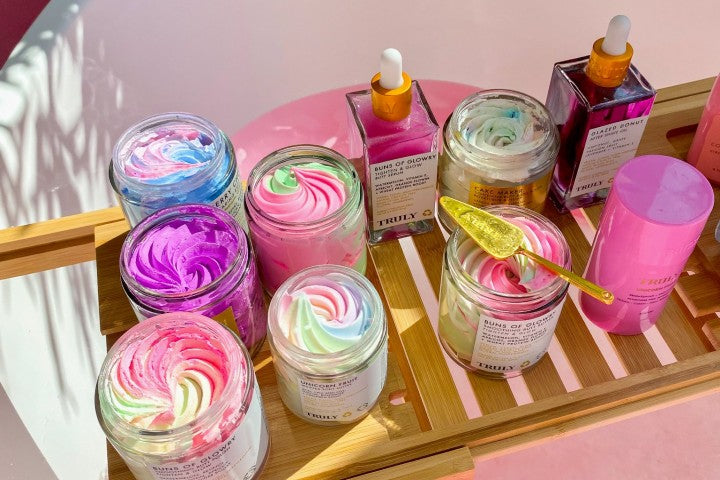 We LOVE beauty hacks! Whether you're multitasking a skincare product, creating a DIY face mask, or combining two individual products, beauty hacks just make everything so much better. The fun part about beauty is that you can break the rules. Want a body lotion that's more hydrating? Add in a few drops of body oil. Just used up your last scoop of shaving cream? Use a body butter instead.
You may have seen one or two of these Truly beauty hacks on TikTok already. All the rest have been freshly invented! Here are five Truly hacks you should definitely include in your beauty routine to get the most out of our products — and the biggest bang for your buck.
#1: Mix Blueberry Kush Body Oil + Coco Rose Body Butter
For Extra Glowy Legs
Looking for a moisturizer that can nurture your dry, itchy skin? If your current body lotion isn't doing a good enough job at keeping dryness at bay, try mixing two Truly favorites to get your smoothest, glowiest gams!
Blueberry Kush Body Oil is an illuminating potion of blueberries, vegan collagen, lactic acid, and salicylic acid that fights inflammation, boosts collagen production, and brightens the skin. It's also extremely hydrating thanks to its base of CBD and jojoba oil.
Coco Rose Fudge Body Butter is a nourishing body moisturizer made with a blend of coconut oil, shea butter, and rose to brighten and hydrate dull skin to give it a smooth, radiant appearance.
Mix them together and you've got yourself a treatment for glowing skin! Start with the body butter, then seal it all in with the oil. With the sheen from the oil, it'll highlight your curves beautifully.
#2: Multitask Unicorn Fruit Whipped Body Butter
As a Lip Balm, Shaving Cream, and More...
Unicorn Fruit Whipped Body Butter is a TikTok-famous beauty product designed to soothe, hydrate, and plump skin. It contains a nourishing blend of acai, plant collagen, and matcha to deliver your smoothest, softest limbs. But its fabulousness doesn't stop there!
You can use UF Body Butter as a lip balm, shaving cream, cuticle softener, and hair mask. It's so universal, you'll want to keep a tub of it in your handbag so you always have it on you for those mid-day touch ups. Make it part of your daily skincare routine to achieve an irresistibly smooth body and stay smelling sugary sweet all day long. Just remember to follow up with sunscreen when applying it in the morning or afternoon.
#3: Combine Super Fruit Conditioner + Glazed Donut Oil
For Irresistibly Smooth Strands
Got dry, depleted hair? It sounds like your mane could do with some major TLC. Instead of relying on conditioner alone to repair and strengthen your strands, try adding a few drops of your fave oil to your conditioner and applying it as an intensive hydrating treatment. It's a fun and easy hair hack that works like a charm! And the two products we like to combine? Super Fruit Conditioner + Glazed Donut Oil.
Super Fruit Conditioner is a repairing, moisturizing, and color-safe formula enriched with coconut oil, argan oil, and jojoba oil to coat your locks and restore their naturally strong, silky form.
Glazed Donut Shave Oil is a deeply moisturizing, flash-absorbing serum that replenishes lost moisture while smoothing and softening skin. While it's designed to heal post-shave irritation, its blend of coconut, passion fruit, and vitamin E make it an excellent hair care ingredient too.
Apply a few drops of oil to your conditioner, coat your hair in the mixture, and let it sit for 15-20 minutes before rinsing off. Besides hydrating strands, it should also help to fight frizz while prepping for sleek hairstyles such as buns and braids.
#4: Swipe Unicorn Fruit Deodorant Over Your Legs + Bikini Line
As a Chafing + Ingrown Deterrent
Instead of relying on baby powder or dry shampoo to soak up sweat, try our Unicorn Fruit Deodorant instead. It's a fantastic beauty tip for combatting body odors and irritation at the same time. By swiping your inner thighs with a natural deodorant, you create a barrier between the skin and shorts, thus preventing friction and thereby chafing. You can even swipe it over your bikini line to ward off ingrowns and inflammation.
Unicorn Fruit Deodorant is a cooling, aluminum-free formula that'll provide instant relief from irritation while creating a layer of lubrication to stop skin from rubbing against clothing. It'll also keep your bikini line smooth and bump-free. The best time to apply to the bikini area is after shaving and on the days following a shave when the skin is most sensitive.
#5: Dab on Cooka Concentrate
To Clear Up Blemishes
Cooka Concentrate was originally designed to relieve and preventing ingrown formation in the bikini area. It turns out, the ingredients found in this formula can be just as effective at treating breakouts as they can be for razor burn and ingrown hairs.
Lavender essential oil's soothing antimicrobial effects work alongside bacteria-busting tea tree oil and hydrating jojoba oil to relieve inflammation, decongest pores, and promote a clear and blemish-free complexion. It's basically like a topical spot treatment that you can use on either the face or body.
Just be aware that this is a potent, highly concentrated treatment. When applying to active blemishes, only use a very small amount and only to affected areas.
We hope you've found these Truly skincare tips and hacks useful for getting your most gorgeous skin and hair! Online, you'll find a lot of hacks — makeup hacks, food hacks, life hacks etc. These Truly hacks should make your life so much easier, your skin so much smoother, and your purse a little fuller.
Do you have any favorite Truly hacks? We'd love to hear how you use our products! Drop over your fave hacks on our social media pages! And if you don't mind...we might steal a few of them!
Share
---