6 Best Hyaluronic Acid Serum Benefits For Your Skin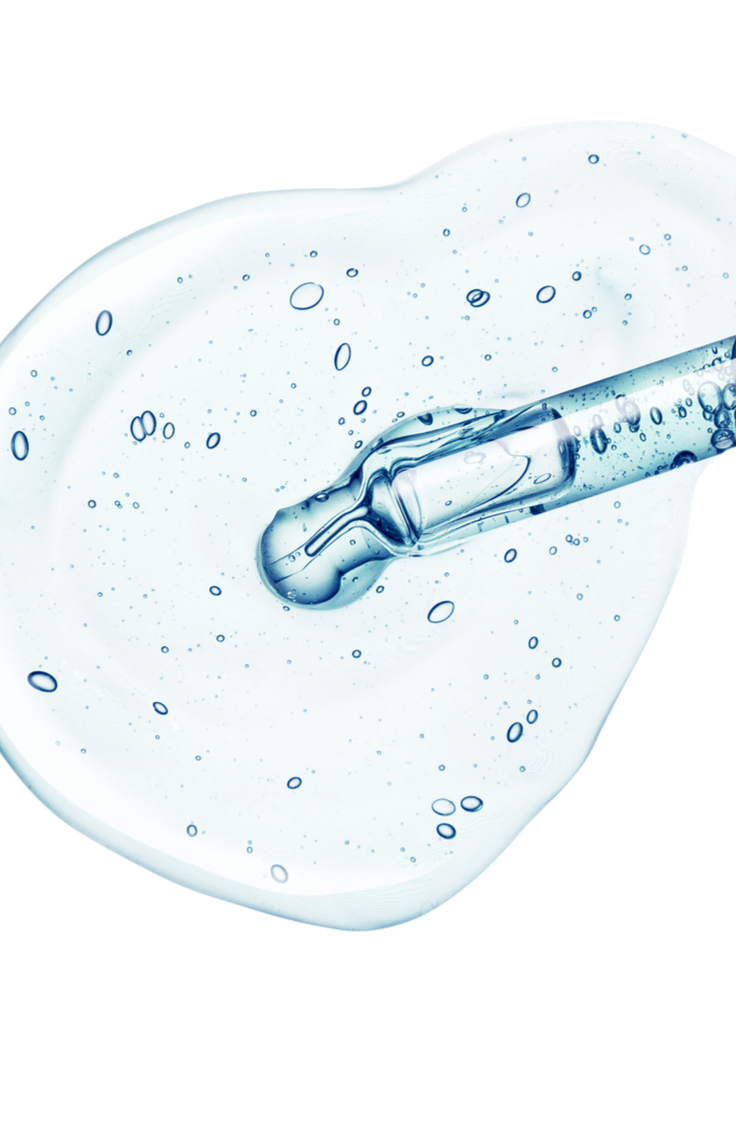 Hyaluronic acid is one of those ingredients that sounds technical, but actually has a simple function: to provide moisture to the skin. 
Hyaluronic acid serum is the most common form of this skincare ingredient, used mostly for its hydrating and anti-aging properties. 
This molecule actually occurs naturally in our skin, but depletes with age. Holding 1,000 times its weight in water, hyaluronic acid helps maintain the skin's moisture barrier and plumps fine lines and wrinkles. It's great for relieving dry skin and promoting dewy skin. So if your skin looks a bit uh, this might be the boost your complexion needs. 
Some people take it as a supplement, but it can also be used topically in serums and lotions. In fact, it's the most effective as a serum. 
Here are the best hyaluronic acid serum benefits for your skin.
WHY USE HYALURONIC ACID SERUM?
It gives you really soft, smooth skin
Hyaluronic acid is a well known moisturizer. It can hydrate your skin better than most lotions you have in your bathroom cabinet. Hyaluronic acid is a highly moisturizing, hydrating serum that is an excellent addition to your skin care routine, especially if you suffer from dry skin. By attracting water and binding moisture to the skin, this humectant acts as a lubricant between layers of tissue. Use it on a regular basis and you'll notice your skin looking more dewy and feeling much softer in no time. It's the perfect pick me up for dehydrated skin. 
It fights fine lines and wrinkles
The key to youthful skin comes down to keeping your skin hydrated. Thanks to hyaluronic acid's hydrating and plumping effects, it's an excellent anti-aging ingredient that keeps your skin looking young and healthy. Aging is actually largely caused by the depletion of hyaluronic acid in the skin. By regularly applying a hyaluronic serum to the skin, it will help reduce signs of aging and the appearance of fine lines. It also helps fight free radical damage that breaks down elastin, collagen and DNA. While retinol is a popular skincare product against aging, it can be often be too harsh for many skin types. Fortunately, this face serum is a lot gentler on the skin and shouldn't cause any irritation. 
It protects your skin against UV rays
Daily exposure to UV rays can take its toll on your complexion. By providing a skin barrier of hyaluronic acid, your skin will be better protected against environmental aggressors such as the sun and pollution. Choose a hyaluronic acid serum that contains vitamin c or vitamin e for further protection and skin benefits. You can use it as a moisturizer under your sunscreen. It's light and oil-free, so it won't weigh down your skin. 
It can soothe acne scars
Hyaluronic acid is highly effective in wound healing and tissue regeneration. It works as an anti-inflammatory, helping to soothe acne scars, skin irritation and sunburn. Combine it with a vitamin c serum and you'll promote faster scar healing. You can talk it through with your dermatologist prior to using it - especially if you have sensitive skin. However, pure hyaluronic acid minus parabens can be very beneficial for all skin types, including sensitive skin, oily skin, and of course dry skin. 
It can prevent breakouts
Hyaluronic acid is a hydrating component that can de-clog the skin and help prevent breakouts. If you have acne-prone skin, regular use of a hyaluronic serum can help maintain skin oil levels and prevent breakouts from occurring. Combined with a vitamin c serum, your hyaluronic acid serum will work even more effectively in targeting pimples and taming your acne-prone skin. 
It partners well with other skincare ingredients
From retinol to niacinamide, licorice root oil to centella asiatica, hyaluronic acid pairs well with other skincare ingredients. This moisturizing face serum works wonders with other ingredients as well as alone. It also pairs nicely with a vitamin b5 serum, which you'll easily be able to find on Amazon or in your local drugstore. This hydrator will work equally as well alone in helping to hydrate your skin and improve your skin tone. But it also works terrifically when layered with other beauty products.
HOW TO USE HYALURONIC SERUM?
There's absolutely nothing complicated about using a hyaluronic acid serum. It works like any other facial serum. You can apply it daily to freshly washed skin. The best hyaluronic acid serum benefit is that it's great for all skin types, so you don't have to worry about it irritating your skin. In other words, if you have severely dry skin or chronic acne, you can apply it up to twice a day and it won't make your skin feel all tight and sore. On the other hand, if you don't have such drastic complexion issues, once a day is enough. Another wonderful benefit: you can use it under makeup. It's not oily and won't leave a greasy residue on your skin, so it will still look good under makeup. This serum can also brighten your skin, so you can look forward to smooth, dewy, glowing skin. 
WHAT ARE THE BEST HYALURONIC SERUM?
There are lots of hyaluronic acid serums on shelves. Many of them are extremely effective in treating various skin complaints such as dry skin, breakouts, wrinkles, fine lines, and scars. It is not to be confused with sodium hyaluronate, which is a less expensive version of the ingredient. 
The secret to finding the best hyaluronic acid serum is to first, select a vegan brand. Second, ensure it contains no added ingredients or parabens. It's fine if it contains additional skincare products that benefit the skin such as aloe Vera or watermelon extra which are both highly moisturizing for the skin, but it shouldn't contain too many additional ingredients. You should be choosing pure hyaluronic acid with a high molecular weight. Hyaluronic acid with ceramides and purple rice extract is also a good choice. You can also choose one with a hydro boost for extra hydrating effects.
If you're looking for a nourishing facial serum that keeps your skin looking young and healthy, while warding off fine lines and breakouts, hyaluronic acid is definitely a good choice. Add it to your daily skincare routine and you'll certainly enjoy its many wonderful benefits.
Share
---