6 New Truly Beauty Products You Need to Try this Summer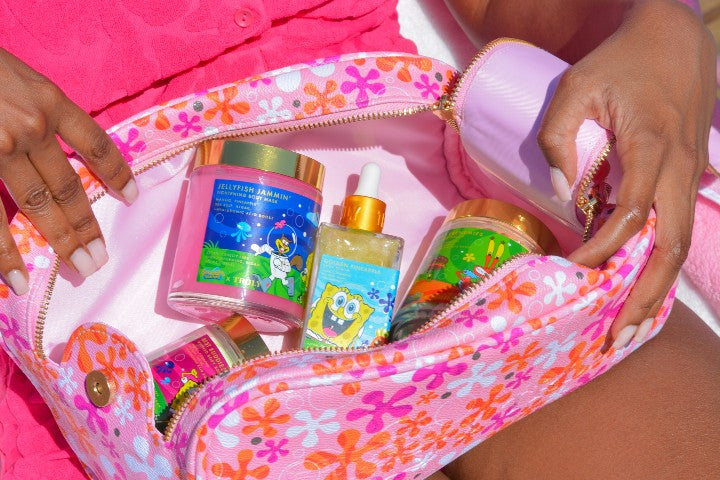 Vamp up your beauty routine this summer with Truly Beauty's hottest new product drops! From boob-firming bundles to fun beach accessories, there's really something for everyone on this list.
Trying to swerve your skin concerns this summer? Whether you're dealing with cellulite, stretch marks, ingrown hairs, pimples, or fine lines and wrinkles, we've got skincare products that'll alleviate your issues. We've also recently released some fun accessories that are perfect for spontaneous beach trips, poolside lounging, and summer travel.
Here are all the beauty products + accessories you need to try this summer!
Defrost Summer Bod
Time to thaw out your winter skin!
Defrost Summer Bod offers everything you need for a super hot, bikini-ready bod. This 7-step skincare routine is designed to revive dull, dry skin by brightening, smoothing, tightening and hydrating while quelling breakouts and discoloration.
Firming retinol, soothing lavender, hydrating hyaluronic acid, and antioxidant-rich acai work together in these formulas to thaw out your winter skin and replace it with radiant, summer-ready skin. Hello, GLOW!
Inside the bundle: Smooth Legend Pre-Shave Sugar Scrub, Dulce de Leches Firming Boob & Belly Polish, Coco Cloud Whipped Shave Butter, Truly Blue Razor, Buns of Glowry Butt Tightening Serum, Cooka Oil, Unicorn Fruit Whipped Body Butter + FREE mint-hued skincare pouch. 
Hydrating Summer Set
SpongeBob fans won't be able to resist this nostalgia-soaked SpongeBob-themed skincare kit. This 4-step limited edition kit features a range of hydrating summer essentials including: Best Frenemies Whipped Polish, Best Buddies Body Butter, Jellyfish Jammin' Body Mask, and Golden Pineapple Body Serum + a gold skincare spatula & bag!
The kit has four key purposes: exfoliating, hydrating, protecting, and brightening. And it's suitable for all skin types.
Rich in tropical and marine-derived ingredients such as algae, sea kelp, pineapple and mango, all four formulas work together to shield skin from UV rays, bust blemishes, prevent fine lines, and enhance your summer glow! Just remember to finish up with sunscreen SPF 30 to keep skin extra protected this summer!
Anti-Aging Body Bundle
A 3-step youth-restoring kit to elevate your night-time routine. Anti-Aging Body Bundle comes complete with a boob scrub, boob serum, and overnight face mask, all developed to brighten, tighten, and firm up sagging skin.
These vegan and cruelty-free formulas combine powerful active ingredients like retinol, hyaluronic acid, vegan collagen, and nourishing shea butter to improve elasticity, skin tone, and texture for visibly smooth, bright, and supple skin.
While they're designed for the chest and face, you can also use the serum + body scrub on other problem areas. Got stretch marks or cellulite on legs? These fruity formulas can help!
The Acai Your Boobies products are Truly's bestsellers, and clinically proven to improve tone, texture, and firmness in just four weeks of daily use. If perky, glowing skin is what you're after, snag these specials asap before stocks run out.
Truly Pink Koozie
Fed up of breaking your cosmetic glass jars? We've found the solution: Our silicone pink koozie! Simply slide it over your Truly jars, and you're good to go!
This Truly-stamped silicone koozie protects your jars from slippery shower edges and sudsy fingers, while keeping them on your travels.
It fits all our larger jars (i.e. Acai, Buns, Dulce, Cake, No Troubles Bubbles, Berry Cheeky, Nice Melons, etc.) for strong, secure, and stylish coverage.
If you haven't seen our drop testing videos yet, head over to our Instagram page to check them out. You'll see just how formidable these sweet and stylish sleeves really are!
Beach Blanket
Sunbathe in style with our NEW plush pink beach blanket. It's super soft, cozy, and chic all at the same time. You'll want to take it everywhere with you! And you can!
This multipurpose blanket can be used as a beach blanket or towel, a regular bedroom blanket, or a stylish throw.
Measuring 180x130 cm, this super soft blanket is made from a mix of cashmere, polyester, and acrylic fiber to secure a satisfying sunbathing sesh or slumber. Since it's machine-washable, you can also use it for doing your skincare routine on. Those body lotions, eye creams, and hair care essentials should come right out if spillages occur.
Coco Cloud Shaving Kit
If you like to meet smooth and glowing for summer, look no further than Truly's Coco Cloud Shaving Kit. Lather up with Coco Cloud Shave Butter, treat ingrown pubic hairs and irritation with Coco Cloud Serum, and stay hydrated all day long with Coco Cloud Moisturizer.
Enriched with nourishing ingredients like coconut, argan, and vitamin E, these formulas prevent and quell post-shave irritation while securing an ultra smooth shave. It's the perfect shaving set for sensitive skin types, and guaranteed to leave skin feeling sensational!
Never undergo that painful ingrown hair removal process again. With this 3-step shave kit, you can enjoy the fluffiest, airiest, smoothest shave ever — without razor burn, bumps, hyperpigmentation, or ingrowns.
STAY TUNED FOR MORE TRULY TREATS
At Truly, we're continually bringing out fresh new formulations that tackle a slew of skin concerns, from acne to stretch marks, cellulite and shaving irritation. You can stay updated on what's to come and what's just arrived by following us on Instagram and TikTok. We also post about our new releases here on the blog, so be sure to come back!
All our products are clean, vegan, and cruelty-free. Plus, we utilize high-performing active ingredients we know work — such as vitamin C, retinol, niacinamide, CBD, and more!
If you have a skin condition or suspect you have one, speak to your dermatologist for guidance and relief. It's always a good idea to consult your derm before trying new products — especially those with potentially irritating actives like retinol and acids.
In the meantime, stay tuned for more hot Truly releases! And be sure to snap up these skincare treats and accessories before they run out! We hope to see you again soon!
Share
---