A List of Beauty Buzzwords You'll Be Hearing in 2022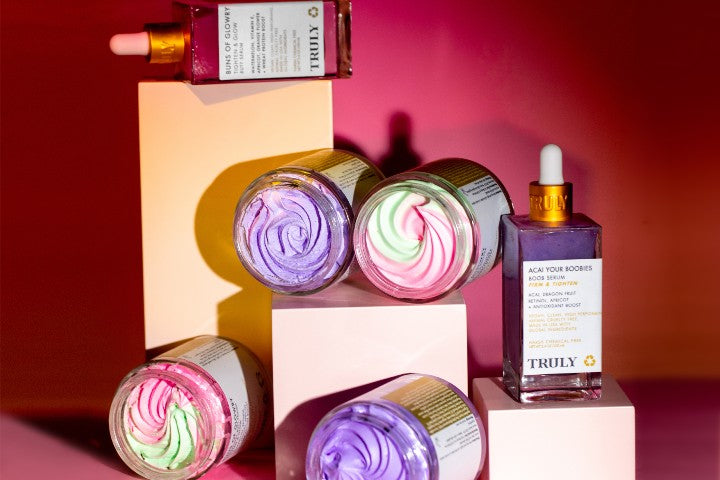 Have phrases like "slugging," and "snacking" been appearing on your social media feeds? And you have no idea what the heck they mean? It can all get super confusing. We get it. 
To help us you navigate these popular beauty buzzwords, we've done some digging so we can explain the eight common phrases you'll see this year. 
Beauty Snacking
Creaming up your face while consuming a chocolate chip cookie? Not exactly.
Beauty snacking, aka skincare snacking, refers to bitesized moments of self-care through beauty products designed to enhance your mood and improve your day.
Since the pandemic, more of us have adopted a work from home strategy that can leave some people feeling frustrated with the lack of social connection and having no separation between work and home. Beauty snacking adds variety and pleasure to your day by having those little beauty breaks that leave you and your skin feeling great.
"Extended periods of lockdown and the shift to home-working disrupted traditional morning and evening beauty routines and saw people opt for smaller ad hoc, micro beauty moments throughout the day to break up the home-working lifestyle or create moments of pleasure," explains Clare Varga, Head of Beauty at trend forecasting agency WGSN. 
Beauty snack with: Truly's Blueberry Kush Hemp Face Oil,GLOAT Lip Plumping Serum + Unicorn Fruit Whipped Body Butter.
Body Skincare
Skincare shouldn't stop at your chin or neck. In 2022, you're going to see more beauty brands bringing out products designed specifically for the body, or specific areas of the body like the butt and boobs. 
This year, expect to see active ingredients like retinol, hyaluronic acid, glycolic acid, and collagen incorporated into skincare products targeted towards the body. 
You need to remember that skin concerns like pigmentation, fine lines and wrinkles, dryness, and dullness don't only affect the skin on your face and neck. They also pop up on your chest, hands, butt, and thighs. 
Body skincare may sound like just another marketing term, but there's a reason dermatologists generally don't recommend using your face products on your body. It's because the skin on your body tends to be different to that on your face and thus, requires different formulations.
Show your bod some extra TLC with: Truly's Ultimate Body Bundle.
Slugging
If you're on TikTok, you may have noticed how everyone's suddenly dousing their skin in Vaseline. WTH? Turns out, it's nothing new. Slugging has been in Black women's skincare routines for generations. 
So, what exactly is this DIY beauty treatment that's got beauty-loving millennials obsessed? Slugging, according to the derms, is when someone applies a petroleum-heavy emollient like Vaseline to the face after completing their skincare routine. It's then slept in overnight, and rinsed off the following day. Beauty experts say it's meant to seal the top layer of skin in order to seal in moisture and the goodness from your skincare products.
It's definitely effective -- if you have dry or aging skin. Those with oily or acne-prone skin, on the other hand, may want to resist as Vaseline is a comedogenic product that can clog pores and cause breakouts. 
Skinimalism
Last year, skinimalism took the beauty industry by storm with people opting for more streamlined skincare routines. Instead of those 12-step Korean regimens, people began adopting a minimalistic approach to beauty. And the pros predicted it would continue to trend throughout the new year. They were right.
This year, consumers are becoming increasingly aware that less is more when it comes to skincare. Simply using a few good products can actually be much better for your skin and far less irritating.
Skinimalize your regimen with: Truly's Ultimate Skincare Bundle.
Sunscreen 
You already know the word. Maybe you're a skincare angel who wears it religiously every day! Or maybe you never wear it. The truth is, sun protection will always be a buzzword in the beauty industry because it protects the skin from UV rays and prevents premature aging that accompanies sun exposure. 
In 2022, you'll see more skincare brands like L'oreal and others releasing formulations containing SPF. In recent years, it has become extremely popular for SPF to appear in moisturizers, foundations, lip balms, and even haircare products. 
Glazed Donut Glow
Hailey Bieber's been talking about it -- A LOT. But what is it exactly?
Glazed donut skin refers to skin that's ultra-hydrated, dewy, and shining with all those layers of serums and creams. It's literally next level glow! And beauty retailers all over are utilizing this new trend. In the coming years, you can expect to see more and more products focusing on helping you achieve a glazed donut glow.
Look like a glazed donut with: Truly's Glazed Donut Shave Oil.
Clean Beauty
Clean beauty products are made without ingredients shown to harm your health. At Truly, clean beauty also has to be luxurious and high-performance, whether it's a facial cleanser you use every day or an anti-aging serum that leaves your skin looking youthfully radiant. 
Whatever it is, we make no compromises. We prioritize your wellness.
You will find all our clean skincare and haircare products on our official store, as well as on Amazon, Sephora, and Ulta. 
Refillable 
Refillable beauty is the final beauty buzzword to look out for in 2022. Leading brands like ourselves are formulating refillable creams, lotions, and shaving products in a bid to be more eco-friendly. By refilling your empties, you're lowering your carbon footprint and making a difference to the world. Next year and the years going forward, we hope this trend will continue.
At Truly, we want to curate a phenomenal yet planet-friendly experience in real-time. Whether you're in New York, LA, or wherever, we aim to provide a fantastic customer experience through friendly communications, vegan and cruelty-free formulations, fun social media tutorials, eye-catching visuals, and a commitment to sustainability.
Now you're familiar with 2022's hottest buzzwords, you can give some of these beauty trends a try for yourself. With the Olympics coming to an end, you can start re-focusing on your beauty routine again. 
Share
---