How to Get Free Truly Beauty Products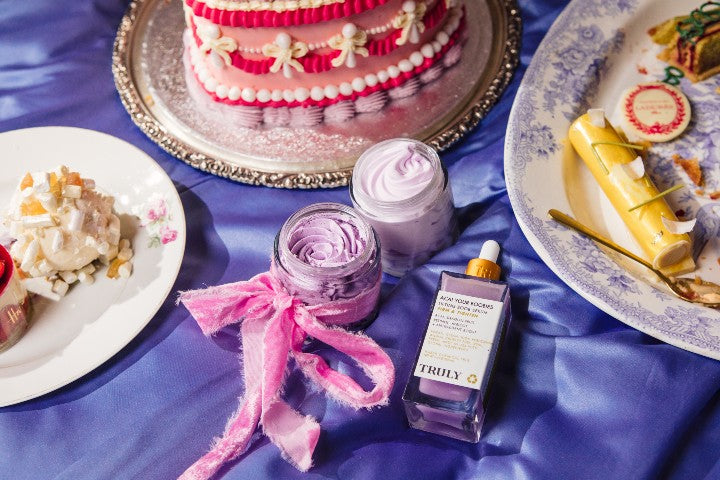 We love free stuff just as much as you do, which is why we want to let you in on a few juicy secrets to getting FREE Truly Beauty products. While you'll commonly find Truly Beauty coupon codes and promos on our website (trulybeauty.com) and social media pages (TikTok, Twitter, and Facebook), there are also plenty of ways you can get free gifts courtesy of Truly.
Whether you're looking for a free bottle of Mary Jane Glow Serum, tub of Smooth Legend Pre-Shave Scrub, or limited edition skincare products, you'll find lots of freebies right here on our website and beyond.
Here are all the ways you can swipe Free Truly products. Why do we do it? Because we <3 you!
#1: Join the Truly Beauty Rewards Program
Truly Rewards is a loyalty program to show our appreciation for your loyalty. You'll earn points for doing different things on our site, like purchases, referrals, and reviews, which you can trade in for FREE STUFF and vouchers on storewide products.
All you need to do is sign up (psst...you'll earn 50 points just for creating an account!), shop, earn, and REDEEM. Here are all the ways to you can earn points (tradeable for freebies):
Refer a friend - 200 points
Make a purchase - 1 point per $1
Follow us on Instagram - 10 points
Like us on Facebook - 10 points
Celebrate a birthday - 50 points
Sign up to our mailing list - 75 points
Write a product review - 25 points
And to give you an idea of what you can earn, 200 points gets you a $12 voucher, 500 points gets you a $45 voucher, and 650 points gets you a FREE Skincare Travel Pouch. You can redeem your points when you checkout. Basically, you've only gotta convince three friends to try Truly products, and you'll get a free vegan leather cosmetics bag. It couldn't be easier!
We also occasionally throw in a limited edition product here and there, like our Acai Your Boobies Mini Serum. Be sure to stay updated on our upcoming freebies, only available with Truly loyalty points. A lot of the products are only available for a limited time, so get them before they run out.
One of the best ways to get free stuff and juicy beauty offers from the loyalty program is by going on a Truly shopping spree. The more you add to your shopping cart (and purchase), the more points you'll make, and the more freebies and vouchers you can cash in.
#2: Spin the #WheelOfTruly
On our Instagram page, you'll find Truly Beauty promo codes on sitewide products as well as other beauty offers. And then there's our super fun and freebie-filled #WheelOfTruly, a LIVE weekly gameshow where you can spin to win Truly prizes, including bestsellers and newbies. There's always a bunch of products on offer, from cleansers to body butters to moisturizers and blemish-fighting formulas.
Sometimes, we drop the occasional Truly Beauty discount code in the comments, so stay tuned and keep scrolling to enjoy big savings on your entire purchase.
#3: Play #TriviaTuesday
#TriviaTuesday is a livestream quiz aired on Instagram where you can test your Truly knowledge for FREE beauty prizes. Join in with Anna to get everything from hair care to skincare and body care products. If you know us well, you could be in for the chance of getting A LOT of free stuff. Woo-hoo!
New here? Crawl through the Truly Beauty website to get acquainted with our story and our products. You'll also find a lot of useful info on our FAQ page. It's a quick and easy way to get free Truly stuff.
#4: Shop Till You Drop
To get as many free Truly Beauty products as possible, be sure to come back to our website every day for the daily offer. Sometimes, we give away beauty codes while other times we offer free products with purchases over a certain amount. For example, if you spend $100 or over, you'll get a free Anti-Cellulite Bundle or anti-aging serum. You'll find all the juicy Truly Beauty deals right here on our website.
The more you shop, the more freebies you'll receive. Time to go on a Truly shopping spree and start collecting all those free products over the weeks. P.S. your freebie will automatically be added on the checkout page.
#5: Take Advantage of All Those Truly Promotional Codes
If you're a frequent Truly shopper, check out our website and social media channels every day to get a new coupon. You can get codes almost anywhere where we are! While it's not exactly a free product, all those discounts will soon add up and end up saving you hundreds of dollars on butters, serums, and polishes. And fyi: we offer some of the best discounts around (that are also verified and applicable to all products, not just select items) so you can shop till you drop.
Ready for your next purchase? Get shopping, start earning, and getting lots of fun freebies! It's honestly never felt more rewarding to shop!
While Truly products are available on retailers such as Ulta and Sephora EU, the above deals are only valid on our official website - trulybeauty.com.
In addition to the freebies mentioned above, you'll also get special deals and discounts on Black Friday, Cyber Monday, and many other special days of the year. You've just gotta stay tuned so you don't miss out on all the goodies. Whether it's your first order or your fifth, we value you as a customer and your loyalty. We hope to see you around here again soon!
Got questions? Get in touch, and we'll be happy to answer them for you!
Share
---