If You Were a Beauty Product, What Would You Be?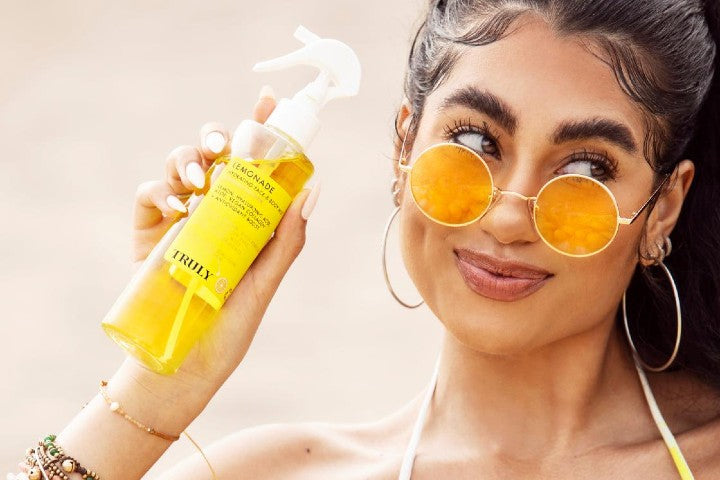 In a recent interview with Natalie Portman, the Oscar winner and face of the new Miss Dior Eau de Parfum revealed what beauty product she'd be reincarnated as.
Eye cream.
"I feel like that's the top thing that helps a tired mom," she told Allure. "So that's what I would do, come back and serve the mothers of the world." Great answer!
It got us thinking...what would we be if we had the opportunity to come back as a makeup or skincare product. Eyeshadow? Sunscreen? Eyeliner? Face mask?
The choices are endless. Find out which beauty product you'd be.
PROBLEM-SOLVER?
Truly's 24k Gold Black Soap Impurity Cleanser
Love solving peoples' problems? Or maybe you're just always around when things get tough for your loved ones? People turn to you for help. You're their shoulder to cry on, the problem-solver, the person they can also rely on to fix their issues.
Sound like you? Then you'd definitely be our 24k Gold Black Soap Impurity Cleanser. Made with luxury, high-performing ingredients like 24k black gold and African black soap, this formula is always there to fix your skin complaints. It works by drawing out impurities to decongest pores and banish blemishes for a clear, glowing complexion. This lady does not judge. She'll always be there whenever you need her. 
SWEET LIKE CANDY?
Truly's Unicorn Fruit Whipped Body Butter
No product can better demonstrate your sweetness than our Unicorn Fruit Whipped Body Butter. This multi-colored swirl of sweet hydration smells just like cotton candy -- and as sweet and adorable as you! 
This buttery, deeply conditioning body moisturizer is packed with a blend of cruelty-free, skin-repairing ingredients such as acai, matcha, collagen, and rose. The result? Smoother, plumper, sweet-scented skin. It's basically like a lotion, only formulated with plenty more goodness and without an unpleasant greasy residue. She's a wellness essential. 
Make her part of your daily skincare routine, and you'll only grow sweeter!
DEPENDABLE AND DYNAMIC?
Truly's Vegan Collagen Facial Serum
You're dependable but by no means dull. You get the job done -- and you can complete it in a multitude of ways. It sounds like you'd be our Vegan Collagen Serum.
This formulation contains high-performing active ingredients like vegan collagen and vitamin C which always deliver results. However, it's really retinol that offers its dynamic virtues. Dermatologists would agree!
Collagen and vitamin C are certainly both effective at strengthening, conditioning, and brightening the skin. For those reasons, we'd definitely call them dependable. The dynamic part of this product is purely down to retinol. This vitamin A derivative can boost collagen production and speed cell turnover, which translates to it being able to reduce fine lines, even out discoloration, brighten skin tone, and address acne.
In other words, whatever skin concern you've got, this product's got your back! Just like you!
LIFE OF THE PARTY?
Truly's Lemonade Mist
Are you the one in the group always suggesting fun ideas? Always up for a good time whatever the weather? Prioritize you and your friends' happiness over everything else? Sounds like you're our Lemonade Mist.
Light and citrusy, this face and body spritz reflects your fun and edgy personality. Like you, she's always ready to light up your life and lift your energy levels! She's summertime in a bottle! Hang out with this babe and maintain beach-ready levels of glow! Even in the winter, she'll make you feel like it's summer. 
But she's not all talk. Lemonade Mist contains skin-transforming ingredients such as hyaluronic acid, lemon, and aloe to plump, protect, and boost skin cell production. She makes you feel amazing! Plus, she's suitable for all skin types. That's 'cos she gets on with everyone. 
A REAL CARE BEAR?
Truly's Unicorn Hair Repair Mask
Does taking care of those around you make you feel amazing? Are you always the one people come to for love and support? How adorable! You're nearly as adorable as our Unicorn Hair Repair Mask.
Formulated with nourishing keratin amino acids to feed the scalp and hydrating avocado to moisturize your strands, this hair care mask has only mission: to care for your hair. This magical formula will leave tresses silky, healthy, and bouncy just like a unicorn's mane. She's always there to share her love with your mane!
Amino acids are essential to hair growth and retention, while avocado gives your strands shine and acts as a natural moisturizer to keep her supple and strong.
Befriend her for life and you'll reap the rewards!
NOW FOR THE MAKEUP PRODUCTS...
There are so many makeup products you could be. It's up to you which beauty brand you choose. 
If you're a problem-solver, you'd most likely be concealer. You correct those blemishes and dark under eye circles for a flawless finish. 
Sweet like candy? We'd have to choose a cherry-flavored lip gloss. Shiny and sweet, she'd be the epitome of your finest traits. You just seem to make everything better!
Lip balm and SPF would be the products best suited for the dependable and dynamic types. While they're daily beauty essentials, they also offer a multitude of benefits. It's definitely worth keeping them close.
Life of the party? It's got to be matte red lipstick! Powerful, fun, and edgy all at the same time, it adds oomph to every makeup look. Your makeup routine simply wouldn't be complete without a swipe of rouge matte lippy. Mascara and neon eyeshadow palettes would also be good choices.
And finally for the caring personalities...you'd most probably be a fuzzy pink makeup bag, there to hold and cherish others. 
Ever wondered what beauty product you would be? We know Natalie Portman would be an eye cream, but what would you be? We hope you've managed to allocate the best skincare product according to your dazzling personality type!
Got other ideas to share? We want to hear from you! Get in touch or contact us via social media with your ideas.
Already found your answer? Tag us on Insta with your Truly product! Let's make this a thing!
Share
---