Mad About Matcha Powder: Why You Need It In Your Life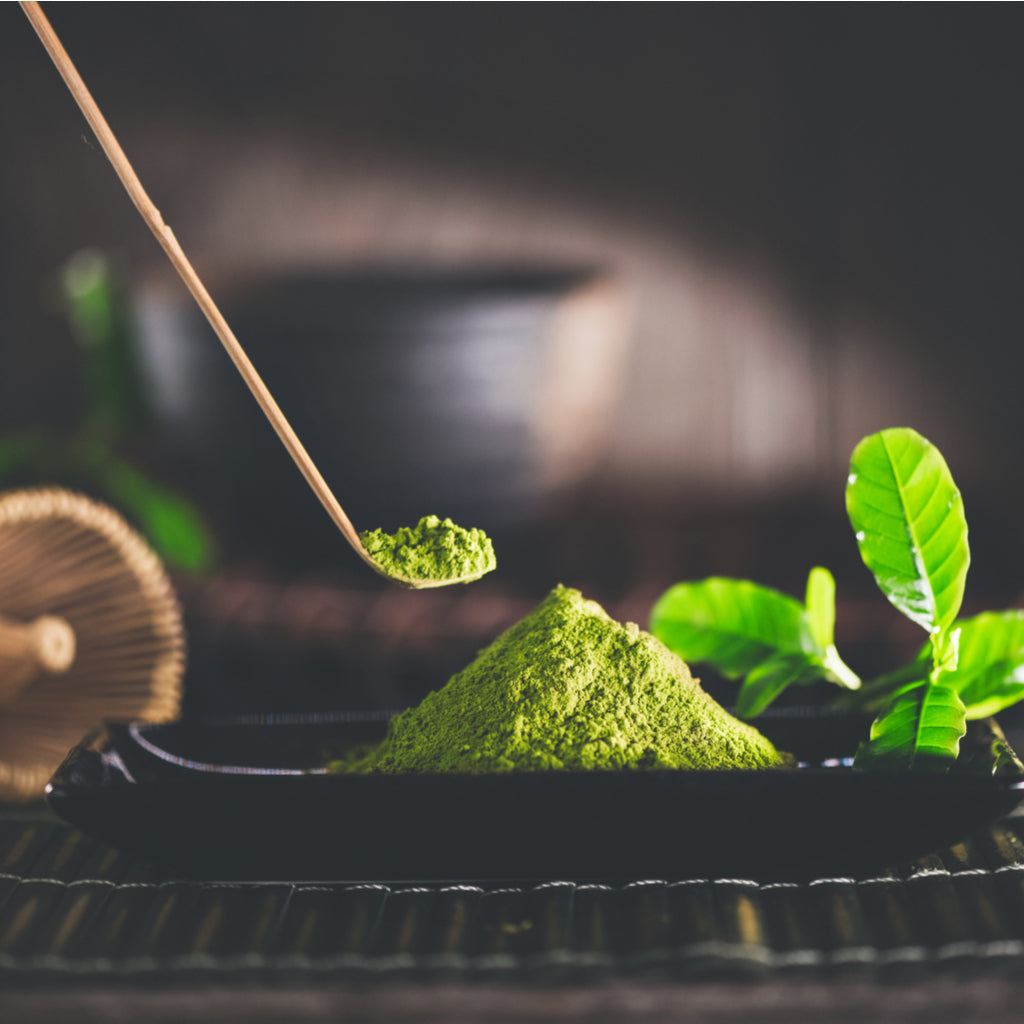 You've probably already heard of matcha powder. The question is, are you familiar with its superpowers? 
This green tea family member is not just a temporary food trend. It's sticking around. Not only does it offer an incredible list of health benefits such as aiding weight loss, lowering blood pressure and preventing heart disease, it also offers a slew of beauty benefits. Before we delve into those, let's take a deeper look into this superfood and see what all the fuss is about.
WHAT IS MATCHA POWDER?
Matcha is made from the highest quality green tea leaves that are ground up into a fine powder and made into tea. As a result, you are getting a higher concentration of the tea leaves' nutrients than in an ordinary cup of green tea. 
Loaded with antioxidants called polyphenols, as well as numerous vitamins and minerals, this green tea powder can protect you against cancer and help regulate blood sugar levels. 
Matcha tea has been enjoyed for centuries in Japanese culture. In a traditional Japanese tea ceremony, the leaves will be stone ground and whisked into hot water to make Japanese green tea. 
But what's the big deal about this form of green tea? Is it really as good as people say it is or is it just another fad, on the verge of disappearing very soon? To tell you the truth, it doesn't look like it's going anywhere. Here's why.
HOW IS IT DIFFERENT FROM ORDINARY GREEN TEA?
The prime difference between drinking the tea made from green tea bags and that of matcha powder is that you are taking in a higher concentration of tea leaves and thus more antioxidants in matcha green tea. Unlike tea bags or tea leaves steeped in hot water, in which only the water is consumed and thus, a lower concentration is ingested. 
That also means matcha green tea contains more caffeine - three times as much than a cup of steeped tea. But because matcha contains a natural calming substance called l-theanine, it induces relaxation without making you feel tired and drowsy. In other words, you won't feel the caffeine jitters. 
MATCHA GREEN TEA BEAUTY BENEFITS
Youthful skin
Because matcha green tea powder is packed with skin superheros like vitamins B2 and E, that means drinking a cup of matcha daily can promote collagen levels, support cell growth, and hydrate the skin. It's also full of antioxidants which are highly beneficial for keeping the skin looking young and healthy. So, not only will drinking these tea plants keep you physically fit and healthy, they'll also keep you looking 10 years younger. 
Skin cancer warrior
Another fine quality of matcha is its DNA restoring properties. It contains a powerful antioxidant called EGCG which can help reduce DNA damage caused by environmental aggressors like the sun. As you know, too much exposure to UV rays can be the number one cause of skin cancer. But according to studies, you can actually prevent your skin cancer risk by drinking more green tea lattes. That's because green tea contains cancer-prevention properties such as catechins and theaflavins - super powerful sun exposure protectors.
Acne-free 
You don't have to drink matcha in order to reap its beauty benefits. You can also apply it topically or use products that contain matcha - and there are plenty to choose from in beauty stores.
One of the great benefits of matcha powder is that it can exfoliate and remove dead skin cells, leaving you with fresh and glowing skin as well as plumper skin and smaller pores. Organic matcha contains something called chlorophyll - a natural anti-bacterial that helps diminish excess oil from your skin and eliminate acne-causing bacteria.
This Matcha Face Scrub can ease acne, even skin tone, reduce inflammation and even offers protection from sun damage.
HOMEMADE MATCHA GREEN TEA MASK 
If you want to save yourself some money, why not make your own matcha beauty products? From face masks to creams to serums, you can create your own beauty potions using this one simple ingredient.
To get you started, here is a simple matcha face mask you can make from home.
1. Mix one teaspoon of matcha powder with several drops of water, so you can make a paste and are left with a spreadable texture.
2. Apply the mixture to your face using gentle, circular movements. 
3. Leave the mixture on for 15-20 minutes before washing off with warm water. 
Try to use this mask 1-2 times per week for best results. While you'll notice an instant glow after your first application, you will need to keep it up to see even more impressive results.
EASY MATCH FACIAL SCRUB
For an effective exfoliator, why not make your own matcha powder scrub? It couldn't be easier and only requires three simple ingredients: matcha powder, coconut oil and natural white sugar. You probably already have these ingredients lying around your house anyway.
1. Mix together one tablespoon of matcha powder, a quarter of a cup of coconut oil, and half a cup of white sugar.
2. Apply to your face using gentle, circular motions. Wash off with warm water.
This scrub is excellent for getting rid of acne, oiliness and dead skin cells. Try using this scrub 2-3 times per week for best results and always apply a nourishing moisturizer directly after. 
HOW TO MAKE MATCH POWDER PART OF YOUR LIFE
The wonderful thing about matcha is, it doesn't just need to be tea. It's actually really versatile. You can add it to smoothies, incorporate it in baking, and even add it to soup! So if you're not a fan of green tea, because you simply don't like the flavor, that doesn't mean you need to eliminate matcha from your life altogether. 
Search Google and you'll find tons of recipes for matcha muffins, brownies and cupcakes. You can use it as an ingredient in both sweet and savory dishes. Experiment, play around, and see what works for you. And if that doesn't work, you can always use it topically instead. There are plenty of awesome matcha beauty products out there you can use for glowing, radiant skin. 
Just make sure you only purchase quality matcha. While you're at it, why not get yourself a cute little bamboo whisk to make your own matcha latte. You can bring Starbucks to your own home. 
Share
---