Pretty Pink Beauty Products & Accessories To Show Urself Some Love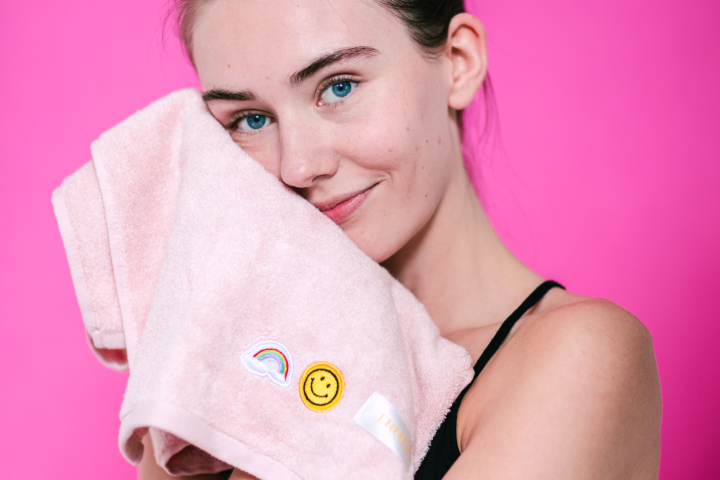 You never need a reason to show yourself some love. So, start showing yourself some LOVE -- right now!
Whether it's for Valentine's Day or just a random act of self-kindness, we urge you to treat yourself to a few pretty pink goodies.
Here are our fave beauty products we think you truly deserve.
Unicorn Routine
The Unicorn Routine features our bestselling body butter, a lip plumping balm, and a hydrating hair mask.
Unicorn Fruit Whipped Body Butter is formulated with a nourishing blend of vegan collagen and acai to soothe, brighten, and smooth out skin. Unicorn Lip Balm is a minty-shea butter balm, which plumps and hydrates. Unicorn Locks Hair Repair Mask is loaded with shine-inducing avocado and moisturizing coconut oil, promoting healthy hair.
This pretty pink gift set is just waiting to be dropped into your shopping cart!
Skincare Travel Pouch
Next time you travel, keep your skincare, haircare, and makeup products organized by packing them in this adorable travel pouch. It's pink, made from vegan leather, and utterly gorgeous! Plus, there's plenty of room for your toiletries, and a double zipper enclosure to keep everything safe.
You can use it to store everything from your eyeshadow, mascara, highlighter, and concealer to your nail polish, cleanser, and face masks. You can even store your makeup brushes in here when you're not traveling anywhere! Consider it your self-care bag full of all your favorites!
Glow Up Routine
Since glowing skin is always in, why not give yourself the gift of a radiant complexion this new year? Our Glow Up Routine features 3 glow-enhancing products designed to transform dull complexions into dewy ones: Mary Jane Face Mask, Mary Jane Glow Serum, and Super Heart Acne Patches.
The Mary Jane products contain exfoliating glycolic acid, revitalizing caffeine, and resurfacing retinol to dissolve dead skin cells and dry skin to reveal a brighter, dewier complexion underneath. Just remember to apply sunscreen afterwards if you're using these products in the daytime as retinol makes skin extra sensitive to the sun.
Unicorn Fruit Eau De Parfum
Heading out for a girl's night out? Little will make you feel as glam as Unicorn Fruit Eau de Parfum. It's our first ever signature scent, and the perfect choice for ladies who like sweet, fruity fragrances. 
Think: a freshly fruity and feminine base of candy floss, vanilla, and sandalwood with top notes of citrus, black currant, and white floral. It's an ideal choice for sweethearts with a seductive side. 
Satin Sleep Set
Upgrade your beauty sleep with our Satin Sleep Set. Featuring one standard size satin pillowcase to help with hair frizz and wrinkles, an eye mask for a restful sleep, a cute scrunchie, and a headband to keep your hair out of your face! It's your frizz- and crease-free solution to a night of true beauty sleep. Plus, you'll be able to wake up looking extra smooth!
The wonderful thing about satin products is that they feel incredibly luxurious without breaking the bank. In a way, they're a great investment since you automatically wake up with two less beauty problems: no frizz and no creases!
For Your Buns Routine
Resurface, tighten, and moisturize your peach with this double-booty bundle which features a butt serum and butt polish. Buns of Glowry Butt Serum is a plumping butt serum that uses watermelon extract to diminish discoloration, improve skin tone, and fade fine lines. Buns of Glowry Smoothing Butt Polish is a gentle exfoliator that features wheat protein, which fills in fine lines and cellulite.
We're one of the few beauty brands offering skincare routines designed especially for the bum area. Because we believe your tush deserves a little extra love!
GLOAT Lip Kit
Nothing quite completes a makeup look like a juicy, luscious pair of lips. Instead of relying on liquid lipstick or lip gloss for shine and moisture, try a routine specifically designed for your lips that will leave them looking and feeling better than any makeup products could achieve. 
The GLOAT Lip Kit features our Sexy Soft Lip Scrub, Lip Plumping Serum, Big Juicy Lip Oil, and Luscious Lip Butter. Use these products one after the other to buff away dead, flaky skin, inject moisture into dry lips, and plump your pout.
These products also create a perfect base for lip color. 
Acai and Buns Minis
Our bestselling boob n' butt products, made mini. Acai Your Boobies and Buns of Glowry lines are formulated with retexturizing retinol and hydrating watermelon to keep your tush and tatas tight, smooth, and blemish-free.
Our limited edition holiday bundle is the perfect opportunity to take Truly on a test-drive, gift it to a loved one, or keep it all to yourself. Although we definitely wouldn't blame you for keeping this holiday bundle for yourself. 
Ultimate Smooth Legend Shave Set
Pink, pretty, and promising pristine result...it's our Ultimate Smooth Legend Shave Set.
Our 3-step bestselling shave kit features our cult-favorite products: Smooth Legend Pre Shave Scrub, Happy Hairless Shave Butter, Glazed Donut After Shave Oil, plus our magnetic razor + fuzzy pouch. 
Made with anti-inflammatory coconut, soothing vitamin E, and hydrating passion fruit, this set is guaranteed to leave you feeling smooth, silky, and smelling divine. Think Caribbean mermaid vibes! 
"Pour le Visage" Face Towel
Use this soft cotton face towel to gently remove your face and eye makeup. From matte foundations to thick eyeliner and heavy bronzer, this pretty pink face towel serves both as a cleansing tool and a drying tool. You can use it anyway you like!
You can also use it to give yourself a little DIY facial. Simply soak the towel in hot water, drain out excess water, and drape over face. This will open up the pores and remove any impurities. Now your skin is ready to soak up all the nutrients and actives of your skincare products.
Too often, we feel the need to justify our purchases. For a change, treat yourself to something pretty and pink -- and don't overthink it. Simply choose what looks and sounds good to you! You deserve a treat!
Share
---