What's New at Truly Beauty?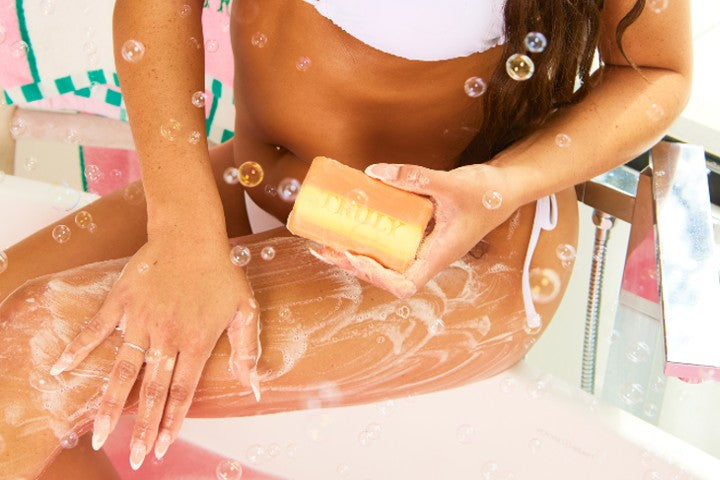 Here at Truly, we drop new skincare products, haircare products, accessories, and bundles every month. Wanna hear the latest products on Truly Beauty shelves?
Here are our newest products and sets for hydrating, smoothing, brightening, and tightening your skin — the vegan, cruelty-free, and Truly way.
VIP Collection 3.0
Our VIP Collection is back and better than ever before. Our favorite so far, VIP 3.0 features a luxurious and indulgent selection of face and body formulas made with some of the most high-performing ingredients around.
Inside, you'll find 11 full size bestsellers + two fun accessories: Buns of Glowry Butt Polish, Unicorn Fruit Whipped Body Polish, Happy Hairless Shave Butter, Moon Rocks Body Scrub, Cooka Oil, Vegan Collagen Facial Serum, Acai Your Boobies Serum, Coco Cloud After Shave Serum, GLOAT Sexy Soft Lip Scrub, Our Stars Prevent Scars Acne Patches, Anti-Cellulite Mask, Ice Cream Scoop, and Mini Gold Spoon. For a limited time only, we're also giving away a FREEBIE with every VIP Collection 3.0 purchase.
Why you need it: With one VIP 3.0 box, you can enjoy limitless face and body skincare routines. From shaving to cellulite reduction, blemish treatments to body tightening and anti-aging, there's a routine for everyone in this box.
Anti-Cellulite Trio
Our Anti-Cellulite Bundle just got an upgrade. It now features our NEW Anti-Cellulite Polish, plus a yellow striped cosmetic bag for keeping your cellulite-fighting formulas safe and in one place.
Anti-Cellulite Trio is a complete routine for targeting dimply skin. It features a body polish, body mask, and body serum formulated with a blend of collagen-boosting, circulation-stimulating active ingredients such as retinol, orange flower, vitamin E, and vegan collagen to manifest your smoothest butt, thighs, and belly. The 3-step routine utilizes the power of exfoliation and massage to enhance blood circulation, activate lymphatic drainage, and minimize the appearance of cellulite and stretch marks.
Why you need it: Anti-Cellulite Trio gets to the bottom of dimply skin. Between its skin refining ingredients and exfoliating properties, all three products smooth, hydrate, rebuild collagen, and mobilize stored fats to plump out dimples and give skin a significantly smoother appearance.
Unicorn Fruit Skin Brightening and Smoothing Deodorant
Truly's first ever deodorant...Unicorn Fruit Skin Brightening and Smoothing Deodorant is a natural, aluminum-free deodorant to keep you smelling fresh and pink sugar fragranced all day long. In addition to keeping you fresh, this deodorant offers a slew of skincare benefits. It smooths, brightens, and diminishes discoloration. Plus, it's gentle enough to wear straight after shaving without causing or aggravating redness, irritation, or ingrowns.
Made with bacuri, mango, papaya, and symwhite 377, this cooling, sensitive-skin-friendly formula eliminates odor, deletes dryness, and fades hyperpigmentation over time. Since it's aluminum-free, it also won't leave yellow stains on your clothes! Woohoo!
Why you need it: Pair it with the other products in our Unicorn Fruit line (Unicorn Fruit Whipped Body Butter, polish, and perfume) for a long-lasting sugary fragrance. In case you haven't heard, these beauty products have a cult-following over on TikTok!
Soothe Red Skin Set
Our Soothe Red Skin Set is a 3-step treatment for skin redness and sensitivity. Inside, you'll find our 24k Gold Black Soap Impurity Cleanser, Jelly Booster Pigment Treatment Body Potion, and Cream Skin Face Moisturizer. All three work in tandem to strengthen skin barrier function while soothing red, reactive skin.
Featuring 24k gold, pomegranate extract, and hyaluronic acid, these ultra-nourishing ingredients are rich in anti-inflammatory and antioxidant properties, and can treat everything from breakouts to fine lines and discoloration. All while deeply hydrating and soothing your skin! All skin types can benefit from this routine.
Why you need it: If you're dealing with face or body redness, in-office treatments can help but they can also be expensive. For a more affordable and convenient solution, try this 3-step skin soothing set instead.
Exfoliating Bath Bars
Our first ever soap bars, inspired by Truly's bestsellers! Unicorn Fruit, Buns of Glowry, Acai Your Boobies & Anti Cellulite are now available as lathery, luxury bar soaps.
Formulated with powerhouse ingredients such as retinol, vegan collagen, orange flower, and acai, this sudsy crew tackles everything from body odor to dryness, dullness, and dimpling. With notes of acai, watermelon, candy, and citrus, these soap bars will leave you smelling like your fave Truly iconic fragrance all day long.
Why you need it: Most soap bars simply cleanse away dirt and odor. Not this soap bar set! Like almost all Truly Beauty products, these soap bars come with skincare benefits too. Thanks to elasticity-restoring, antioxidant-rich actives, they provide tightening effects while hydrating, brightening, and clarifying skin.
Pair them with the other products in their corresponding lines (i.e. Buns of Glowry Butt Serum, Acai Your Boobies Polish, etc.) for a complete routine.
Mini Acai Your Boobies Serum
A travel-friendly version of your favorite boob tightening serum! Take it with you wherever you go to keep your pair looking perky. We know how frustrating it is when you can't take your favorite products with you while you travel. Since skincare should be a consistent thing, it's important to have your go-to products on you at all times to keep your skin happy and healthy.
Why you need it: Mini Acai Your Boobies Serum is small enough to fit in your purse or pocket, so you can keep your pair perky — on the go!
At Truly Beauty, we offer everything from skincare to bodycare, haircare and shaving routines to keep you smooth, clear, and glowing all over. Using actives like CBD, matcha, vitamin C, aloe, shea butter, retinol, and AHAs, we are a results-driven brand, and you can rely on us to help you conquer your beauty goals.
From lotions to face masks, lip butter to shave creams and pimple patches, you'll find all the clean beauty products you need at Truly. Whether you're looking to achieve a silky smooth shave, tighten your curves, or clear your acne once and for all, we're here to make your beauty wishes come true!
Our products are also available on Amazon, Ulta, Sephora EU, and Target. Remember to follow us on our social media platforms to hear about the latest discounts and FREEBIES!
Share
---