3 Easy Ways to Drop Lavender Oil into Your Haircare Routine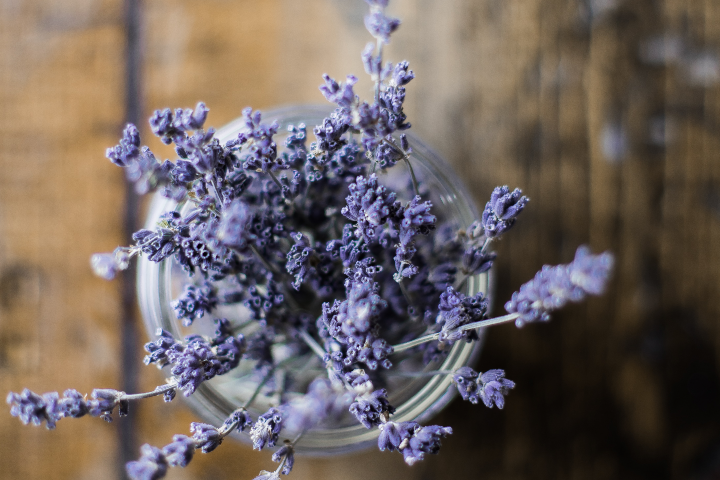 Whether it's in a spray, candle, or diffuser oil, few scents are as soothing as lavender oil. In addition to its de-stressing effects, studies show lavender has abilities to aid in hair loss. That got us thinking, what else can lavender oil do for hair?
It turns out, quite a lot!
Here's how to use lavender essential oil in your hair care routine.
Benefits of Lavender Essential Oil for Hair
Promotes Hair Growth
Can't seem to get your hair to grow past your shoulders? Lavender might help. Studies show that lavender can stimulate hair growth, resulting in longer, thicker hair. Researchers say it can also clear hair follicles of bacteria which may be hindering healthy hair growth. It's an excellent natural hair treatment for people who struggle to grow their hair.
Prevents Dandruff
Dealing with dandruff? Dandruff is typically caused by a yeast known as Malassezia which produces fatty acids that can infect the scalp and lead to the formation of flakes. Thanks to lavender's antimicrobial and anti-fungal properties, this nourishing oil can both treat and prevent dandruff.
Improves Scalp Health
Itchy or dry scalp? Lavender oil is full of anti-inflammatory properties which can ease issues like itchy scalp and dryness. It can also improve the overall health of your scalp for improved hair growth and overall hair health.
Adds Shine
Are you done with your dull hair? Combined with a carrier oil like jojoba oil, coconut oil, or almond oil, lavender oil can provide extra shine to your strands. It's a quick and easy way to give your hair a nourishing boost that can help prevent breakage while making it shine. Some people even say adding a few drops of lavender oil to your hair mask can delete dry hair. 
Can it Help All Hair Types?
While lavender is typically known for its role in aromatherapy, more and research suggests this essential oil can work wonders for your hair and scalp. From dry scalp to dandruff, hair loss to dullness, lavender can do it all thanks to its anti-inflammatory, antimicrobial, and antibacterial properties. 
Best of all, experts agree that lavender oil can be beneficial to all hair types and textures. It will primarily benefit those experiencing hair loss since research proves its effectiveness in stimulating growth. However, all hair types can benefit from enhanced scalp health, which is something lavender proudly delivers. 
It is important to consult a doctor if you are experiencing hair loss before self-treating with lavender, as it can be caused by hormonal imbalances or underlying health conditions.
How to Use Lavender Essential Oil 
Here are three easy ways to use it in your everyday hair care routine. 
#1: Drop it in Your Shampoo or Conditioner
If you don't fancy applying lavender directly to your hair for fear of irritation, try adding a few drops to your favorite shampoo or conditioner instead. This way, you get to enjoy all the benefits of lavender without putting yourself at risk of irritation. 
Add two to three drops of lavender oil to your palm and mix with your shampoo or conditioner. Leave it on for several minutes, then rinse thoroughly. 
Avoid adding lavender essential oil directly to your shampoo bottle. The oil will separate from the rest of the shampoo and may cause irritation when applied in its concentrated form.
#2: Massage it into Your Scalp
To boost blood circulation and encourage hair growth, try mixing a couple of drops of lavender oil with your fave carrier oil and massaging it into the scalp. The simple act of massaging your scalp increases blood flow, which can strengthen your scalp and stimulate growth. 
Combine that with the benefits of lavender and your chosen carrier oils (coconut, argan oil, almond, olive oil, or peppermint essential oil), and you've got yourself some major hair-benefitting goodness. 
#3: Use Lavender-Infused Hair Care Products
Here are some of our favorites:
Super Fruit Repair and Restore Shampoo + Conditioner
Is your hair craving some TLC? Look no further than our Super Fruit duo. Formulated with organic coconut, argan oil, tea tree oil, jojoba, and antioxidants, these products work in tandem to cleanse, nourish, and restore your naturally silky strands. They also contain a few drops of lavender for hair strengthening, growth-spurring benefits.
Super Flower Bundle Shampoo + Conditioner
Longing for thicker, longer strands? Try our Super Flower Bundle featuring a shampoo and conditioner made with high performing natural ingredients like hemp, lavender, vitamin E, and provitamin B5. It's designed to thicken strands, spur hair growth, and hydrate hair. Best of all, it's great for all hair types ranging from dry to oily hair. 
Super Plant Conditioner
Put your hair's wellness first, and pick up a bottle of Super Plant Conditioner. It's made with a blend of Neroli to encourage healthy cell growth, red seaweed to cleanse the scalp, and provitamin B5 to provide hydration. Lavender also lends its hair restoring abilities in this super nourishing formula. Use it every time you wash your hair for extra strong strands.
Try this DIY Lavender Oil Hair Mask Recipe
Fancy whipping up your own lavender-infused hair mask? We've got a great one you can try for revitalizing your strands and supercharging hair growth!
What you'll need: 3 drops of lavender oil, 3 drops of rosemary oil, and 2 tablespoons of coconut oil. 
What to do: Combine all ingredients and blend well together. Dampen your hair with water and apply the mask to your hair. Leave it on for 20-30 minutes, then shampoo and condition your hair. 
You can use this mask as frequently as you like. For best results, aim to do this treatment at least once a week.
Lavender is clearly a must-have ingredient for optimum hair health. In addition to treating hair loss, lavender essential oil is capable of diminishing dandruff, soothing the scalp, and even adding shine to dull, lackluster strands. Whether you use it in your daily shampoo, as a scalp treatment, or in pre-made products, make space for lavender in your hair care routine. You won't regret it!
Share
---