Argan Oil Hair Care: 5 Fun Uses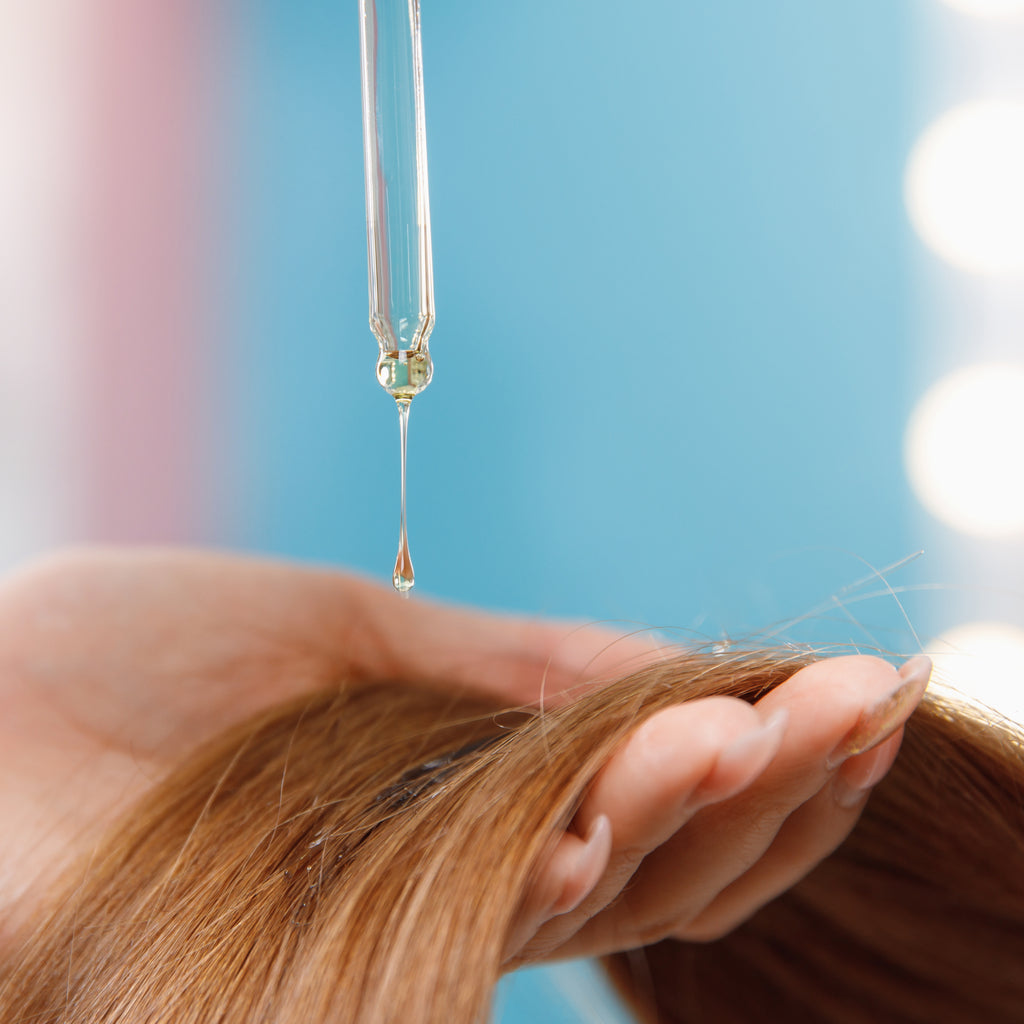 Argan oil isn't called liquid gold for nothing. It's a hair hero. 
It's only really been widely known in the beauty industry for the last few years. But Moroccan women have been using it for centuries, on their skin and hair for added moisture and shine. Argan oil hair benefits are unbelievable. This Moroccan oil treatment can treat damaged hair, prevent split ends and even make your hair grow faster. On top of all that, it has many uses including standing in as a natural heat protector. 
Ultimately, it's a bathroom cabinet stable. Your hair is going to love it! 
WHAT IS ARGAN OIL?
Derived from the kernels of the argan tree, native to Morocco, argan oil is rich in fatty acids and vitamin e - nutrients that nourish the hair. Like coconut oil, it's an excellent conditioner for the hair, but in order to reap the most benefits from it, you need to ensure you are using pure argan oil.
Studies show that Moroccan argan oil is made up of 99% triglycerides and 1% botanical compounds, both of which are highly beneficial in promoting healthy hair. Hydrating, anti-inflammatory and bursting with essential fatty acids, this hair oil can treat dry hair, flyaways, dandruff and frizz. 
No doubt you've seen lots of argan oil products around such as argan oil shampoo and serum, but the best argan oil to use is pure argan oil. 
Learn more about the benefits of argan oil and its many wonderful uses below.
FUN USES FOR PURE ARGAN OIL
As a conditioner 
Is your hair particularly dry or brittle? It happens to the best of us. One of the biggest argan oil hair benefits is how effective it is at repairing and moisturizing dry, damaged hair. This is mainly due to its high content of fatty acids which lock moisture into the hair follicles to keep it looking and feeling healthy. 
We're all guilty of overusing our hair dryers and straighteners. To maintain healthy hair, add a few drops of argan oil to your existing conditioner and use after every hair wash. Alternatively, apply organic argan oil to the ends of damp hair, let it sit for 10-15 minutes, then rinse off well. 
This stuff is packed with vitamin e, which is extremely nutritional and serves as a great conditioner for dry hair. Keep it in your bathroom cabinet whenever you need some extra TLC for your hair. It will be one of the most hair-softening hair masks you've ever used. And the best part is, it's 100% natural! 
As a frizz and flyaways tamer
Omega 3 and omega 9 fatty acids along with vitamin e in pure argan oil help to strengthen your hair shaft resulting in less frizz, flyaways, breakage and split ends. No doubt, you've used plenty of hair products in the past that claim to prevent split ends. Unfortunately, most of those products don't do what they say on the tub. 
If you want to tame your frizzy hair or prevent split ends, argan oil can really help to calm it down. Its restorative properties help smooth and soften, as well as hydrate hair strands and makes them appear healthier. 
You can either add a few drops of the hair oil to your shampoo or apply it directly to your hair. Only use a dime-sized amount, otherwise your strands will end up looking greasy. If flyaways are your issue, simply rub a small amount between your hands and comb through your hair using your fingers.
As a heat protector
Most people spray chemicals on their hair to protect it from heat. Have you ever tried argan oil instead? The next time you reach for your hair curlers, try applying a few drops of argan to the ends of your hair. Its protective oleic and linoleic fatty acids will coat your strands, protecting them from hair cuticle damage and broken ends. 
Even if you're not styling your hair, you can also add organic argan oil to wet hair for shine and hydration. 
As a scalp mask
Argan oil is packed with essential fatty acids, antioxidants, vitamin a, vitamin c and vitamin e. If you suffer from dry scalp or dandruff, argan tree oil is excellent at hydrating your skin and alleviating dry, flaky scalp. It's also an anti-inflammatory which can ease any irritation on the scalp such as sunburn. 
Massage a few drops of argan oil into your roots and scalp. You can add more oil if necessary. Then, if you can, sleep with it on overnight and rinse off with cool water in the morning. This way, the oil will be able to penetrate and hydrate the scalp deeply. Try to do this 1-2 times per week for best results. 
As a styling product
Ever wondered how the celebrities get their glossy hairdos? Argan oil. At least, that's where most of them get it from anyway. 
Moroccan argan oil is an excellent styling product you can use on a daily basis. Not only will it make your hair nice and shiny, it can also tame frizz if your hair is letting you down at the last minute. This natural oil is your savior on a bad hair day. Plus, it's so light and rich that it won't weigh down your hair or steal it of volume. Rub a couple of drops into your hands and apply to the ends and mid-lengths of your hair. 
WHAT TO LOOK FOR WHEN BUYING ARGAN OIL?
Now you've seen all the wonderful things this Moroccan oil treatment can do for your locks, you're probably ready to go out and buy it (or, more conveniently, order it with the click of your mouse). 
To get the most out of argan oil hair benefits, make sure you look for 100% pure argan oil. It should also be listed as organic and ideally, vegan too. You'll also want to check it says "Made in Morocco" on the label, because that's where it comes from. Another thing to remember: go for the dark bottled argan oil. Just like wine, argan oil should be kept away from the sunlight, which can ruin its properties. Last but not least, don't go for the cheapest you can find. Sure, everybody wants to nab a bargain, but in many cases - especially in the case of argan oil - you don't want to scrimp because you'll be scrimping on its benefits too. 
The good news is, this liquid gold goes a long way. Just a small bottle of argan will last you a while. Plus, it's so versatile. Even if you don't use it on your hair, you can use it as a face and body moisturizer. All in all, it's quite a wise and worthy investment. 
Share
---