Female Hair Loss: What You Should Know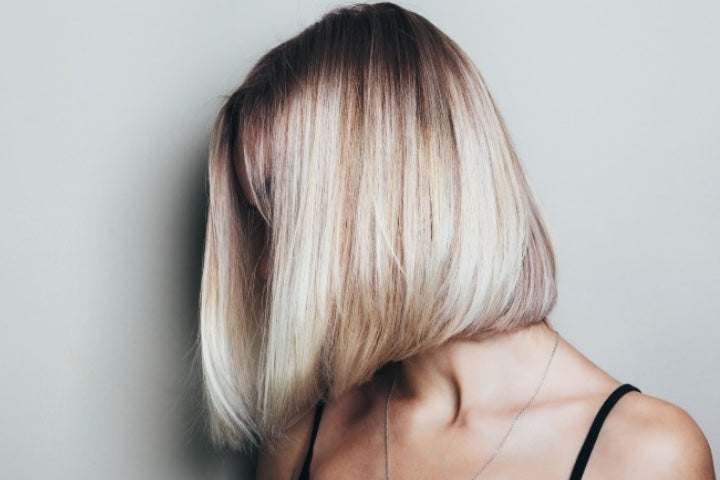 Are you noticing nests of hair in the drain and on your pillow? Does your hair seem generally thinner? You could be dealing with female hair loss, a condition that affects up to 40 percent of women in the United States, according to the American Academy of Dermatology.
Those who experience hair loss may feel powerless but the good news is, treatments do exist that encourage regrowth. There are also certain preventative measures you can take to prevent hair thinning altogether. 
Here's everything you should know about female hair loss, and what you can do about it.
WHAT IS FEMALE PATTERN HAIR LOSS?
Female pattern hair loss (aka, FPHL) is the leading cause of hair loss in women. Otherwise known as androgenic or andro­genetic alopecia, the hair becomes thinner over time. This condition can happen at any time, which is why it's important to start treatment ASAP. 
With the help of treatment options like Optimal Platelet Concentration (OPC) Therapy, Platelet Rich Plasma (PRP) Therapy or Low-Level Laser Therapy (LLLT), thinning hair and loss can be reversed and dormant hair follicles regrown.
Another common cause of hair loss in women is telogen effluvium (TE), which causes excessive hair shedding. While TE is usually reversible, both the hair loss and the root cause need to be treated accordingly. Everything from pregnancy to rapid weight loss to some medications can trigger hair fall. Experts say supplements can be an effective way to ward off bald patches.
COMMON CAUSES OF FEMALE HAIR LOSS
Let's take a look at the most common triggers.
Hormonal Imbalance
Hormones play a key role in regulating the hair growth cycle. So when you have a hormonal imbalance, the growth phase is ultimately impacted. 
When your body is flooded with too many androgens (male hormones) and not enough oestrogens (female hormones), those hormonal changes radiate throughout your entire body, including your hair. An excess of androgens can cause hair loss.
Thyroid Issues
Since the thyroid gland helps to regulate the body's metabolism, a thyroid imbalance can affect hair follicles. Speak to your doctor if you think you may have hypothyroidism or hyperthyroidism. They may be the culprits behind your out of the blue bald spots.
Anemia 
According to dermatologists, iron deficiency is a common cause of hair loss in women. Iron is, after all, vital for producing hair cell protein. Without it, or with a huge lack of it, your strands will pay the price. Speak to your GP for advice regarding an iron deficiency. You may need to take a blood test to confirm the correct treatment.
Stress
Stress can cause no end of issues for your body, including your hair. It literally can make your hair fall out. This happens due to the increase in androgen levels which occur when stress levels raise, leading to hair loss. What's more, stress can trigger scalp problems such as dandruff and mess with the digestive system, which can all negatively impact your mane. For the sake of your strands, slash your stress levels. Right Now.
Other triggers may include menopause, weight loss, and vitamin B12 deficiency. 
HOW TO TREAT HAIR LOSS IN WOMEN
Start Using Strengthening Hair Care Products
Regardless of the type of hair loss you are experiencing, it's important to use nourishing hair products that strengthen and condition your hair. 
We recommend washing and conditioning your hair with Truly's Super Flower Bundle. It features a shampoo and conditioner formulated with hemp, lavender, vitamin E, and vitamin B5 to make your hair grow strong and healthy.
Remember to use a hydrating hair mask once or twice a week to keep strands nourished and moisturized. We suggest Truly's Unicorn Hair Repair Mask which blends keratin amino acids with avocado and banana to feed scalp, prompt hair growth, and diminish dryness. 
Give Yourself a Head Massage
According to Nikita Mehta, Co-founder of Fable & Mane, traditional head massages work wonders for encouraging scalp health.
"Hair oils makes the hair stronger from the roots," says Mehta. "It's really great for anyone who struggles with hair loss and breakage as it strengthens and protects hair follicles and strands, conditions the scalp skin and cultivates healthy hair growth."
She recommends using oils formulated with Ayurvedic herbs such as Ashwagandha, Brahmi, Amla, and Dashmool, and advises applying it to dry hair as a pre-wash treatment to make hair less vulnerable to breakage when it gets wet.
Try Truly's Blueberry Kush Hemp Oil, which uses a strand-strengthening blend of blueberry, vegan collagen, and AHA/BHAs.
Take a Supplement
One of the best ways to treat and prevent female pattern baldness is by gorging on hair growth supplements. 
Look out for the following ingredients: Biotin, Iron, Vitamin C, Vitamin B12, Vitamin D3, Selenium, Copper, Zinc, and the essential amino acids, L-Lysine and L-Methionine.
For best results, take your supplement consistently in order to see a noticeable improvement.
Up Your Protein Intake
Sometimes, something as simple as eating more protein in your diet can make all the difference to your hair. Since hair is made of protein, it makes sense to consume more of it in order to strengthen your strands and prevent hair loss.
The pros recommend including at least a palm sized portion of protein at breakfast and lunch.
Stop Styling Your Hair Like That
Snatched ponytails may look cool, but they place A LOT of stress on your strands. Hairstyles like ponytails and tight braids place traction on the hair and hair follicles, which can lead to a receding hairline and shedding.
Female hair loss is way more common than you think. Fortunately, there are many hair loss treatments available to you. It's best to speak to your doctor to check whether you have an underlying medical condition that may be behind your sudden hair fall. It could even be something as simple as needing to switch your birth control.
Either way, there are plenty of prescription and over-the-counter FDA-approved treatments with very minor side effects that you can use to stimulate new hair growth and prevent future hair loss.
Some of the most common medications include Minoxidil (Rogaine), Finasteride (Propecia), and Spironolactone.
Share
---