Haircare Products to Add to Your 2022 Haircare Regimen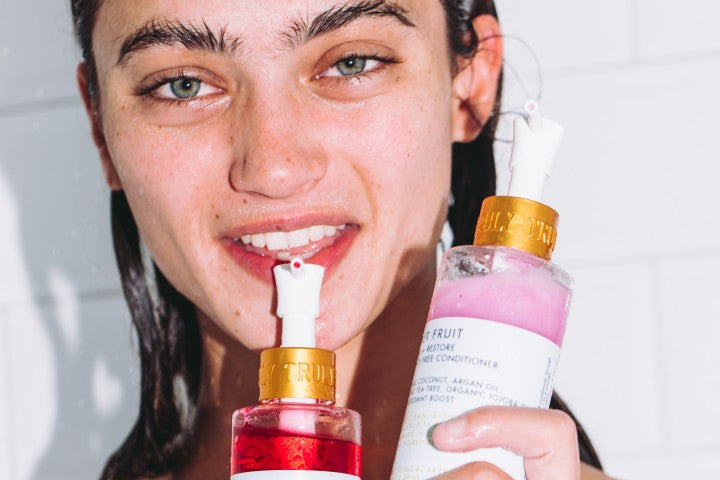 New year, new hair, right?
Maybe your hair's a little dry and lackluster. Maybe it's just fine as it is right now. Either way, everyone can always benefit from a little extra TLC every now and then. And what better time to start than in 2022?
Especially in the winter months, dry air and cold temperatures leave the hair prone to dryness, brittleness, and breakage. A good way to alleviate these hair complaints is by investing in a few good haircare products -- and making them part of your daily haircare routine. 
Whether you've got fine hair, thick hair, dry hair, or damaged hair, here are the haircare products you need to start using in 2022. 
Super Fruit Repair + Restore Shampoo & Conditioner
If you've got dry or damaged hair, reach for this nourishing Hair Repair Shampoo + Conditioner. Formulated with organic coconut oil, argan oil, tea tree oil, and organic jojoba oil, this duo offers gentle cleansing and deep conditioning to restore your naturally strong, healthy hair.
Every hair type can benefit from this formulation -- thin hair, dry hair, curly hair, and damaged hair. Plus, they'll make wash day much more fun! Besides leaving your strands softer and silkier, they'll also make them more manageable and smelling like a Caribbean dream.
Super Flower Bundle -- Shampoo & Conditioner
Add some oomph to your strands with this Hair Thickening Shampoo + Conditioner Bundle. The products promote healthy hair regrowth and thickening thanks to a blend of hair follicle-energizing hemp, nourishing lavender, and hydrating provitamin B5.
Whether you're dealing with hair loss or you have naturally thin, fine hair, rely on this shampoo and conditioner to stimulate hair growth and boost volume. 
You don't need to use these products every time you wash your hair, but they're great for using pre-hair styling. However, if you're looking to use them to boost hair growth, make sure you use them every time you wash your hair. Consistency is key to achieve the desired effects.
Unicorn Locks Hair Mask 
Serial bleacher? Addicted to heat styling? It sounds like your tresses could do with some major TLC!
Everything from your hair dryer to bleach to sulfate-filled products can dehydrate your hair and cause breakage. When hair is dry and damaged, it doesn't look its best. Instead of looking shiny, it appears dull. Instead of looking big and bouncy, it appears flat and lifeless. And instead of feeling smooth and silky, it just feels rough and brittle.
Restore your natural hair to its shiny, bouncy, and silky self with the help of this Keratin-Packed Hair Mask. While keratin amino acids feed the scalp, prompting hair growth, avocado hydrates and restores shine. It's everything your hair needs to thrive!
And if you absolutely can't live without your blow dryer, curlers, or flat iron, be sure to always prep your hair with a heat protectant spray before styling.
Rainbows in Mirrors Hair Mask
Rainbows in Mirrors Split End Treatment mends and seals frayed ends while preventing future splits from forming for a whole new level of flawless tresses. 
Formulated with a nourishing blend of avocado, argan oil, and vitamin F, these ingredients work together to hydrate, illuminate, and soften strands while restoring the color and vibrancy of fragile hair.
You can also use it as a leave-in mask for intense hydration and repair. If your hair color's not looking so vibrant these days, apply this mask for a quick color boost. 
While this mask won't replace a haircut, it will temporarily seal split ends and leave your hair looking instantly smoother. 
Star Fruit Shine Hair Mask
Dull hair can happen for a number of reasons: product buildup, lack of care, too much processing. 
Star Fruit Hydrate & Shine Hair Mask restores essential hydration and natural vibrancy to dry, damaged hair. Enriched with coconut oil, vitamin E, chamomile, and aloe, this product promises to add shine, strengthen, hydrate, and prevent breakage while soothing an irritated scalp.
Use it anytime you're looking for a shine boost. You will not be dissatisfied with the results. Like your skincare routine, you will need to use this product regularly in order to see and maintain results.
Rose Gold Hair Comb
Every haircare routine needs a good comb. 
This wide-toothed rose gold hair comb is a go-to hair accessory for all hair types! You can use it to detangle wet or dry hair -- sans snags. Or you can use it to evenly distribute conditioner and other hair products.
According to hairstylists, combs are better than brushes for your hair health. That's because they gently detangle without causing breakage. If there's one hair habit to bring with you in the new year, it's this one!
Bonne Nuit Beaute Satin Sleep Set
Our Anti-Wrinkle Satin Sleep Set isn't just great for your skin. It's great for your hair too!
Featuring one standard size silk pillowcase to help with hair frizz and breakage, an eye mask for a peaceful sleep, a headband to keep your hair out of your face, and a cute scrunchie for pulling back your hair -- without the tugging! This vegan set is your frizz-free solution to a good night's sleep and a good hair day the next morning!
If you want to a true night of beauty sleep every night, be sure to use all items in the kit every evening. You'll wake up feeling refreshed and looking smother than ever!
Make 2022 the year of amazzzzzing hair!!!
Sometimes, all you need are a few good products and the patience to let them work their magic...and before you know it, you're looking at a head full of bouncy, shiny, super-sleek strands. Woo-hoo!
It's also always worth having a good dry shampoo and hair oil in your beauty cabinet for in-between days and those extra dry hair days. You know the ones we mean! Plus, hair oils work great for smoothing down flyaways and frizz.
Most importantly, be sure you're stocked up with all the hair care essentials above for super smooth locks all year-round.
Share
---