Hottest Fall Hair Color Trends 2021 (and the Products to Pair them With)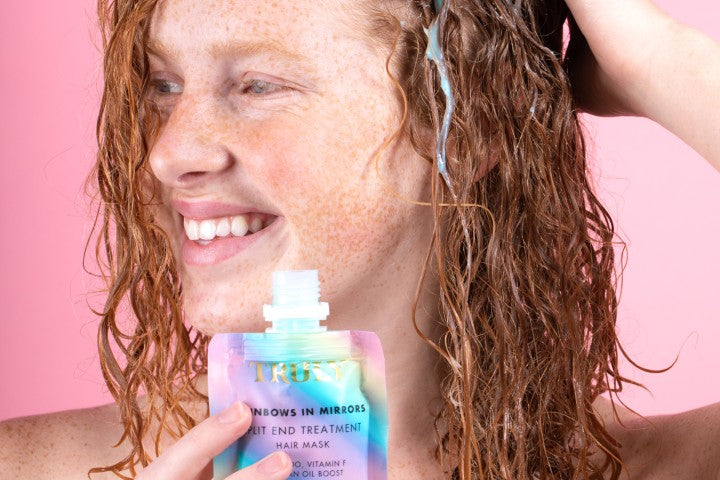 What is it about the shifting of seasons that makes you want to switch up your look?
Fall is no different.
But it's not just down to personal taste or trends. Sometimes, it really is more convenient, temperature-wise, to switch your hair color or hairstyle. 
For instance, you may live in messy buns throughout the hot n sweaty summer months, but when Autumn falls and with it a drop in temperature, shaking out your tresses is such a....relief!
The same goes for color. When it's sunny and bright out there, you want to blend in, right? So you ask your colorist for sunny blonde highlights, silver hair, or a head full of platinum blonde tresses. Whatever floats your boat.
Now that fall has arrived, you're looking for a whole new vibe. That means light blondes and pastel pinks are out and warm, caramel hues are in. Need inspiration? Take a scroll, and see what hair color trends are popping up this fall!
Golden Blonde Hair
One of the best fall hair colors has got to be golden blonde. If you were previously platinum, you may be keen on warming things up a little in the mane area. Good idea!
The great thing about golden blonde hair is that it's neither too warm nor too cold, which makes it ideal for anyone looking to transition from an ash blonde or white blonde to something warmer. 
It also works on most skin tones and is wonderfully low maintenance. According to experts, you can get away with retouches up to a few times a year. Sold!!!
"Warm is the best tonal direction to go for fall," says Matt Rez, a celebrity colorist at L.A.'s Meche Salon. "If you're a blonde that's been more on the creamy or even the beige side and have wanted to try a warmer allover feel, adding midlights that will lift warm and/or warmer highlights to your existing color will ease your way to super warm down the road."
Ask for a warm golden gloss on top of your existing blonde hair color.
Keep it healthy with: Truly's Super Fruit Repair and Restore Shampoo and Conditioner. 
Caramel Brown Hair
You'll be hearing a lot about caramel highlights and light brown caramel hues this fall. It's the perfect shade for the month of falling leaves, just because it's so warm and luscious. 
"Caramel tones look amazing on girls with darker hair that want to go lighter without going blonde," explains colorist Chad Kenyon. "The end result is so fun for fall because it's multi-dimensional, and often reads as glossier than a bleach blonde."
It's a shade that's always trending in Fall.
Keep it healthy with: Truly's Super Flower Bundle Shampoo and Conditioner.
Deep Auburn Hair
Red hair colors are always popular in the fall. They showed up last year, and this year certainly isn't any different when it comes to trending hair color ideas. 
Deep auburn is the specific red shade of 2021! It's the perfect marriage of warmth and depth to make your hair look fall-friendly. The secret to a good dye job in this hue? Make it clear you're after a reddish auburn, not purple or pastel hues! 
The only downside to this color is that it's pretty high maintenance, so prepare to get regular touch ups!
Keep it healthy with: Truly's Super Plant Bundle Shampoo and Conditioner.
Chunky Money Piece Hair
One fall hair color trend hairstylists and colorists keep seeing: a chunky, face-framing money piece. Why? Probably 'cos it soooo cute, fun, and low maintenance. It really does grow out well!
Keep it healthy with: Truly's Rainbows in Mirrors Hair Mask.
Bronde Hair
Love the idea of going blonde but scared of the maintenance? Consider bronde—a blend of blonde and brown. It's a great option to add depth and volume to your hair. Plus, it's soooo trendy RN.
"Make sure you ask for lowlights and midlights off your face and through the interior and exterior," says Rez. "Midlights will connect the lowlights and highlights vertically throughout and create the most seamless melt into your base color."
Keep it healthy with: Truly's Star Fruit Mask.
Milk Chocolate Brown Hair
Love your natural brunette hair? Embrace it, by all means! But you can also switch things up a bit by opting for a cool, dark brown hue to truly embrace fall. Don't worry, you won't destroy your natural hair. Ask your colorist for a temporary hair dye job so you can return to your natural hue anytime.
Take things a step further by asking your colorist to add face-framing highlights to your brown hair color for some added oomph.
Keep it healthy with: Truly's Coco Rose Milk Mask.
Natural Black Hair
Dark hair colors are very commonplace during the Autumn months. For some people, it's about embracing their natural color. For others, it's simply about embracing seasonal change. One color that's gaining attention right now is natural jet black hair.
"This color is timelessly chic," says celebrity colorist Jeremy Tardo. "Natural black tones are not overly pigmented, so they don't look too inky, and they give a strong appearance without looking too aggressive."
If you don't fancy dyeing your tresses yourself, head to your local salon for a professional coloring session.
Pumpkin Spice Hair
With the introduction of the Pumpkin Spice latte comes the trend of pumpkin spice hair. Obviously! And no, it's not the same as strawberry blonde -- that's a totally separate shade.
"We're seeing that pumpkin spice hair has more copper undertones whereas gingersnap tends to fall under the category of a brunette with red undertones," says Laura Estroff of Kennaland Salon in Brooklyn.
This color looks fab on dark blonde and dirty blonde shades to add some warm and vibrancy to your natural hue without going too light or extreme. You can also ask for it in balayage or ombre styles.
Ready for a change? Embrace the switching of seasons by switching up your shade this fall! 
Share
---