How to Layer Your Haircare Products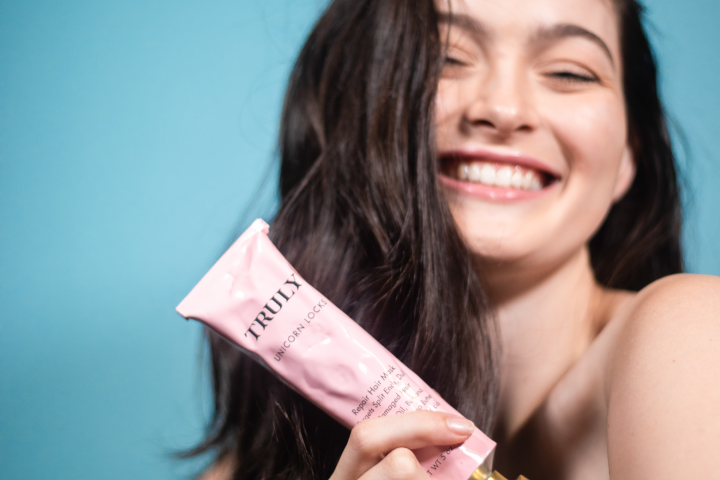 Oils, leave-ins, and heat protectant — where do you begin?
So, you probably already know that applying your skin care in a specific order is important. It turns out, the same logic applies when it comes to using your hair products. 
Instead of simply smoothing and spritzing everything on, and hoping for the best, take a strategic approach and maximize the effects of your hair care products and styling essentials by applying them in the right order.
Here is the correct way to layer your hair care products. 
Step #1: Shampoo + Conditioner
Your haircare routine starts in the shower. Besides removing product build-up and keeping your scalp healthy, hair washing preps your tresses for your desired style, and enables products to penetrate more effectively -- just like face cleansing helps your skincare products sink in better! 
Use a shampoo and conditioner that cater to your hair type. If you have dry hair that's prone to breakage, use a formula that'll hydrate and repair your strands like Truly's Super Fruit Repair + Restore Duo. Those with colored hair should use a shampoo and conditioner that keeps your hair color looking fresh, like Truly's Super Flower Bundle. 
Take your hair care routine one step further by using a nourishing, deeply conditioning hair mask like Truly's Unicorn Fruit Repair Mask to give your tresses a deep treatment.
Step #2: Leave-in Conditioner + Detangling Spray
Whether you've got thick hair, curly hair, or fine, thin hair, all hair types should begin their post-shower routine with a detangling spray and leave-in conditioner to prevent breakage and boost hair health. It also makes brushing and combing so much easier!
While all hair types should be using a leave-in and detangling spray, the way you apply it can differ. Straight hair types, for instance, should apply it on clean, towel-dried hair, whereas curly hair types should apply it on clean, damp hair. Applying these products the right way will ensure maximum absorption of the product.
Step #3: Heat Protectant 
If you plan on using a hot tool, like a blow dryer or flat iron, always apply a heat protectant first. They come in many forms from creams to sprays, and they're essential for keeping your hair protected against...well, heat! 
All that blow drying and styling isn't exactly doing your hair any favors. To keep it healthy and protect it from getting damaged, always use heat protectant before heat styling. Comb it through thoroughly to ensure every strand of your hair is protected.
If you let your hair air dry, you can skip this step. 
Step #4: Styling Products (Mousse, Creams, Gels)
The products you use depend on your hair type and the result you're looking to achieve. For example, let's say you've got thin, limp hair and you want a little volume, styling mousse is an excellent product for adding oomph. 
If you've got dry or frizzy hair, and you're seeking smoothing effects, try a styling cream that combats frizz and hydrates the hair. As for curly haired babes looking to enhance their natural hair texture, opt for a curl styler such as a gel.
You can discuss your hair needs more extensively with your hair stylist if you need further assistance. They should be able to determine your hair type, and recommend the best hairstyles for you.
Step #5: Oils
Hair oils can be very beneficial for hydrating, strengthening, and adding shine to your strands. They're essential for all hair types. Plus, they can help tame frizz and flyaways so that your hair looks its best. 
Just like your facial oil works to seal in moisture, hair oil works the same. Using one at the end of your hair care routine will nourish your mane, boost shine, and keep it smooth and hydrated all day long.
For best results, apply oils to wet hair so that it has a chance to absorb. You can also use it after styling your hair to smooth down flyaways. If you have fine hair, use oils sparingly to avoid weighing down your strands. 
Step #6: Beach or Texture Spray 
Finally, wrap up your routine by spritzing on your fave styling sprays. Just make sure your hair is completely dry before doing so, so that the product can stick and work its magic. It's especially effective for adding volume, texture, and hold for finer hair types. Although all hair types and textures can benefit!
Regardless of the style you're going for, never use a hairspray on damp hair as it can cause stickiness and clumping. Start with a smaller amount on dry hair and add slowly as needed.
Step #7: Now You're Ready to Style!
After layering hair products correctly, it's time to style your strands! If you like a super sleek style, go in with your flat iron or hair dryer to straighten and smooth your strands, and finish with another pump of oil for extra shine. If you're trying to give your hair a break from heat tools, opt for heatless styles instead, like braids and buns. Or simply learn to love your natural hair texture!
You can extend the life of your style by spraying a little dry shampoo in the roots and through the ends. This'll soak up any oils, and instantly refresh your hair so you can get another couple of days out of it! 
Turns out, there is a right and wrong way to layer haircare products. The truth is, if you're not applying them properly, they're not going to work as effectively. Just like your skincare routine, certain products won't work as well as they should if preceding products block their effectiveness. For instance, applying a facial oil before toner would prevent the toner from doing its job. Since oils are thick and lock in moisture, they should be applied towards the end of your routine -- to seal everything in.
The same goes for your hair care routine! 
If you want to get the most out of your routine, begin layering properly. Lucky for you, you have all the deets you need straight above! 
Share
---