How Zara Gets Her Hair So Silky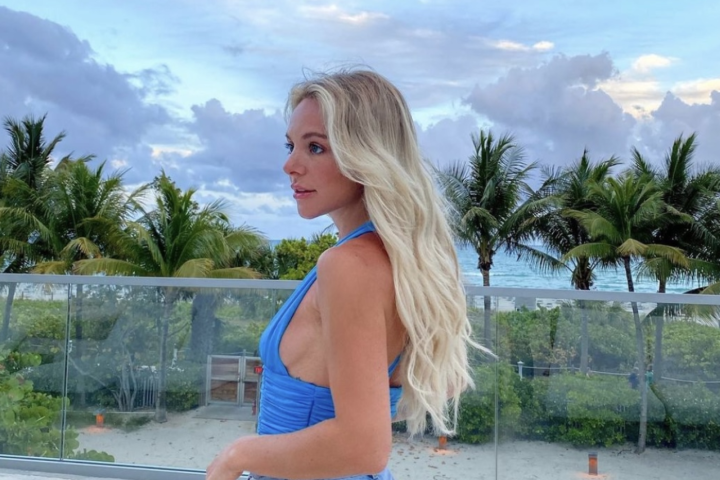 You've seen her in all those beauty tutorial vids on TikTok, Instagram, and Snapchat...and it got you wondering, how is it that our girl Zara always seems to have such long, luscious locks? 
The beauty babe has spoken.
When we asked how Zara keeps her sunny blonde tresses so strong, healthy, and shiny, she dropped her juiciest hair care secrets -- and her fave hair products.  
The queen of Truly's social media platforms reveals all...
Zara's Haircare Routine
Shampoo + Conditioner
Since I don't wash my hair every day, I like to use a shampoo and conditioner that deeply cleanse my hair without stripping it of natural oils. That's why I shampoo and condition with Super Fruit Bundle.
Hydrating, nourishing, and strengthening, this duo saps oily roots while injecting strands with antioxidants and essential nutrients for super fresh, glossy hair. 
Formulated with organic coconut oil, argan oil, tea tree oil, and jojoba oil, this duo leaves my hair feeling and smelling LIKE HEAVEN. Plus, they're silicone-, paraben-, and sulfate-free. 
Hair Mask
To maintain strong, healthy hair, I apply Rainbow in Mirrors Hair Mask after every wash and condition. Without it, my strands look sad.
Rainbows in Mirrors Split End Treatment takes repair to a whole new level. It mends and seals frayed, brittle ends while restoring hair color and vibrancy, and preventing future splits from forming. It's also talented at taming frizz.
What I love about this formula is that it works for all hair types. And it's made with ultra-nourishing ingredients like avocado and argan oil for the deepest level of repair.
If my hair's looking particularly dry and frazzled, I leave it in and wear it overnight for an even deeper hydration and repair treatment.
Leave-in Treatment
I believe hair care deserves just as much time as skincare, which is why my routine continues outside the shower.
To smooth, strengthen, and add shine to strands, I comb Coco Rose Milk Mask through my towel-dried hair, and leave it in until my next wash. Not only does it instantly soften and smooth my strands, but it also leaves them smelling sweet and coconut-y. 
I call it my miracle silk hair balm as that's what it does -- it leaves strands silky, manageable, and extra strong.
Zara's Haircare Tips
#1: I Untangle + Style with Luscious Locks Hair Brush
My hairstylist once told me it's important to invest in a high-quality hair brush if you want to keep hair healthy and prevent breakage. So that's what I did!
My beloved Luscious Locks Hair Brush has definitely served me well over the years. I can't imagine brushing my hair with anything else!
This VEGAN boar bristle brush detangles without breaking my hair. With its gentle, multi-layered bristles, this brush detangles every strand of my hair leaving it smooth, silky, and completely lush. And to make it even sweeter: it's vegan and cruelty-free. 
#2: I Sleep On Pink Satin
My mane drastically improved the moment I began snoozing on satin. Unlike cotton, satin pillowcases reduce friction and thereby prevent fine lines, wrinkles, frizz, and breakage. Now, I wake up with bombshell hair. Bye-bye bad hair days!!! 
You'll find the same pillowcase in Truly's Satin Sleep Set, which also includes a headband, eye mask, and scrunchie. A restful night of beauty sleep is only a click away.
#3: The Satin Scrunchie's My Fave Accessory  
The only other accessory I use from that set is the satin scrunchie. Whether I'm working out, washing my face, or just in the mood for a cute updo, this super soft scrunchie is gentle on my hair and doesn't give me that tight, pinned back feeling regular hair ties do. 
Scrunchies are supposed to be healthier for the hair, and since they're so hot right now, I'm stocking up big on cute pink satin scrunchies. 
Right from the first time I started using it, I noticed less splits and generally smoother strands. IN LOVE!!!
#4: I Only Wash My Hair 2x a Week 
To stop my strands from drying out, I limit hair washing to twice a week. Since starting this regimen, I've noticed my scalp gets less itchy and dry, my hair feels softer, and that dullness I used to deal with? No longer! 
In between days, I like to use dry shampoo to freshen my roots and a leave-in treatment such as Coco Rose or Rainbows in Mirrors to add a little hydration. It works like a charm! 
#5: I Do a Cold Water Rinse for Shine
Kim Kardashian and countless other celebs have revealed that finishing their wash with a cold rinse is the holy grail haircare tip for smooth and shiny strands. 
I do it too, and believe me, it really WORKS! In addition to loading up on vitamins A, C, and essential fatty acids in my diet, I try to always use clean beauty products and ALWAYS end my hair wash with an ice cold rinse. 
#6: I Give Myself a Head Massage Daily  
According to the experts, a scalp massage can boost hair growth by stimulating the blood circulation within the hair follicles. Based on my scientific findings, I started incorporating head massages into my daily beauty routine, and I've definitely seen an improvement in the health and length of my hair. No hair extensions needed!
Best of all, you can do it anytime, anyplace. While reading, watching TV, or even while waiting for your mascara, perfume oil, vitamin C serum, or concealer to melt in or set. I sometimes do a dry head massage. Other times I use an oil or scalp cleanser to make the process easier.
It feels amazing! And I promise you it'll bolster your hair shine and strength as long as you stick to it!
Over to you, fellow beauty babes...what are your holy grail haircare secrets? I'd LOVE to hear from you! Be sure to head over to our social media channels, and drop me a line.
Share
---