Hyaluronic Acid Serum in Your Hair?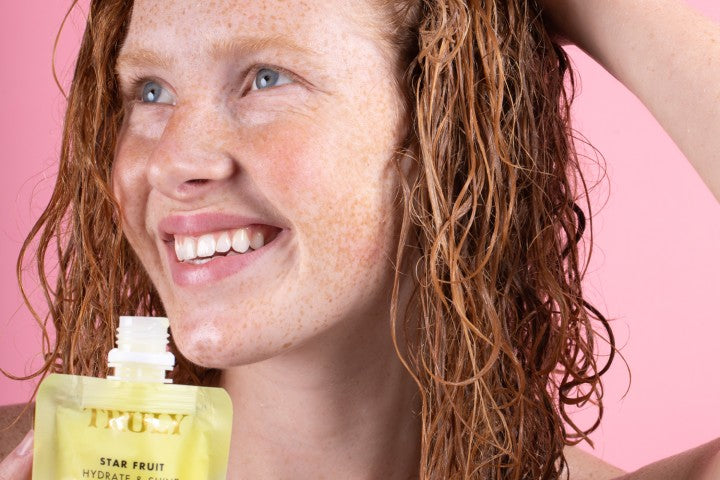 Last month, a TikTok user posted a video with the caption, "Saw a TikTok that said hair oil doesn't moisturize your hair, only water can. So I tried Hyaluronic Acid!" 
The video shows the user wetting her parched-looking blonde ends and slathering them in The Ordinary's Hyaluronic Acid Serum. She says she's saw and felt a "major difference" after just two nights of use. Within two weeks, her tresses were smoother, softer, and "way more manageable."
But does it really work? And is it really okay to coat your strands in products designed for the skin, not the hair?
Let's find out!
HYALURONIC ACID, DEFINED
If you're something of a skincare fanatic, you probably already know what hyaluronic is. Heck, you've no doubt got skincare products brimming with the stuff.
For those who don't know, hyaluronic acid (HA) is a substance naturally found in your body. It can also be made synthetically, which is why you'll find everything from face moisturizers to hair masks and anti-aging products formulated with it. 
As a humectant, HA draws moisture from the air and holds around 1,000 times its weight in water. Anyone looking to diminish dryness should try this hydration powerhouse skincare ingredient.
IS IT OKAY TO PUT HYALURONIC ACID IN YOUR HAIR?
Hyaluronic acid in hair care products is nothing new. It often shows up in shampoos, conditioners, hair serums, and even some styling products. HA binds to the hair and follicles to promote a smoother, softer look and feel. It also helps to strengthen hair, prevent breakage, and encourage healthy hair growth.
But what about applying hyaluronic acid serum intended for the skin directly on your tresses? Is it effective or simply wasteful? One TikTok user experimented and shared her results with her followers. By the looks of it, it worked out pretty great for her, and quite literally transformed her dry hair.
But what's the science behind it? Is it worth using it to restore frazzled strands or should we stick to using it as a remedy for dry skin?
According to the derms, HA works the same for the hair as it does the skin.
"Hyaluronic acid is a humectant, and rather than moisturizing hair, it works by drawing moisture in from the environment," says Connecticut-based board-certified dermatologist Deanne Mraz Robinson. "When applied to damp hair, HA can hold approximately 1,000 times its weight in water."
So we guess the short answer to your question is: yes! You can absolutely slather your strands in HA!
BENEFITS OF HYALURONIC ACID FOR HAIR
Here's how this hydrating substance can improve hair health and enhance your hair care routine.
It Hydrates
The humectant-binding properties of HA enable the hair fibers to retain and seal moisture from products. So, if you've got seriously dry tresses, using a hair treatment that contains hyaluronic acid can transform your mane and drench it with moisture. 
Try coating the ends of your hair in Truly's Cream Skin Face Cream. It's formulated with hyaluronic acid and sea kelp to smooth the hair shaft and deliver deep hydration for hours of super-silky strands. You could also use it as an overnight conditioning treatment if you don't fancy going out with it in your hair.
It Offers a Plumping Effect
HA is so nourishing for the hair, it doesn't take long for it to heal, repair, and plump dry, damaged tresses. It can also boost volume, adding oomph to flat, lacklustre hair. 
Slather your strands in Truly's GLOAT Lip Plumping Oil. It works just as well for the hair as it does the pout. Packed with hyaluronic acid, coconut oil, and peppermint, this formula hydrates, softens, and plumps. It works for all hair types.
It Fights Frizz
When your hair gets dry, the hair cuticle is open and rough. This causes hair to lose moisture and become frizzy. What can you do about it?
Hairstylists and experts recommend smoothing hyaluronic acid serum through your hair to seal the cuticle and smooth away frizzy hair. HA works really well in highly curly and coil-y hair textures.
Banish frizz by coating your mane in Truly's GLOAT Lip Butter. Enriched with shea butter, coconut oil, vitamin E, and HA, this nourishing butter delivers intense hydration while simultaneously fighting frizz.
It Promotes Scalp Health
In addition to its benefits for the hair strands, HA is an excellent scalp hydrator. 
"Humectant molecules attract and bind moisture to the skin, allowing collagen to thrive in the skin and scalp," says certified trichologist Bridgette Hill. She adds that it can keep the scalp hydrated to ward off dry scalp.
Spritz some of Truly's Lemonade Mist onto your scalp for shiny, smooth, and soothed strands. Apply only a small amount as the lemon may be irritating to sensitive skin types.
OTHER HYDRATING HAIR PICKS
How about treating your tresses to one of these hair masks this evening?
Unicorn Hair Repair Mask
Repairing and moisturizing, this magical formula feeds the scalp with keratin amino acids and nourishes your strands with avocado to diminish dryness and deliver smooth hair and soothed scalp. It's also loaded with hair-loving coconut oil, banana, and cocoa butter to leave your hair silky, healthy, and bouncy all day long.
Star Fruit Hydrate and Shine Mask
Made with a nourishing blend of coconut oil, chamomile, and vitamin E, this hair mask restores essential hydration and natural vibrancy to dry, damaged strands. The product adds shine, strengthens hair, and prevents future breakage. Plus, it boosts collagen in the hair to stimulate regrowth!
Coco Rose Milk Hair Mask
Restore lacklustre tresses by dousing your strands in this smoothing hair mask once or twice a week. Formulated with coconut oil to hydrate and rose to cleanse and nourish the scalp, this mask fortifies hair to create smooth manageability. Plus, it'll make your mane smell like a Caribbean dream! Yum!!!
Is hyaluronic acid serum for hair worth the hype? We'd have to say yes. 
It helps retain moisture...seals the cuticle...fights frizz...what's not to be hyped up about?
Share
---