Reverse Hair Washing, Explained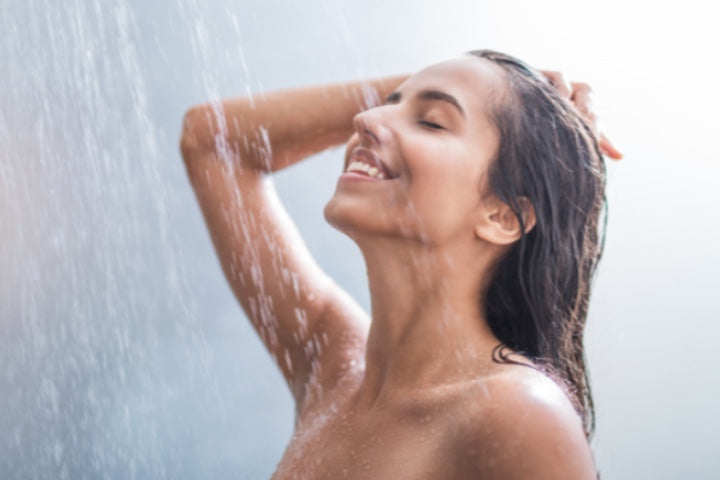 Lather, rinse, and condition -- that's the hair care routine most of us know and love. But what if we told you there was another way to wash your hair? A way that might just be better and healthier for your hair...
Enter: reverse hair washing.
According to the pros, reverse washing could be the key to bouncier, shinier, softer hair. Here's everything you need to know about reverse hair washing, and how to do it.
What is Reverse Hair Washing?
Reverse washing is exactly as it sounds. Instead of starting with shampooing, the process starts with conditioning. When you shampoo first and condition last, the shampoo washes away the natural oils in your hair, which can dry out your strands. It can also leave hair limp and lifeless. 
Conditioning your hair before your shampoo will preserve the hair ends and nourish the cuticles, while protecting the hair strands from drying out.
"The logic is to let the conditioner soak in to protect hair and lock the moisture and natural oils," says Loic Chapoix, creative art director, Dessange Mumbai. "The surfactants in the shampoo rinse out the residues [that would normally be] left by the conditioner on your hair, which could be the reason behind its limp texture."
Reverse washing will give you a fresh, carefree texture, which is perfect for limp, fine hair.
Who's it For?
Reverse shampooing is best for fine and oily hair types who want the hydrating benefits of hair conditioner without the weight. If you've thought about dropping your conditioner in a bid to curb limp, greasy hair, you might want to consider this reversal technique. Hairstylists swear by it for injecting volume and shine in flat, thin hair. It might just be your go-to hair washing method.
That said, don't write it off if you've got thick hair or dry hair. Since this technique can help achieve different textures and simultaneously hydrate, reverse washing may be able to transform both your hair health and texture. It's definitely worth a try -- even just the one time to see how it goes.
Who Isn't it For?
Sadly, this technique doesn't work for all hair types and textures. Since shampoos typically have a high pH, they'll clean away dirt and grit from your hair but also make your hair shaft swell up, worsening the effects of frizz. 
Conditioners have a lower pH, which means they bring back a healthy moisture balance and close the cuticle, helping to tame frizzy or curly hair. 
In other words, using conditioner prior to shampoo may leave the cuticles open and swelled, meaning it's not ideal for frizzy or very thick strands. If you have this hair type, better stick to the traditional lather, rinse, conditioner, rinse hair care routine.
How to Reverse Hair Wash
Want to give reverse washing a try? Here are some easy steps for reverse washing your hair at home. 
#1: Comb and Wet Your Hair
For best results, always start with wet hair as hair products absorb better when hair is wet. Plus, they're easier to spread! You'll also want to start with freshly combed hair to avoid tangles when applying the conditioner. Besides detangling and making things easier, combing before conditioning and washing will help prevent breakage. 
#2: Apply Conditioner 
Using your fingers or a wide toothed comb, comb your favorite nourishing conditioner through your hair starting from the ends and working up towards the mid-lengths. Make sure everywhere is covered evenly, avoiding the roots and scalp. Leave it on for 10-15 minutes -- longer if you want to do a deep conditioning session with a hair mask. Then wet the hair again.
#3: Apply Shampoo + Rinse
Creating a lather, apply the shampoo while the conditioner is still on. Massage it into your scalp, giving yourself a little relaxing head massage in the process. Then, rinse it all off. 
You can do this method every time you wash your hair if you have oily or fine hair. Alternatively, just do it when you need a little added texture and volume. It's also a great technique for when your hairstyle calls for a little "hold" in your hair. 
#4: Use a Leave-in Hair Mask (Optional)
If your natural hair feels dry and damaged, follow up with a repairing leave-in mask so your locks can absorb all the goodness and simultaneously strengthen. Do this once or twice a week for strong, healthy hair.
#5: Let Your Hair Air Dry (Optional)
Again, this is an optional step depending on the state of your hair. If your hair looks a little distressed, you may want to go steady on all those styling products and hot tools you've been using lately. Instead of going in with the hair dryer, try leaving your hair to air dry to cut down on heat -- and damage. Reverse washing gives you natural texture anyway, so you won't have to worry about lifelessness. 
Best Hair Products to Use
You can use your favourite shampoo and conditioner in reverse to test out the technique, or try one of Truly's hair-transforming combos! Take a scroll through our top picks...
Super Flower Bundle
Promote healthy hair regrowth with this clarifying shampoo + deep conditioner pack -- each formulated with 200mg of Hemp, lavender, vitamin E, and provitamin B5.
Super Fruit Bundle
Repair frazzled, split end-specked strands with this repairing, restoring shampoo + conditioner kit. These products are made with a blend of coconut oil, argan oil, tea tree, and jojoba oil to coat your locks and restore their naturally strong, smooth, silky form.
Super Plant Bundle
Revitalize dull tresses with this shine-inducing shampoo and conditioner duo powered by neroli, turmeric, red seaweed, and sweet orange. It helps remove product build-up while hydrating dry strands and deleting dullness. 
After doing the reverse hair washing technique, fine, thin hair types should notice an improvement in their volume, texture, and overall bounce. It's definitely worth a try if you're looking to add a little oomph to your strands while keeping them super nourished and hydrated!
Share
---