5 Autumn Skincare Trends You'll Be Seeing Everywhere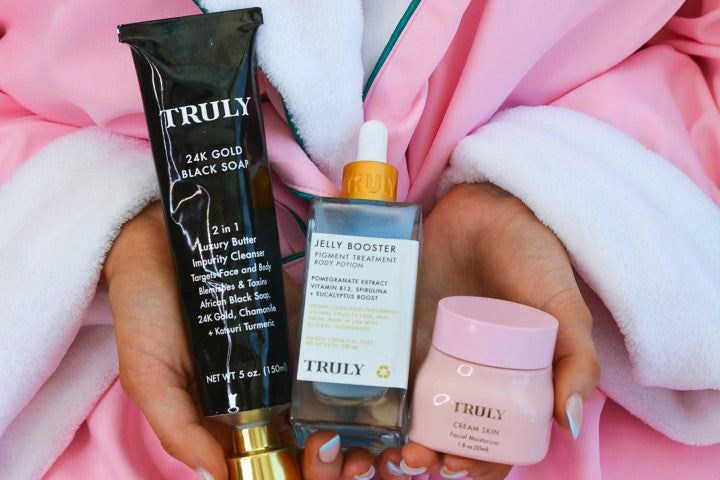 It might be the end of summer, but that doesn't mean it's the end of hot skincare trends. With fall just around the corner, you can expect to see a slew of beauty trends that you absolutely MUST try in a bid to get your GREATEST skin.
Here, your lowdown on the products, regimens, and treatments to look out for this autumn.
#1: Skin Cycling
Skin cycling is a TikTok-derived trend created by board-certified dermatologist Dr. Whitney Bowe. The concept is about getting the most out of active ingredients like retinol and chemical exfoliants without overburdening your skin — and ultimately ending up with skin irritation and dryness.
Day one is about the acids (AHAs, BHAs), day two brings in a retinoid, and days three and four are for recovery, backed up by hydrating ingredients like niacinamide and hyaluronic acid. The four-day skincare routine helps to prevent irritation from overuse of active ingredients.
Best of all, it works for all skin types as you can adjust the routine to your skin's specific needs. Sensitive and dry skin types, for instance, can add an additional recovery day in. While oily and acne-prone skin can remove one recovery day.
Skin cycling is already super popular but in the new season, it's only going to get HOTTER. Give this derm-approved routine a try for yourself and reign in autumn with gorgeous, dewy skin.
Try that trend: Glowing Skin Bundle
#2: Barrier-Bolstering Products
The skin barrier is one of the beauty industry's biggest talking points in 2022. Expect the conversation to continue throughout fall. Whether you've got sensitive skin or went a little OTT with acids and retinol treatments, barrier-focused skincare products will help to restore, rebalance and strengthen skin.
Instead of harsh cleansers and soaps, gentle micellar waters and gel or cream-based cleansers will become more popular. They'll contain nourishing ingredients like ceramides, aloe, and plant oils to seal in moisture while building up your skin barrier.
Particularly in the cooler months, what with the cold, dry air, it's important to replenish lost moisture in the skin to ward off dryness and irritation. Choose creams and lotions enriched with powerhouse hydrators such as hyaluronic acid, shea butter, and jojoba oil.
When it comes to bolstering skin barrier function, you need to focus on using products that deeply nurture skin, and temporarily step away from those that irritate — aka, chemical exfoliants and retinol.
Try that trend: Soothe Red Skin Set
#3: Adaptogens
Adaptogens have been used within Chinese traditional medicine for hundreds of years. Expect to see the rise of adaptogen-based beauty products this fall!
Adaptogens are plant-based ingredients like ashwagandha, maca, holy basil, and ginseng that help to re-establish balance and treat skin that has suffered from environmental stressors. With the rising popularity of anti-stress skincare, it's no wonder more of us are turning to adaptogens for quick relief. This fall trend is well worth a try if you're looking to de-stress your skin, relieve muscle pain, and enjoy smoother, calmer skin.
"Cortisol is linked to inflammation, a key component of common skin conditions such as rosacea, acne, psoriasis, and eczema," says dermatologist Deanne Mraz Robinson, MD, FAAD. "Used topically, adaptogens may similarly support the skin's stress response, soothing irritations and inflammation at the surface."
Try the trend: Moon Bath Essentials
#4: More Slugging
First, it was skin slugging. Now, it's nail slugging. Slugging is a K-beauty trend that involves slathering your face with an occlusive moisturizer like petroleum jelly before going to bed to seal in hydration. Like the skin, nail slugging is done to moisturize the nails and cuticles. The process is pretty much the same: cuticle oil followed by a thick, petroleum-like moisturizer. According to the experts, it can be a highly effective treatment for strengthening weak, brittle nails.
"Nail slugging aids in growing stronger healthier nails and benefits the surrounding skin and cuticle of the nail unit to help prevent dry, brittle or splitting nails," says Pattie Yankee, a New York-based celebrity nail artist.
Aside from nail slugging, you may also see more slugging alternatives popping up on your Insta feed. Whether it's slugging your face, nails, or body — expect to see more slugging varieties! Since most derms back slugging, it's definitely not going anywhere anytime soon!
#5: Home Use Devices
Home skin devices are becoming increasingly popular. Now that the cooler weather is here, you've got to admit that it's less motivating to leave your cozy home for a chilly dermatologist's office. Bring skin technology to your home this fall!
Some of the best skin-care devices you can use at home include LED light masks, radiofrequency devices, beauty rollers, and cleansing brushes. One of the most popular devices at the moment is NuFace, a microcurrent device that emits low levels of electrical current, enhancing collagen production and improving absorption of topical products.
These devices may come with a steep price tag, but they can be used every day, all year round. In the long run, they're a wise investment — and far more cost-effective than those expensive in-office dermatology treatments.
WHAT ABOUT AUTUMN HAIR, NAIL, AND MAKEUP TRENDS?
Here's a list of some of the hottest new makeup, nail, and hair trends that you'll probably be seeing everywhere this fall. Some beauty brands already have these beauty trends (in the form of products) in store!
Neon lip liner
Dark, moody

eyeshadow

(think Halloween

vibes

!)
Graphic

eyeliner

Vinyl

red lips

Bleached

blonde

brows
Reddish

hair colors

Royal blue

manicures

Sleek

hairstyles

Matte

foundation
Nail

embellishments

Pastel

makeup looks
Get the look yourself, and be sure to watch out for more hair, makeup, and nail trends.
Now that the cooler months are coming, it's worth adjusting your skincare routine to meet your skin's new set of needs. Between slugging, barrier-bolstering products, and skin cycling, you can look forward to a fall of fabulous skin!
Share
---