A Beauty Checklist for Brides and Bridesmaids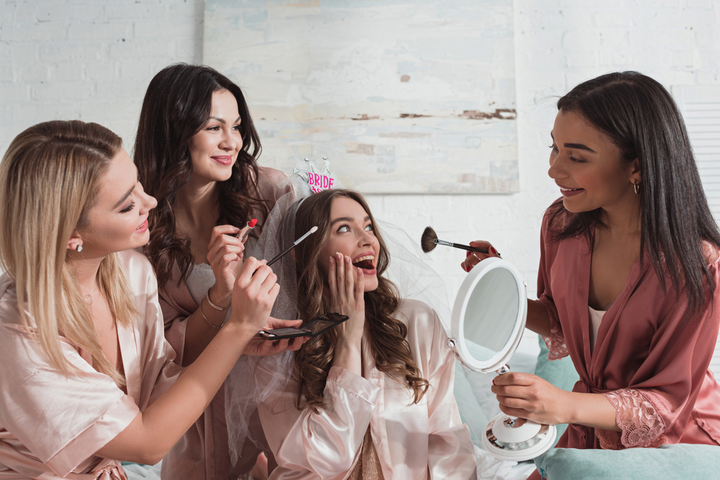 Now that you've finished snapping all those ring selfies and dreaming up extravagant wedding wishes in your head, it's time to start getting into the nitty-gritty of looking flawless on your big day. In other words: implementing a wedding beauty regimen.
To guarantee you have the best skin and makeup as you walk down the aisle, it's good to prepare in advance to ensure you nail your wedding day look. Besides helping you look fabulous when tying the knot, starting a beauty regimen is an excellent form of self-care, allowing you to de-stress ahead of your day so that you look and feel your best. Because it doesn't matter how amazing you look – no beauty product in the world can conceal a bridezilla.
Here, a checklist to get your bridal and bridesmaid beauty in order for glowing skin and gorgeous makeup.
8 Months Ahead: Visit a Dermatologist
A dermatologist can assess your complexion's current state, clarify your skin type and specific needs, and recommend an effective skincare routine. They can help you achieve your dream skin goals.
Some treatments can take up to several months before you see results. That's why it's important to set up an appointment with a dermatologist as soon as possible. The earlier you can get started with your skincare strategy, the sooner you'll see beautiful, glowing skin looking back at you.
7 Months Ahead: Rely on Retinol
Not all skin can tolerate it, but those who's can will enjoy many of its benefits. The great thing about retinol (a vitamin A derivative) is that it cures a variety of skin concerns. From increasing cell turnover to boosting collagen, unclogging pores to reducing hyperpigmentation, retinol can beat fine lines, acne, and acne scars too.
"I recommend patients start with a non-prescription retinol for at least four to eight weeks before progressing to a prescription retinoid," says dermatologist Dendy Engelman – the guy who prepped Sofia Vergara for her wedding day. "Their skin will tolerate it better."
Recommended: Truly's Retinol-Formulated Purple Rain Facial Serum.
6 Months Ahead: Stick to Your Skincare Routine
You should already be following a derm-approved skincare regimen. Just make sure you stick to it.
Ideally, a daily skincare routine should consist of the following: facial cleanser, serum, moisturizer, and sunscreen. Throw an exfoliating session in there once or twice a week to keep your skin fresh and bright.
A good daily skincare routine will get your complexion ready for your big day and prepped for flawless makeup.
5 Months Ahead: Nourish the Rest of Your Skin, Too
Your décolletage and everything below.
"Most women don't realize that your skincare routine truly starts in the shower and that using a gentle cleanser is key," explains dermatologist Dr. Mona Gohara.
She recommends using a gentle, sulfate-free body wash and slathering on moisturizer as soon as you step out of the shower to lock in moisture.
Recommended: Truly's Moon Jelly Adaptogenic Body Cleanser followed up with Truly's Blueberry Hemp Body Lotion.
4 Months Ahead: Experiment with Your Makeup Look
To nail wedding makeup, it needs to look high-coverage enough to hide shine and imperfections on camera yet natural enough to maintain the appearance of bridal innocence.
That is why we recommend experimenting with different makeup looks long before your big day arrives. Whether you're hiring a professional MUA or doing it yourself, go with a makeup look that's natural and not too extreme. You can still add false lashes or invest in eyelash extensions, but don't go over the top. Also, make sure you pinpoint which lip shades suit your skin color and select your favorite. Don't leave all these big questions to the last minute.
3 Months Ahead: Whip Your Brows into Shape
That could mean putting down the tweezers for the next few months, investing in the perfect brow arsenal, or opting for microblading. Either way, your brows need to look perfect for your nuptials. End of story.
See, your brows bring balance to your face and eyes. They shouldn't overwhelm or underwhelm, but rather mirror your facial features.
If your brows are really sparse and in need of some help, consider tinting or microblading them to achieve your dream natural brows.
2 Months Ahead: Get Your Lips in Kissable Condition
Nobody wants dry, flaky lips at the altar. Prevent that from happening by taking good care of your pout long before your partner "may kiss the bride"
Every day, morning and night, apply a nourishing lip balm to lock in moisture and keep your lips super soft. You could also try using a lip mask 1-2 times per week to get them extra plump and juicy.
Especially in the winter months, your lips are prone to dryness and cracking. So it's extra important to keep them hydrated.
Recommended: Truly's Heartbreaker Lip Plumping Mask.
1 Month Ahead: Stick a Heart on those Last-Minute Pimples
Any time a blemish pops up, stick one of these Truly Heart-Shaped Acne Patches on there and it should disappear within a couple of days. Keep these stocked up in your beauty cabinet for any unwanted surprises. It'll dry out the pimple, prevent it from getting worse, and stop it from turning into a scar.
You never know the moment a pimple may pop up. It could even happen on your wedding day. So stock up on acne stickers and be prepared just in case it does.
ON THE DAY: LOOK AND FEEL COMPLETELY FABULOUS
Start the day with the same skincare products you've been using since your first dermatologist session. Then you can simply sit down in your MUA's chair or your own for the perfect bridal (or bridesmaid) makeup.
"My biggest piece of advice for brides is to stay away from extremes of any kind," says makeup mogul Sonia Kashuk. "Nothing should jump, so that means no overly strong anything. It's about balance and softness. Want to rock a red lip for your wedding? Okay. But keep the lip line soft and undefined."
Share
---