All the Ways to Use Truly's F*cking Hot Mirror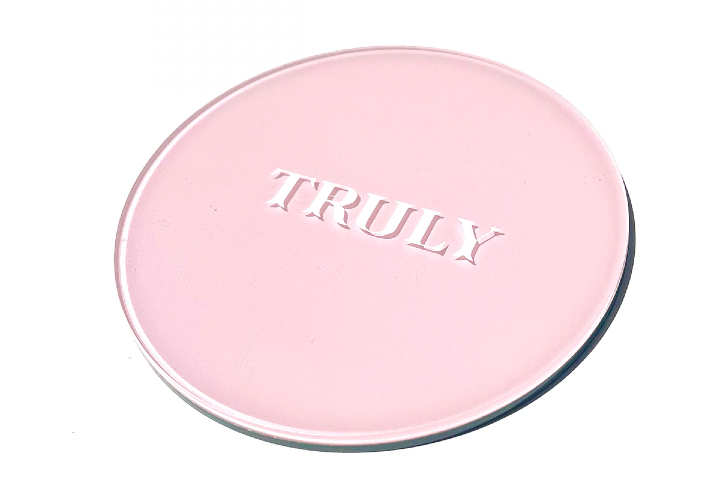 Our one and only mirror has arrived...and FYI, it's almost as hot as your reflection! Truly's F*cking Hot Mirror is our signature handheld mirror complete with a Truly logo on the back and "f*cking hot" written in text across the front. Measuring 3 x 3 inch, you can take this miniature mirror everywhere you go so you're self esteem is never caught slipping!
There are all kinds of mirrors available — compact mirrors, double sided mirrors, vanity mirrors, magnifying mirrors, lighted makeup mirrors, and even touch screen mirrors. While our travel makeup mirror doesn't have any special features like LED lights or magnification, it's a great accessory for staying on brand and keeping you picture-perfect on the go.
Here are all the ways you can use Truly's F*cking Hot Mirror.
#1: For Applying Skincare
Our portable mirror is perfect for applying your face masks, serums, and creams. If you're pinched for time, grab this mini mirror and use it to apply your fave skincare products. Whether you're at home on the sofa watching Netflix, traveling, or at the beach, you can take this mirror anywhere — and do skincare from anywhere, at your own convenience.
You don't always need a tabletop mirror or wallmounted mirror to get the job done. Sure, it might be easier since they're hands-free. However, this beautiful mirror is small enough to fit in one hand or lean against the wall whilst you slather yourself in lotions.
#2: For Mid-Day Primps
From sunscreen touchups to makeup application, the Truly Mirror lets you stay looking HOT all day long. Whether you're at work or at a special event, take this mirror out the next time you want to apply or re-apply your matte foundation, eyeliner, lip gloss, or mascara.
Best of all, this high-quality mirror comes in a protective pink satin sleeve — so it won't get scratched in your purse.
Anytime you feel like your makeup needs a refresh, get out this miniature mirror and do your touch ups. You can even share it with a friend if you're out together or off to a party. It's the cutest accessory for making sure you're looking HOT all day long.
#3: For Checking Yourself Out
Being the little hottie that you are, you're bound to wanna check yourself out from time to time —maybe even a few times throughout the day. We're completely behind you, babe! With Truly's F*cking Hot Mirror, you can check yourself out as many times as you like.
We all like to check ourselves out every now and then, just to see how we're looking. If you're not at home and don't have easy access to a mirror, simply swipe this out of your bag and you're good! Be sure to keep it in your purse so you always have it on you — for grocery trips, overnight stays, mall days, and so forth. A gal's gotta have a good mirror, right?
#4: For Tweezing Your Brows
The best way to tweeze your brows is with either an LED makeup mirror or 3x magnification mirror. That said, if you don't have one of those on hand or you're currently traveling, the Truly mirror will work just as well at ensuring you get the perfect set of arches.
Just grab the mirror, a pair of tweezers, and get plucking! It's actually more effective than a vanity makeup mirror as you'll get an up close look of your brows and won't accidently end up overplucking.
Of course, if you have a 1x magnification mirror on hand, feel free to use that. But the Truly Beauty Mirror will work just as effectively at getting the job done.
#5: For Travel
Next time you head out on vacation or a business trip, remember to drop our handheld mirror in your bag so you can check yourself out, touch up, and do beauty on the go. It's so small, it'll fit almost anywhere — your purse, wallet, or even your pocket. While it might not be foldable, you won't have to worry about it getting damaged as long as you keep it in its soft satin sleeve.
Our top-rated mirror is a winner for travel. Besides being super small, it's also uber chic. Anytime you feel your self-esteem slipping, pick up this F*cking Hot Mirror to remind yourself...well, that you're f*cking HOT!
PRODUCTS TO PAIR IT WITH
Here are some other Truly accessories you can buy if you're big on Truly merch.
Mykonos Luxury Robe
Home spa days just aren't complete without a snuggly, stylish robe to do skincare in. Slip into our luxury full-length bathrobe whenever you feel like pampering yourself. It comes in an iconic powder blue and white striped colorway and features an ultra-soft sherpa lining, tie waist, and the signature Truly logo stamped on the sleeve! While it's only just hit the shelves, it's destined to be a bestseller pretty soon!
Rose Gold Hair Comb
Our Rose Gold Hair Comb is a super cute accessory to add to your Truly collection. With its widely spaced teeth, it detangles hair without damaging it. You can use it for overall scalp health, distributing conditioner, and detangling wet or dry hair. With your mirror in hand, you can ensure your mane's looking its best at all times.
Signature Premium Blanket
Snuggle down under this blanket while looking like the ultimate babe. Measuring 180x130 cm, this buttery soft blanket is made from a blend of cashmere, polyester, and acrylic fiber to secure the dreamiest snoozing sesh!
Truly's NEW Handheld Mirror is available now for purchase. Have you tried it yet??? Be sure to write a review and let us know what you think! We always welcome customer feedback!
Share
---