Birthday Ideas: What to Get the Beauty Babe in Your Life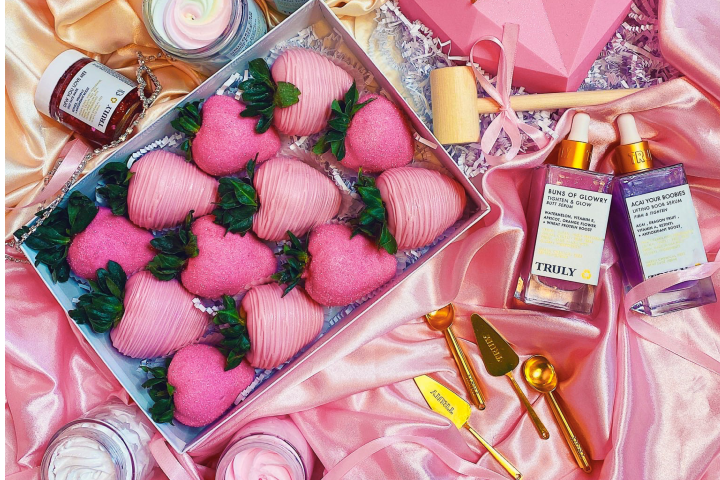 We all want to get the perfect gift for that special person in our lives.
If your bestie just happens to be a beauty lover, one of the best gifts you can give her is a beauty gift set - and luckily for you, we've got a great selection for you to choose from.
So if you're looking for a last-minute birthday gift for your loved one, take a browse through our Truly gift guide.
Glowing Skin
Who doesn't want to wake up with radiant skin?
Truly's Glowing Skin Bundle delivers just that. 
Featuring Volcanic Rosewater All‐Over Hydrating Mist, Mary Jane Hemp Glow Serum, and Cream Skin Face Cream, this trio infuses hydration, restores glow, and brightens the skin.
That's because these formulas use ingredients like rosewater, hemp, caffeine, retinol, and hyaluronic acid, which work together to exfoliate the skin, speed cell turnover, and promote a dewy finish. 
All the products in this line smell amazing, too! It's a perfect excuse to embrace some self-care time.
So if you want to give your best friend a truly great gift, make it the gift of glowing skin. 
A Silky Smooth Shave
A thoughtful gift is that which makes another person's life easier and more enjoyable.
Truly's Silky Smooth Shave Set is that kind of gift.
This luxe shaving set features a body scrub, shave butter, and body butter which work harmoniously to remove dead skin and ingrowns, deliver an ultra-close shave, and hydrate the skin from neck to toe.
It's the perfect gift idea for the ladies in your life who want to level up their shaving routine and make it much less tedious. With the right skincare products, the whole shaving experience will be so much better.  
Made with nourishing ingredients like coconut milk, jojoba oil, and collagen, this three-step silky smooth shaving routine will give your BFF the super smooth shave she once only dreamed about.
Butt and Boob TLC
Want to go the extra mile with this year's birthday present? Make it Truly's Ultimate Body Bundle.
It's our cult-favorite boobie bundle combined with our iconic butt bundle to deliver the perfect, most luxurious butt and boob routine.
Show your boss babe how much you adore her by gifting her six skincare products specifically targeted to smooth and perk those tatas and booty.
Inside, she'll find a Buns of Glowry Polish, Serum, and Butter, as well as our Acai Your Boobies Polish, Serum, and Butter. 
The kit is designed to snatch your body head to toe - and is there seriously a better present than that? We think not!
The Greatest Lips Of All Time
The perfect way to show someone how much you care is with a gift box filled with lip plumping goodies, aka Truly's GLOAT: Greatest Lips Of All Time Kit.
Forget eyeshadow palettes and coffee mugs. This year, make it all about the pout. Now that masks are gradually coming off, what better time than now to start brandishing a beautiful, soft, super plumped pout?
The GLOAT Kit features a lip scrub, serum, oil, and butter all formulated with moisturizing, volumizing ingredients like peppermint oil, hyaluronic acid, and coconut oil.
She won't be able to get enough of these babies. Plus, they're super small and handy to keep in her makeup bag when she's looking to add a little oomph to her pout.
Soothing Shower Sessions
Make bath or shower time even more relaxing and enjoyable for her by treating her to Truly's Moon Bath Essentials Set. 
This body cleanser/spa mist duo utilizes ashwagandha, lavender, and eucalyptus to calm the skin and mind, promote relaxation, and soothe tension. 
They're the perfect bath time companions for a calming body cleanse. 
You could even go one step further and bring spa time to her home by preparing everything for her when she arrives. Think candles, soothing music, filled wine glasses, and a bathtub infused with Moon Bath Essentials.
Hydrated Skin & Hair
Treat your fave girl boss to some skin and hair therapy on her birthday!
Truly's Coco Rose Bundle is a pretty pink bundle featuring a coconut milk-formulated hair mask and body butter for intense hydration all over.
Coco Rose Fudge Body Butter uses a shea butter base, which is extremely hydrating and quickly deletes dryness. 
Coco Rose Milk Hair Mask features coconut milk, rose, and coconut oil, which delivers a healthy amount of hydration to her tresses.
Besides doing wonderful things for her hair, she'll fall in love with the florally, coconut-y aroma of these two products. It's kinda hard not to feel those Caribbean vibes as you slather these formulas on your skin and hair.
Pair it with Truly's Rose Gold Hair Comb for a memorable beauty gift.
A Splendid Self-Care Session
Originally released for Valentine's Day, Truly's Date Night Survival Kit is the perfect gift for birthdays, Mother's Day, or even Christmas if you like.
Forget tech gifts and tote bags. Give your bestie the gift of me-time - a precious moment in which she can pamper herself in luxurious, sweet-scented products and enjoy every second of it! 
In it, she'll find our butt polish, boob polish, 24k gold cleanser, heart-shaped acne patches, shaving butter, and body butter for complete head to toe pampering.
Add it to your shopping list when you're looking for gift ideas. It's extremely versatile.
Let Her Pick!
Not sure which bundle they'd like best? Let them choose instead!
Present them with a Truly Gift Card on their special day so they can choose for themselves which products they'd like.
The great thing about gift cards if they're so universal. Besides birthdays, you can send them throughout the holiday season as a Thanksgiving or Christmas gift. 
While you might usually choose Amazon, Glossier, Nordstrom, or Sephora gift cards, we urge you to give our Truly products a try. They're clean, vegan, plant-based, and of the utmost high quality. 
If you want to give her a birthday to remember, make us your first choice when it comes to beauty gifts. 
Share
---