Bring Your Beauty to Work Bag: What to Put Inside Truly's Mini Beauty Bag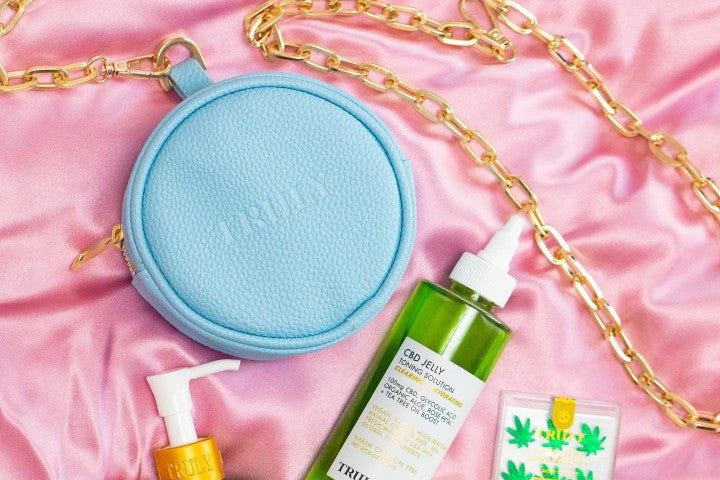 The alarm clock buzzes. You get dressed, brush your teeth, and spend a good half an hour carefully applying each layer or swipe of makeup. You arrive at work looking perfectly fresh and dewy. But then an hour or two later, you catch a glimpse of yourself in the bathroom mirror and ugh, where did that freshness go?
You've been there. We've been there. Everybody's been there.
Let's call it the mid-day melt situation. 
It happens when your makeup slides off, stealing your morning gloss and shine. Fortunately, you can fix it. You just need a few beauty staples and Truly's Limited Edition Mini Beauty Bag. 
The Bag
It's so tiny you can easily bring it to work with you and carry along your makeup and skincare essentials.
This luxe zippered Mini Beauty Bag is made from 100% vegan leather and is the perfect companion for work, travel, or family visits. 
You don't need a huge tote to carry your products in. This bag is the ideal size for beauty essentials. 
Order it now or add it to your birthday wishlist.
FILL YOUR MINI BEAUTY BAG WITH
Here are a few ideas for what you can put inside this adorable little beauty bag. 
Concealer
Dab a little concealer to your under-eye area or over those blemishes to keep your skin looking fresh and flawless. It'll also keep you looking alert for those last-minute Zoom calls. 
The great thing about concealer is that it doubles up as a foundation. It's a universal makeup product, making it the go-to bring to work essential for mid-day touch ups.
Mascara
For a mid-day touch up, keep a tube of mascara in your makeup bag so you can use it anytime your peepers need a pick me up.
And if you're really clever with makeup, experts say you can double up your mascara as an eyeliner. You just need to line your eyes with care - one wrong move and things could get very messy.
Eyeliner
Feel free to pack eyeliner too if you like to keep your eyes looking perfectly framed and pretty. If you know how to line your eyes with mascara, you can leave your pencil at home. Not so confident? Bring your pencil!
Lip Serum
Besides keeping your pout plumped and glossy, a lip serum also maintains moisture in your lips, so that they stay hydrated and flake-free. 
Truly's GLOAT Lip Plumping Serum functions both as a moisturizer and a lip gloss so your lips look pretty and shiny all day long. Made with peppermint and hyaluronic acid, this formula softens, hydrates, and volumizes your lips for a beautiful bee-stung pout. 
Carry a tube of this in your toiletry bag at all times so you can apply it whenever and wherever you are. Did we also mention it looks great under lipstick and even doubles up a lip primer?
Oh, and just to impress you a little more, it can also triple up as a hair serum. That's right. So if you feel your ends getting super dry, just rub a small amount of this serum through the ends of your strands for added hydration.
Lip Balm
Think of your work beauty bag as your travel carry-on. It's all about streamlining to the essentials so you can take the bare minimum while enjoying the maximum benefits. 
To keep your lips smooth, soft, and plumped from morning to evening, keep a jar of Truly's Unicorn Fruit Lip Plumping Balm in your cosmetic bag. You can also blend it with your fave lip color for a perfect finish - because nothing ruins a bold lip more than dry, cracked lips.
Made with peppermint, matcha, and acai, this lip formula hydrates, rejuvenates, and gives your pout a little oomph to make the lips appear fuller.
Apply it anytime you feel your lips getting dry or simply want a volume boost.
Thanks to its natural candy scent, this product also doubles up as a perfume. Just dab a little to your wrists and behind your ears, and you've got yourself a DIY fragrance.
Pimple Patches
Of all the beauty products you can think of adding to your cosmetic travel bag, pimple patches probably aren't one of them. We have no idea why, because they're really convenient if you're acne prone and want to prevent getting scars.
If you've got a nasty sore pimple protruding from your skin, try sticking one of these babies over it. Truly's Heart Your Imperfections Patches are a great choice for keeping your breakouts clean and bacteria-free. 
Formulated with hydrocolloid, these patches extract impurities from your zit while protecting it from inflammation and scarring.
Other products you might want to consider packing in your travel makeup bag include hair ties, a toothbrush (which works both for freshening the breath and as a lip buffer), and hand sanitizer to keep your paws squeaky clean throughout the day. You may even want to consider bringing a comb along with you to keep your mane looking polished. 
It's about keeping things as minimalist as possible. 
WHAT TO LEAVE AT HOME
You don't need to bring your entire makeup or skincare collection with you to work. There are a few skincare products and makeup products you can leave at home including your makeup brushes. You really don't need them with you as you can just use your fingers for application. Your eyeshadow palette is also unnecessary. Feel free to apply eyeshadow before leaving the house instead.
We also recommend using a cleanser, lotion, eye cream, and sunscreen with SPF 30 prior to leaving for work so your skin is prepped for the outdoors. 
Stay looking fresh, dewy, and dazzling all day long at the office by packing Truly's Mini Beauty Bag strategically with the beauty essentials mentioned above. You only need a few staples to maintain your workday radiance and manage the mid-day melt.
Share
---