Do Those Crazy Expensive LED Light Treatments Work?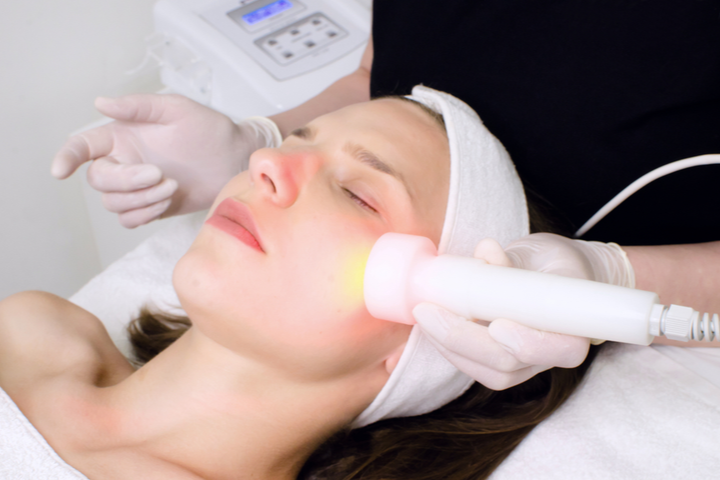 Celebrities like Kate Hudson and Chrissy Teigen swear by LED therapy for dewy, glowing, pore-less skin.
In the past, LED light therapy was only available as an in-office treatment. Today, anyone can order themselves one of these innovative masks and carry out the procedure at home. And some of them can set you back a couple of thousand $$$.
"The devices have become more popular as studies have shown new benefits and devices have become easier to use," says Anne Chapas, M.D., of Union Square Laser Dermatology in New York City.
The question we're dying to ask is, do light therapy treatments really work? And will splashing out on a four-figure LED mask grant you the flawless complexion you seek? Or will following a solid skincare routine lead to better results?
Let's find out!
WHAT IS LED LIGHT THERAPY?
LED stands for light-emitting diode.
According to dermatologist Dendy Engelman, "It works by emitting infrared lights (causing heat) in different wavelengths/spectrums, which have different skincare benefits."
She continues, "Amber light stimulates collagen and elastin. Red light is most commonly used to promote circulation. White light penetrates the deepest and works to tighten and reduce inflammation. Blue light kills bacteria."
Over the past several years, light therapy has become something of a buzzword with more and more people getting their hands on LED devices. While some people swear by this treatment for improving their skin, others claim it has provided little relief.
More About the Colors
Some skincare experts say LED therapy is beneficial for all skin types and concerns. So, for instance, someone dealing with regular breakouts could see results just as effectively as someone looking to smooth out their creases. You just need to make sure you buy an LED mask that emits the color your skin needs. Let's take a look at what each color does.
Blue light kills acne-causing bacteria, balances oil production, and soothes irritation and redness.
Green light aids in lightening acne scars, age spots, and sun damage. It can also improve the appearance of broken capillaries.
Red light is the most universal of all the lights. Mostly it is known as the anti-aging LED, beneficial for smoothing out fine lines and wrinkles. But the pros say it can also diminish dark circles, calm inflammation, treat rosacea, and stimulate collagen production.
Overall, red light is the one to choose if you don't have any specific skincare issues or just want to give your complexion a little boost.
DO LED LIGHT FACIALS ACTUALLY WORK?
If you're going to dish out your month's wages on an LED mask, you really ought to figure out how well they work.
So we know one of these treatments lasts 10-15 minutes – a perfect lunch hour slot – but just how effective are they at treating your skincare woes?
Leading phototherapy expert Dr. R Glen Calderhead insists they are but that their skincare promises might be a little exaggerated.
In a study, Calderhead states that "low-level light therapy (LLLT) with light-emitting diodes (LEDs) is emerging from the mists of black magic as a solid medico-scientific modality, with a substantial buildup of corroborative bodies of evidence for its efficacy and elucidation of the modes of action."
He elaborates, "Reports are appearing from many different specialties; however, of particular interest to plastic surgeons treating the aging face is the proven action of LED-LLLT on skin cells in both the epidermis and dermis and enhanced blood flow. Thus, LED-LLLT is a safe and effective stand-alone therapy for patients who are prepared to wait until the final effect is perceived."
In short, they work, but they don't deliver overnight, or even in-a-fortnight results like many of these products claim.
THE PROBLEM WITH LED THERAPY
There are three, actually.
For one, these treatments are expensive. Like, $300 a session expensive. Even if you purchase an LED mask, you can still expect to pay at least a few hundred dollars or thousands – if you want something really powerful like that in a dermatologist's office.
Then we need to factor in the amount of time it takes to see an improvement in your skin. Dermatologists say you'll need at least four treatments before seeing visible results – and that's for an in-office treatment. At-home LED therapy takes longer because the devices are generally weaker. Expect to wait several weeks until you see a change in your complexion.
And finally, LED treatments don't provide permanent results. Despite their hefty price tag, you will need to keep up with your sessions if you want to maintain clear, youthful skin.
Dr. Engelman doesn't even recommend at-home LED treatments over those performed by a professional, as "results are nominal and we know we're treating you in a way that will offer results. With a first-time user, sometimes you're not using the treatment properly, and that's a waste of money."
When all is said and done, is it really necessary to spend that much on one of these beauty gadgets? Or would a skincare routine containing high-performing products do just as good a job?
TRY THESE SKIN TRANSFORMING PRODUCTS INSTEAD
As great as LED therapy might be if you've got plenty of money and patience to see you through, you can attain just as great – if not better – results from using good skincare products.
At Truly, we are committed to providing all-natural, vegan skincare products made with skin-friendly plant oils, extracts and butters to transform your complexion.
For acne-prone skin …
Try our Blemish-Clearing Hemp Jelly Bundle to keep your skin smooth and clarified. Featuring a face & body cleanser, toner, and serum, this set gives you everything you need to keep your skin acne-free.
If you've got aging skin …
Opt for our Vegan Collagen Bundle. It contains a facial cleanser, serum, mask, and body cream to keep you looking youthful from head-to-toe.
Dealing with dryness?
Hydrate thirsty skin with Truly's Flawless Skincare Bundle, complete with a face cream, serum, and eye cream formulated with hyaluronic acid to moisturize, calm, and de-puff skin.
Want to add some glow to your complexion?
Truly's Blueberry Kush Bundle features four skin-illuminating products (face oil, body scrub, body lotion, and body oil) designed to give you back your glow.
Share
---