Does Refrigerating Skincare Products Really Work?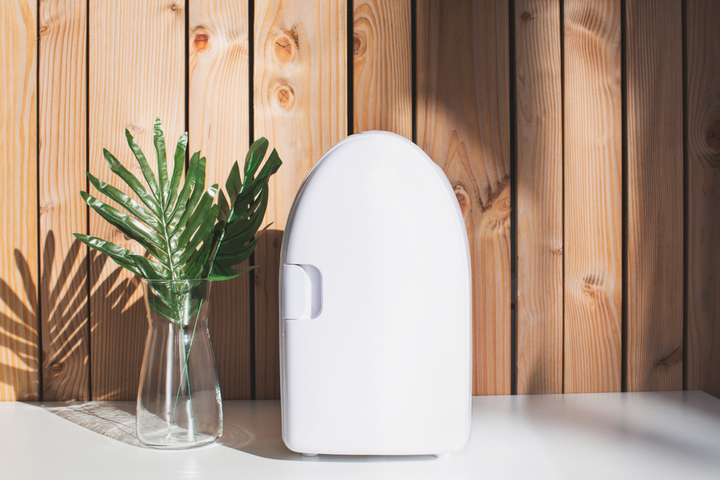 Mini fridges used to be somewhere you could chill a few cans of cola or Perriers' for a refreshing summer beverage. Nowadays, they're becoming more popular for storing skincare supplies. Except they're not called mini fridges. They're called "skincare fridges."
Essentially, they're the same thing. The only difference in most cases is the temperature. Conventional mini fridges tend to get much colder than beauty fridges. 
But let's get to the most pressing question of all: do you actually need to be refrigerating your skincare products? 
There are benefits to storing your beauty products in a designated refrigerator. As far as whether you need one, dermatologists are divided. Some claim they're not necessary, while others state they're essential for maintaining a product's integrity and shelf life. 
To help you make sense of beauty product refrigeration, we've gathered some info on why you may want to consider this beauty trend - and why not. 
BENEFITS OF PUTTING SKINCARE PRODUCTS IN A FRIDGE
Cooling Compliments Active Ingredients 
According to dermatologist Dr. Joshua Zeichner, "The cooling effect on the skin can help complement the active ingredients in serums that are designed to hydrate, soothe, and brighten the skin."  
So let's say you have a serum that claims to offer soothing effects. Refrigerating that product prior to using it would enhance those effects. Or maybe you have a cooling face mask formulated with aloe vera that's designed to ease sun burn or redness. Sticking it in your makeup fridge beforehand can make it work harder as a cooling formulation. The same theory applies to de-puffing eye creams - the cooler temperature helps blood vessels to constrict, which results in decreased puffiness. 
Besides your lotions and potions, you can also maximize the benefits of your beauty tools (think jade rollers) by refrigerating them before use. 
Cold Temperatures Extend Their Shelf Life
If you're someone with a vast skincare routine, a skincare fridge may be the best investment for your moisturizers and facial oils. That's because cool temperatures may extend the life of your products. This is especially true with formulations like retinol and vitamin C - two ingredients with unstable molecules. It's also effective for products with probiotics which have short lives because they contain living bacteria. 
Refrigeration can help prolong your product's shelf life by offering a stable environment to help them thrive. It can also be beneficial for natural products which don't contain preservatives.
What's more, keeping your face mists and toners in a cool environment will keep them working effectively as expired products make active ingredients less potent. Plus, it can be harmful for your health, as yeast and bacteria can grow on outdated products, leading to bacterial skin infections.
"Some skincare formulas are degraded or inactivated by heat—I recommend refrigerating all-natural, plant-based skincare products as these go bad more quickly," says Ife Rodney, MD, FAAD, a dermatologist at Eternal Dermatology in Columbia, Md.. "However, this does NOT mean that it's OK to use any products past the expiration date on the label."
HOT OR NOT: MINI SKINCARE FRIDGES?
So now you're confused because they sound great, but there must be a downside to them, right? Right.
As great as mini skincare fridges are for keeping your creams and sunscreen fresh, effective, and long-lasting, there is a downside to refrigerating your beauty products.
"Unnecessary refrigeration can sometimes change the formula, consistency, and effectiveness of skincare products," says board-certified dermatologist, Stuart Kaplan, MD. 
He does, however, give the green light to chilling sheet masks, toners, and antioxidant-packed hydrating creams. Because for some products, room temperature isn't enough to keep them performing their best. 
WHAT TRULY PRODUCTS TO PUT IN YOUR FRIDGE
Vegan Collagen Body Polish
This plant-based body polish blends vegetable collagen with potent ingredients like retinol and vitamin C to improve skin texture and fade creases. But because these two ingredients are so potent, they can benefit significantly from cool storage methods. By keeping this polish in the fridge, you'll help maintain its stability and effectiveness.
Unicorn Fruit Whipped Body Butter
This buttery whipped formula is best stored in a fridge to maintain its texture. Storing it in warm temperatures may affect its consistency which basically just steals the fun of using this product in the first place! Made with a base of shea butter with high formulations of vitamin E, this body butter soothes, hydrates, and nourishes. It is best kept in the fridge.
Blueberry Kush CBD Body Scrub
As awesome as this product is for clarifying your complexion, you do need to be careful how you store it. That's because it contains blue tansy - an ingredient that requires a cool environment to stay working effectively. It's also an anti-inflammatory formula, which means keeping it in the fridge will maximize its cooling effects.
Volcanic Rosewater All-Over Hydrating Mist
The cooling sensation of a soothing rosewater mist is ideal for easing inflamed skin. Plus, it can bring down any redness or flareups you're experiencing. It can even be helpful for people with inflammatory skin conditions like eczema, as it provides instant relief. All in all, using it after refrigeration will make the experience a lot more refreshing. This formula is especially useful because it contains skin-calming ingredients such as rosewater, aloe, rosehip, and witch hazel. 
When it comes to the case of refrigerated skin care, you don't need a beauty fridge to enjoy the benefits of your skincare products. However, it may boost the lifeline of many of your products and prevent natural formulations from going bad. So basically, it's all down to personal preference really.
As a general rule, refrigerate the beauty products that are already cooling and hydrating. Adding a little chill can definitely enhance the experience and make it even more enjoyable.
Besides the physical benefits, keeping your products in a designated space like a mini fridge can bring organization to your life. Plus, it'll remind you to use them every day!
Share
---