Drop-Dead Dewy: Mermaidcore Meets Skincare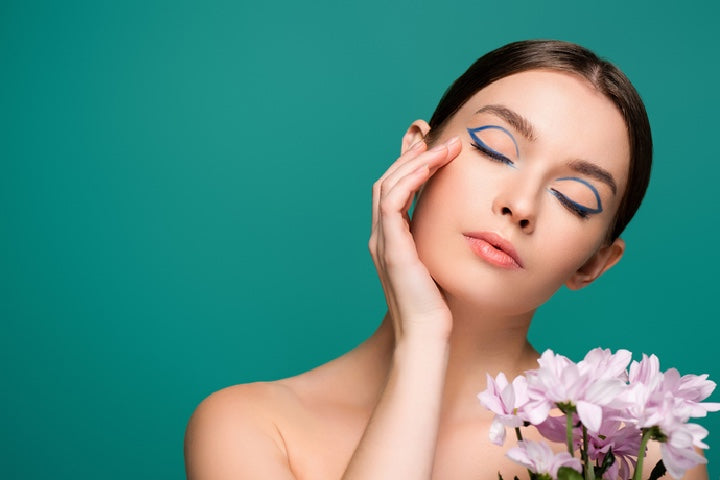 Maybe it's because of Disney's forthcoming remake of The Little Mermaid, or maybe it's related to our longstanding love for all things glossy. Either way, the Spring/Summer 2023 runways featured a whole lot of underwater world inspiration. It was dripping with aquatic hair, makeup, and mermaid princess-style attire.
Now, "mermaidcore" as it is known, is even influencing our skincare routines. Deemed "mermaid skin," the trend is all about dewifying your skin with the use of hydrating, moisture-sealing skincare products.
Here's how to get an Ariel-like glow from home.
WHAT IS MERMAIDCORE?
Since seeing a clear mermaid theme at Fashion Week, mermaidcore has been trending on TikTok. From fashion to makeup, hair and skincare, mermaidcore is pretty versatile. Essentially, it's all about those underwater, ethereal vibes.
Mermaid skin is the next big thing! Just like glass skin and glazed donut glows, mermaid skin is all about achieving a dewy, radiant finish.
HOW TO GET MERMAID SKIN
Here's a step-by-step routine for making your skin extra dewy — just like a mermaid's.
Step 1: Buff Away Dead Skin
To reveal your mermaid glow, start by exfoliating away the buildup of dead skin cells and impurities on the skin's surface. Not only will this instantly brighten skin, but it will enable other skincare products to absorb better, boosting their benefits.
Buff + brighten with: Truly's 24k Gold Black Soap Impurity Cleanser. It's made with a resurfacing blend of sugar and salicylic acid to slough away dead skin, unclog pores, and unveil your natural glow. It also contains charcoal to draw out gunk and sap up excess oil — making it a winner for oily skin. That said, even sensitive skin types can benefit thanks to its nourishing array of botanicals including rosemary leaf extract, sunflower, and turmeric.
Step 2: Drench Skin in Moisture
Now that your skin's fresh and prepped, it's time to inject it with moisture. Some of the best ingredients to look out for in face serums, creams, and lotions are hyaluronic acid, jojoba seed extract, sodium hyaluronate, vitamin B5, and shea butter.
Moisturizing is essential for giving skin a dewy appearance. That's because dry skin doesn't reflect light well, which makes it hard for skin to glow.
Hydrate with: Truly's Cream Skin Face Cream. Powered by hyaluronic acid and sea kelp, this daily facial moisturizer deeply hydrates while plumping out fine lines and wrinkles for a youthful, radiant complexion. It's light enough to be used under makeup and is suitable for all skin types. No parabens or phthalates here.
Step 3: Seal the Deal
Oils should be applied after creams in order to absorb properly — and seal all those active ingredients and moisture in. The best thing about facial oils is that they instantly add glow to your complexion. They're a super quick fix for dewifying skin, and making it feel so much smoother. Use the right one and it won't just hydrate. It will treat skin concerns like fine lines, acne, uneven skin tone, and dullness.
Boost your glow with: Truly's Blueberry Kush CBD Face Oil. This daily face serum features 300mg hemp and 1,000 blueberries per bottle to plump the skin, deeply nourish and protect from photoaging. It also contains a blend of AHAs and BHAs to gently buff away dead skin cells. Wanna look like the ultimate aqua princess? Slather your skin in this illuminating oil, and get ready to glow! While it's an oil, it's lightweight enough to use as a makeup base. You can even dab it on your cheekbones and collar bone as a natural highlighter.
Step 4: Refresh with a Hydrating Mist
Throughout the day, your skin's bound to get thirsty. Quench thirsty skin with a hydrating facial mist. You can simply spritz it on whenever skin gets dry or needs a refresh. It can even be used over makeup to freshen up your look and make things extra dewy!
Freshen up with: Truly's Volcanic Rosewater All-Over Hydrating Mist. Enriched with balancing rose, soothing aloe, and brightening vitamin C, this calming mist will save your skin from drying out while adding a freshness boost to your complexion. Bonus: you can use it anywhere in need of extra moisture!
Step 5: Gloss Your Lips
To get mermaid skin, you're going to need to show your pout a little TLC too. Gloss them up with a moisture drenching lip balm, oil, or serum. It'll only add to the wet-look aesthetic.
Gloss with: Truly's GLOAT Lip Plumping Serum. This luscious lip serum harnesses the softening, hydrating and plumping effects of coconut and hyaluronic acid to keep them juicy and hydrated all day long! Add it to your wishlist!
Step 6: Protect
Mermaids need protection too. To keep your skin healthy and shielded against UVA rays, always wear sunscreen with SPF 50 for maximum protection. You can choose from a chemical sunscreen or mineral sunscreen. The only downside to mineral sunscreens is that they leave a white cast — caused by ingredients such as zinc oxide and titanium dioxide.
Opt for a water gel sunscreen or a bottle of the very appropriate Canmake Mermaid Skin Gel UV. Aim to choose one that'll enhance your skin's dewiness. Remember to apply every day — and reapply throughout the day to keep skin protected. By protecting it now, you prevent skin concerns like fine lines, wrinkles, and discoloration.
Mermaid skin is in! That means it's time to go heavy on hydration, and reclaim your dewiest skin this season!
When shopping for dewifying skincare products, always be sure to stick to natural, nourishing formulas like a mermaid would use. While certain preservatives and additives in skincare are safe, such as phenoxyethanol, dimethicone, and copolymer, others can be irritating and potentially dangerous like acrylate and xanthan gum.
Opt for formulas enriched with high-performing actives and nourishing plant extracts to get that mermaid glow you're mad about!
Share
---