Euphoria Star Zendaya's Best Beauty Secrets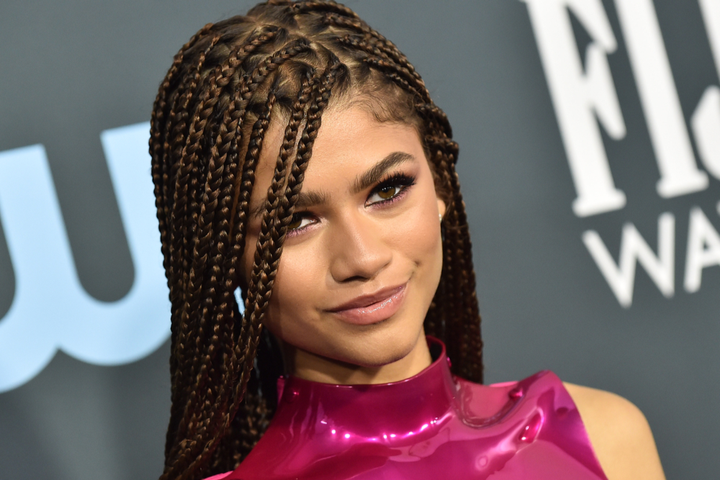 She's the lead role in HBO's Euphoria, in which she plays Rue Bennett alongside Hunter Schafer, Alexa Demie, Barbie Ferreira, and Sydney Sweeney.
But Zendaya Coleman is more than an actress.
The former ambassador of Lancôme is also something of a beauty whizz. She knows makeup, skincare, and hair care as fluently as we know Euphoria season one quotes. 
Sharing now...some of Zendaya's beauty secrets -- including her skincare routine. Keep scrolling for all the beauty intel on one of our fave gen Z stars. 
She Gets Her Glow From the Sun
Ever noticed how Zendaya always seems to look positively radiant on the red carpet, social media, and basically anywhere we spot her? 
"It's all about the sun," she says. "Get in front of it and let the rays hit you."
That said, she doesn't do it without layering up with SPF first. 
"Wearing SPF is No. 1. Everybody, wear your SPF!"
While the sun certainly can give you a natural, fresh glow, you'll need to wear sunscreen to protect yourself from skin-harming UV rays which can cause a slew of skin concerns ranging from fine lines and wrinkles to hyperpigmentation. And that only steals your glow.
She Likes to Mix Lip Colors
To create her iconic nude lip, the Spider-Man actress says she likes to mix her lip colors to get a customized shade. 
"If there's one good nude that I like, I put a dab of pink or coral or something else, too. Then it's like it's nude but also something else. Brick color is always cool, too," she explains.
But don't do it until you've prepped your lips with our GLOAT 4-Step Lip Kit. It features a lip scrub, serum, oil, and butter made with hyaluronic acid, peppermint, and coconut oil to buff, smooth, soften, and plump up your pout! 
Her Skincare Routine Looks Like This
According to the Euphoria star, she never goes a day without cleansing or moisturizing. 
"I find it therapeutic to give myself a facial and do all those extra steps: cleansing; cleansing with another cleanser; toning with, like, eight different things; then a spray; a sheet mask; a clay mask," says Zendaya. "It's a little self-care."
One of her fave skincare products contains African Black Soap, a traditional plant-based ingredient made with plantain leaves or cocoa pods to clean, invigorate, and protect skin.
You'll find African Black Soap in Truly's 24k Gold Black Soap Cleanser.
She also loves a good rosewater toner. Try our Rosewater Face and Body Mist to enjoy its hydrating, calming, and refreshing effects.
She Likes to Do Her Own Makeup
The Disney star doesn't always rely on fancy makeup artists to achieve her makeup looks. In fact, most of the time she does her eyeliner and mascara herself. 
"I've had so many makeup artists do my makeup over the years so I took tips from each of them and learned how to do it myself," she told Vogue. Well, who hasn't learned all their beauty looks from makeup tutorials....
As for her trick for getting liner right, here's what she has to say:
"When I do my eyeliner, I leave my eyes open; I feel like my nerves have just been shut down or whatever. I use a pen liner—I love those. For my type of eye shape, I have to do thin lines; thick lines close my eyes off a little bit."
We haven't found out whether she does her own concealer, eyeshadow, or highlighter yet but we're guessing she's fluent in the art of makeup what with all those tutorials she's watched.
Shimmer is Her Secret Weapon
Celebs don't get much sleep. Between interviews, filming, and glam events like the Met Gala, it's hard for Hollywood stars to find the time to get their 8 hours. So, what's their secret to masking tiredness? 
According to Zendaya, "Shimmer. I love shimmery stuff. That's my secret. Once I do all this makeup and I put shimmery powder on, it's like, Oh my gosh—your skin is so fresh and glowy! Nope. It actually just shimmers powder."
Fake a full night of beauty sleep by layering on Truly's Moon Lit Shimmer Oil. It's sparkly, fast-absorbing, and non-sticky, so you can look and feel luminous in an instant.
She Sleeps With Her Hair in a Pile
To maintain her hairstyle, Zendaya likes to sleep with her hair in a pile. 
"I put my hair on top of my head with a loose scrunchie," she says. "It's not really a bun, it's just piled there so I don't crush the curls. And I sleep on a satin pillowcase."
Copy the beauty icon's tips by treating yourself to Truly's Satin Sleep Kit. It contains a satin pink pillowcase, scrunchie, headband, and eye mask designed to give you the best night of beauty sleep, so you can wake up looking and feeling sensational.
She Loves Non-Touring
Non-touring, aka, the anti-contour embraces a fresh and dewy finish without heavy face sculpting. The actress famously does her own non-touring, even for big, red carpets.
To master the trend, start with a smoothing primer followed by a lightweight BB cream or tinted moisturizer, and finish with a non-glittery highlighter applied across your cupid's bow, down the middle of the nose, brow bone, and cheekbones.
Non-touring is a great way to get that fresh, dewy look we always see Zendaya rocking. Plus, it's easy to re-create with just a handful of beauty products. 
If you've been keeping up with Euphoria lately, you'll know that Zendaya aka Rue always looks super lit on the screen. But when doesn't she look positively glowing? Whether she's walking the streets of L.A or cosying up to BF Tom Holland on the red carpet, Zendaya always manages to maintain that enviable glow. 
Now you know how to achieve that Emmy-worthy glow yourself, and a few extra tips for boosting your hair, skin, and makeup looks -- inspired by the actress herself. 
Share
---