Hailey Bieber's Donut Glazed Glow: How-To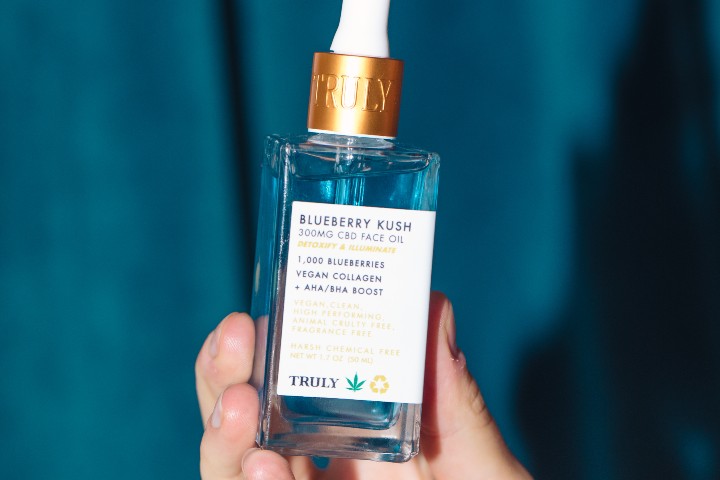 So, we just got Hailey Bieber's beauty predictions for 2022: glazed donut skin. And it's a trend we've seen the star rocking for years now. 
Last year, Bieber even uploaded her nighttime skincare routine video to her YouTube channel, showing fans the products she uses each night to achieve that smooth, glossy, glazed donut complexion. You know the one we see in all her Instagram selfies!
The model recently took to her Instagram to give her fans the heads up: "glazed 🍩🍩 skin all 2022. Tell a friend," alongside a series of pics showing next-level glowy skin. 
Want to get that gleaming glow for yourself? Lucky for you, we've got Hailey Bieber's formula for flawless skin -- and some excellent affordable alternatives for copying her skincare routine.
Step #1: Double Cleanse
According to Bieber, double cleansing is a relatively new addition to her routine -- and one she's very impressed with. 
"I started [oil cleansing] during quarantine, and it has honestly made the biggest difference in my skin," she says. "So that's how I take my makeup off now. I don't do it any other way."
She uses MARA Beauty Algae Enzyme Cleansing Oil and HoliFrog Tashmoo Water Lily Nourishing Milky Wash, but we also like Truly Blueberry Kush Face Oil and Super Matcha Facial Cleanser. She also stays away from makeup wipes, as they can be extremely drying and irritating to the skin. 
Cleansing at the end of the day is fundamental for keeping skin clear, bright, and breakout-free. Stay consistent, and your skin will stay glowing! Just like Hailey's! 
Step #2: Start with Serum
Glowing skin is all about layers -- and layers are something this model LOVES. 
After cleansing her face, she goes in with her favorite Biba Los Angeles Plant Stem Cell Peptide Serum which she massages into skin while it's still damp. FYI: applying skincare product while skin's still damp improves absorption and maximizes its overall effects.
For a more affordable option, try Truly Vegan Collagen Facial Serum.
Step #3: Layer on Moisturizer
"At night time, I typically go with a more intense moisturiser – something thicker, just to kind of soak into my skin overnight," says Hailey. She uses Biba Los Angeles Cream Barrier, but we also like Truly Flower Child CBD Face Cream. It's just as hydrating and repairing. 
"My standard when I go to bed at night is that if I'm not getting into bed looking like a glazed donut, then I'm not doing the right thing," says Bieber. "Find yourself a moisturizer that helps you look like a glazed donut at the end of the day."
Step #4: Patch Up Breakouts (Optional)
If you don't have any active zits, you can skip this step. Got pimples? Don't worry, you can patch them up with acne stickers. That's what Hailey Bieber does whenever she gets a pesky breakout.
You may have seen them on TikTok or other social media platforms, but acne patches are the new and cool girl way of managing breakouts. 
Hailey recommends the Starface Hydro-Stars. "They totally help heal a pimple way faster, so if I'm breaking out I will always sleep with one of these on. And they look cute! I'm never mad at a cute little situation," she says.
You'll also love Truly Super Star Acne Patches for zapping away zits and speeding up the healing process of active breakouts.
Step #5: Lock Everything in with a Layer of Face Oil
Lots of layers is the key to that Hailey Bieber-esque glazed donut look, so next this stunning celeb heads to a face oil. Since Bieber has sensitive skin that's a little on the dry side, she loves to lock everything in with one layer of of Furtuna Skin Due Alberi Biphase Moisturising Oil. She simply pats it into the skin, and never uses more than that one layer. It just isn't needed.
Try Truly Hemp Facial Oil, a moisturizing, healing formula suitable for all skin types and without any unwanted side effects in first time users.
Step #6: Apply Eye Cream
Next, she uses her fave BareMinerals Ageless Phyto-Retinol Eye Cream. 
"I'm usually really, really diligent about eye cream because eyes are a sensitive area and I'm trying to prevent getting crows feet, so I really try not to ever skip it," she says.
For similar benefits with a lower price tag, reach for Truly Eye Candy Anti-Puff Eye Cream. It'll erase dark circles and puffiness in just a couple of uses, while smoothing out creases. 
Step #7: Finish with a Swipe of Lip Balm 
The last step in Hailey Bieber's beauty routine is applying a generous layer of lip balm. Her go-to is Aquaphor, which she refers to as the "best lip balm" out there. Besides using it to heal and hydrate chapped lips, the model likes to use it on dry, flaky patches of skin which typically crop up in the winter months. Lucky for you, it's a drugstore beauty brand that's very wallet-friendly.
Our favorite lip balm has to be Unicorn Fruit Lip Plumping Balm. It's made with a nourishing blend of shea butter, peppermint, and acai to moisturize, soothe, and add oomph to lips for a Bieber-like pair of kissers.
Turns out, glowing glazed donut skin isn't that complicated (or expensive!) to achieve. According to Hailey, it's all about layering up your skincare and making sure it's hydrated -- everywhere. 
Just remember, this is a nighttime skincare routine. In the daytime, it's best to use lighter products as well as a generous layer of sunscreen to protect skin from skin-harming UV rays. 
Speak to your dermatologist if you need help determining your skin type, or if you have a skin condition that requires the approval of a derm before using new skincare products. The last thing you want is a flareup!
Share
---