How to Go Viral on TikTok, According to Truly Beauty's Talent Team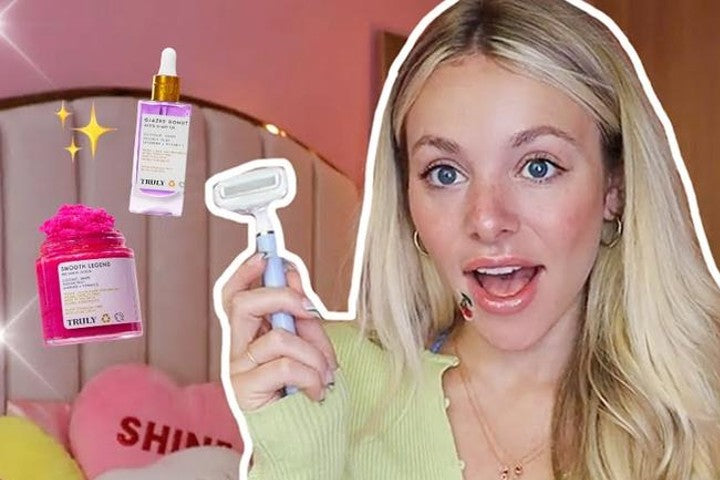 If you're a serial Truly TikTok browser, you're probably already familiar with our social media crew. Zara Brillo, Anna Callahan, and Tyler Moore are the three famous famous you'll regularly see in our TikTok skincare tutorials. This super talented trio bring fun, energy, and authenticity into each and every video. And that's why we love them!
From butt shaving tutorials to body acne hacks, Truly's social media squad keeps it real — and it's one of the main reasons we've developed into a viral TikTok beauty brand. TikTok users can't get enough of Truly's fun yet impactful short videos that get up close and personal, displaying everything from fuzzy bikini lines to severe body acne.
With a follower count of 2.1 million, a total of 52.2 million likes (and counting!), and a slew of viral vids, the hype is real guys!
Wondering how to go viral on TikTok? We speak to Truly's TikTok creators, who reveal everything from their most popular TikTok videos to why they think their video content gets so much attention — and advice for going viral on the social network.
Would you be able to introduce yourself and what your role is at Truly? 
Zara: I'm Zara. I'm the Head of Social Media + Content Creation. While I spend a lot of time in front of the camera creating videos for the different social media platforms, I also do a lot of behind-the-scenes work. I stay updated with TikTok trends, brainstorm ideas for the type of content to be published, and also help out with the photography side of things.
Anna: My name's Anna, and I'm the Social Media Manager at Truly. When I'm not filming Insta lives, I manage the social media accounts to make sure everything's fun, appealing, and on brand for followers.
Tyler: I'm Tyler — Truly's Social Media and PR Manager. I'm responsible for creating and maintaining a favorable public image for the Truly brand via compelling video content and imagery. And I'm always trying to find ways to appeal to new users. On Thursdays, I'm over on Instagram for my "Tea with Tyler" livestream, spilling the tea on Truly's newest products.
Off the top of your head, what's your most viral video on TikTok, and could you share the numbers with us? 
Zara: It's gotta be the Butt Shaving ASMR. That one racked up over 2 million likes and 94k+ shares!
Anna: I'd say the Shaving My GF's Butt ASMR. It's reached almost a million likes and it's still being re-shared today. TikTokers seem to LOVE Zara's booty!
Why do you think your video content gains so much attention on the social media platform? 
Anna: It is different from any other company and we try to talk about topics no one talks about. We also try not to use editing tools when it comes to showing skin concerns so that people know it's totally normal to have breakouts on your boobs or super fuzzy armpits.
Tyler: The products, the style, the overall aesthetic that we have voiced as our own. The Gen Z demographic are especially supportive because we're a vegan, cruelty-free brand — and extremely transparent!
What's the coolest thing about being a TikTok influencer? 
Zara: Making people feel seen and normalizing things everyone deals with but doesn't talk about. Issues like buttne, boobne, and ingrowns are all common skin concerns. It feels so rewarding to show people that, while providing fun and easy solutions for those issues.
Anna: You get to keep up on trends and be creative in each video. It's super fun!
Tyler: I think the coolest thing is making people laugh—it's always my goal.
And the least cool thing? 
Zara: Nothing.
Anna: Nothing.
Tyler: Trolls.
Would you be able to share a juicy behind the scenes secret nobody knows (yet)?
Tyler: That sometimes it takes us like one hour to film one reel because we are hysterically laughing the entire time. We all have so much fun working together and collaborating on different campaigns! And obviously...trying out all the cool new releases!
What's the funnest TikTok video you've ever made? Why? 
Zara: That would have to be the Truly Beauty La Mansion Tour. Giving a house tour in skates, in a bikini, in front of a camera — that was definitely a memorable day!
Anna: I love the "When ur legs are hairier than your BF's" video. When Zara reveals that one thickly haired leg...that part still makes me laugh.
Tyler: The one where Zara shaves my chest. We had a lot of fun making that video.
Do you have any advice for TikTokers and other content creators on how they can go viral too? 
Tyler: I'd say just find your niche, create a unique style, and go from there! It also helps to add in a fun hashtag or two — for the sake of TikTok's algorithm.
Since the pandemic, Truly's TikTok vids have soared. While users still love their cat memes, and funny lip-syncing, duet, and dance move vids, the algorithm works by providing users with the most relevant content. Whether you're an existing Truly fan or simply a beauty lover, that's probably why our page is growing increasingly popular all the time.
If Truly vids regularly pop up on your for you page, you've probably always been curious about the familiar faces in the videos. Well, now you know a little more about each of them — and that behind the scenes secret!
If you're not following us on TikTok yet, be sure to check out our TikTok account page to stay updated on juicy beauty trends and Truly tutorials. You can also follow us on Instagram, Snapchat, Facebook, Twitter, and LinkedIn. Hope to see you over there!
Share
---